Ted Cruz Tells Iowa Pastors If They Don't Stop Trump He 'Could Be Unstoppable'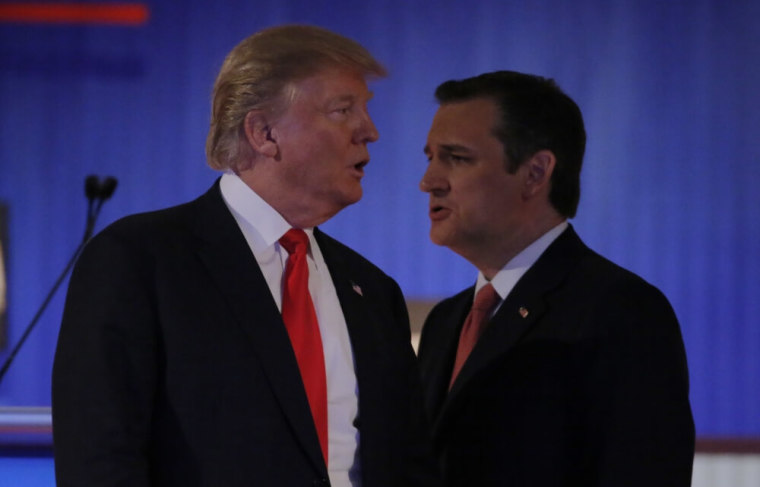 Republican 2016 presidential candidate from Texas, Sen. Ted Cruz, warned a group pastors in Iowa Monday that his frontrunner rival, billionaire Donald Trump, "could be unstoppable" in his quest to become the party's presidential nominee if they don't get behind him.
"If Donald wins Iowa, he right now has a substantial lead in New Hampshire, if he went on to win New Hampshire as well, there is a very good chance he could be unstoppable and be our nominee," Cruz told the pastors at a private meeting in Cedar Rapids according to a video obtained by CBN's "The Brody File".
With just six more days left before the Iowa Caucus on Feb. 1, a new Quinnipiac University Poll released Tuesday shows Trump leading Cruz 31 percent – 29 percent among likely caucus-goers — well within the margin of error. Florida Sen. Marco Rubio sits well back in third place at 13 percent. No other Republican candidate received more than 7 percent support.
"Despite Sarah Palin's endorsement of Donald Trump and Gov. Terry Branstad's criticism of Sen. Ted Cruz, and despite — or because of — Sen. Cruz' 'New York values' comments, the Iowa Republican Caucus remains too close to call," Peter A. Brown, assistant director of the Quinnipiac University Poll said.
Brown said it is turnout that will decide who gets top billing from voters in Iowa on Monday.
"One week before the caucuses gather, the question is which candidate has the best field organization," Brown said. "If the events of the last two weeks haven't moved the needle, one wonders what would change it in the next six days."
Cruz told the pastors at the event sponsored by the American Renewal Project that the race in Iowa was clearly a dogfight between himself and Trump and they shouldn't bother to consider any other candidate.
"We talked before about the politics of this being effectively a two man race between me and Donald Trump, let me talk for a moment if you happen to be thinking about another candidate beyond the two of us. There are a lot of good people in this race. There are a lot of people who I like, who I respect, who are friends of mine, who I have no intention of insulting or denigrating. But I will say right now, between Donald and me, this is neck and neck. It is an absolute dead heat," said Cruz.
"So even if you're thinking about another candidate, the simple reality is there's only one campaign that can beat Trump in this state, and if conservatives simply stand up and unite, that's everything," Cruz added.
Further on the campaign trail in Iowa, Cruz also complained how Trump had been "insulting me everyday."
"Donald has changed how he has approached me in that he is now insulting me every day," Cruz told reporters ahead of a campaign stop in Manchester, Iowa according ABC News on Monday. "He can do that. But that is his prerogative. I do not intend to respond in kind."
In an interview Tuesday with MSNBC's "Morning Joe," Trump admitted that Iowa was the "one place" where the race is close between him and Cruz, and called the Texas senator a liar and a jerk who nobody likes and compared him to President Barack Obama.
"I think Ted's a nasty guy. People don't like him," said Trump.
"He's a liar, that's why nobody likes him, that's why his Senate people won't endorse him, that's why he stands on the middle of the Senate floor and can't make a deal with anybody," said Trump.
"He looks like a jerk, he's standing all by himself. And you know, there's something to say about having a little bit of ability to get other people to do things. You can't be a lone wolf and stand there. That's sort of what we have right now as a president," he continued.
On the national stage, a new CNN/ORC Poll shows Trump with a commanding 41 percent lead in the race for the Republican nomination while Cruz his closest rival registered less than half that support at 19 percent. No other recent national poll shows Trump's lead that high. The Real Clear Politics average of recent national polls, including the CNN poll, has Trump ahead by 16.9 percentage points. 
No other candidate registered double digits in the CNN national poll. Florida Sen. Marco Rubio stood at 8 percent, retired neurosurgeon Ben Carson at 6 percent, former Florida Gov. Jeb Bush at 5 percent, New Jersey Gov. Chris Christie at registered 4 percent while everyone else had 3 percent or less.
Watch the rest of Trump's interview on Cruz below: