Ted Cruz Says Opposing Same-Sex Marriage Would Not Be Top Priority if Elected President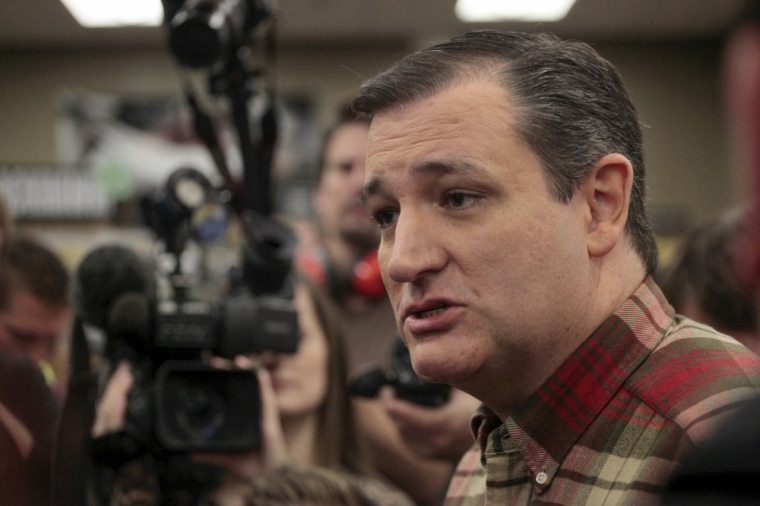 Despite publicly stating this summer that opposing same-sex marriage would be "front and center" in his 2016 campaign, GOP presidential candidate Ted Cruz told a moderate Republican donor in New York that it won't be a priority if he becomes president.
A recording of Cruz's conversation with the donor during a fundraiser held Dec. 9 at the Sullivan & Cromwell law firm on Madison Avenue in Manhattan, New York was highlighted in a POLITICO report Wednesday.
While Cruz's comments on the issue doesn't depart from what he has said previously, the report said it reflects a penchant to change his priorities according to his audience which could make him vulnerable in the January run-up to the Feb. 1 Iowa caucuses.
At the fundraiser, contribution levels were $10,800 to be on the host committee, $2,700 to attend a VIP reception, and $1,000 for lunch. And the donors were reportedly generally moderate to liberal on social issues while largely conservative on fiscal and national-security issues.
In the conversation with the donor, Cruz was asked if gay marriage was a top-three priority for him and he said it wasn't.
"No," Cruz replied according to POLITICO. "I would say defending the Constitution is a top priority. And that cuts across the whole spectrum — whether it's defending [the] First Amendment, defending religious liberty."
He later added: "People of New York may well resolve the marriage question differently than the people of Florida or Texas or Ohio. ... That's why we have 50 states — to allow a diversity of views. And so that is a core commitment."
The apparently satisfied donor told Cruz: "Thanks. Good luck."
A well-known Republican operative who was unidentified in the report raised concern that Cruz "sounds like a slick D.C. politician — says one thing on the campaign trail and trims his sails with NYC elites. Not supposed to be like that."
Catherine Frazier, the Cruz campaign's national press secretary, said however: "These comments are nothing new. ... This is nothing different from what he says all the time."
The Republican Senator from Texas said Tuesday, according to The New York Times, that GOP 2016 presidential frontrunner Donald Trump "may well be right that this is turning more and more into a two-man race."
Trump noted on NBC's "Meet the Press" on Sunday that the Republican primary contest "looks like a two-person race because everyone else is way behind."
"I did think it was interesting Donald said a couple of days ago that he thought that the Republican race could come down to just him and me," Cruz told reporters at a rally in Knoxville, Tennessee. "And I think he may well be right."
Results from a Reuters poll on Tuesday showed Trump with a commanding lead in the race for the 2016 Republican presidential nomination with 36.9 percent of voters favoring the real estate mogul. Retired neurosurgeon Ben Carson trailed at a distant second with 11.3 percent support while Cruz followed closely in third place with 11 percent support.