Ted Cruz Quotes Scripture, Thanks God and 'Courageous Conservatives' After Iowa Victory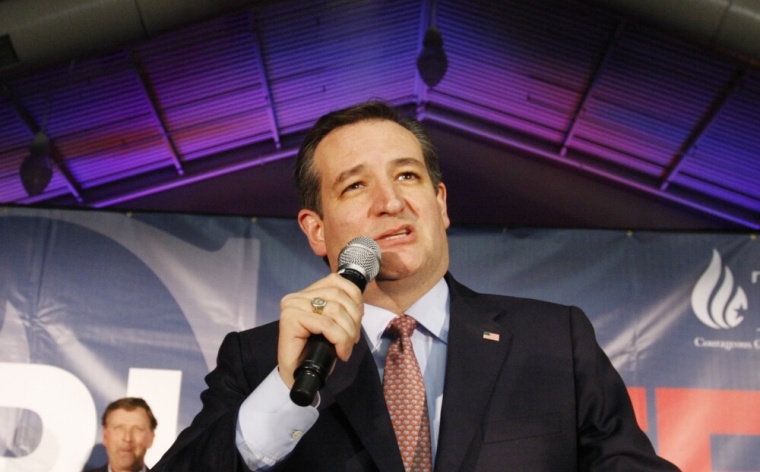 Texas Sen. Ted Cruz quoted Scripture, thanked God and his strong conservative grassroots movement as he emerged atop the pack of Republican presidential candidates after the Iowa caucuses Monday night.
"God bless the great state of Iowa. Let me first of all say, to God be the glory," the victorious senator who fended off a strong fight from GOP presidential frontrunner, Donald Trump, told his supporters.
With about 99 percent of the GOP vote in, Cruz captured 28 percent of the Republican vote, Trump won 24 percent and Florida Sen. Marco Rubio took 23 percent in a night that registered historic voter turnout.
"Tonight, thanks to the incredible hard work of everyone gathered here or courageous conservatives across this state, we together earned the vote of 48,608 Iowans," said Cruz. "To put in perspective your incredible victory that you have won tonight, that is the most votes ever cast for any Republican primary winner. Tonight is a victory for millions of Americans who have shouldered the burden of seven years of Washington deals run amok."
Cruz said his victory on Monday is a strong message from conservative voters to the media, lobbyists and the Washington political establishment.
"Tonight is a victory for the grassroots. Tonight is a victory for courageous conservatives across Iowa and all across this great nation. Tonight, the state of Iowa has spoken. Iowa has sent notice that the Republican nominee and the next president of the United States will not be chosen by the media, will not be chosen by the Washington establishment, will not be chosen by the lobbyists but will be chosen by the most incredible powerful force where all sovereignty resides in our nation — by we the people, the American people," said Cruz.
In highlighting his vast grassroots network, the Texas senator said he has 12,000 volunteers working for him in Iowa and more than 200,000 nationwide. He further noted that he received more than 800,000 contributions through tedcruz.org from "courageous conservatives" who donated an average of $67 to his campaign.
He also appeared to take a dig at Trump's personality-driven campaign and general party politics and invoked the promise of Scripture highlighted in Psalm 30:5.
"Tonight is a victory for every American who understands that after we survive eight long years of the Obama presidency, that no one personality can right the wrongs done by Washington, the millions who understand that it is a commitment to the Constitution, to our shared insistence that we rise and return to a higher standard — the very standard that gave birth to the greatest nation that the world has ever known," said Cruz.
"To the revolutionary understanding that all men and all women are created equal. That our rights do not come from the Democratic Party or the Republican Party or even from the Tea Party. Our rights come from our creator," he continued to cheers.
"The federal government's responsibility is to defend those rights, defend us. And while Americans will continue to suffer under a president who has set an agenda that is causing millions to hurt across this country, I want to remind you of the promise of Scripture — weeping may endure for a night but joy cometh in the morning," said Cruz. "Tonight Iowa has proclaimed to the world, 'morning is coming, morning is coming.'"
WATCH CRUZ'S COMPLETE SPEECH BELOW: