Ted Cruz to Announce 2016 Presidential Bid at Liberty University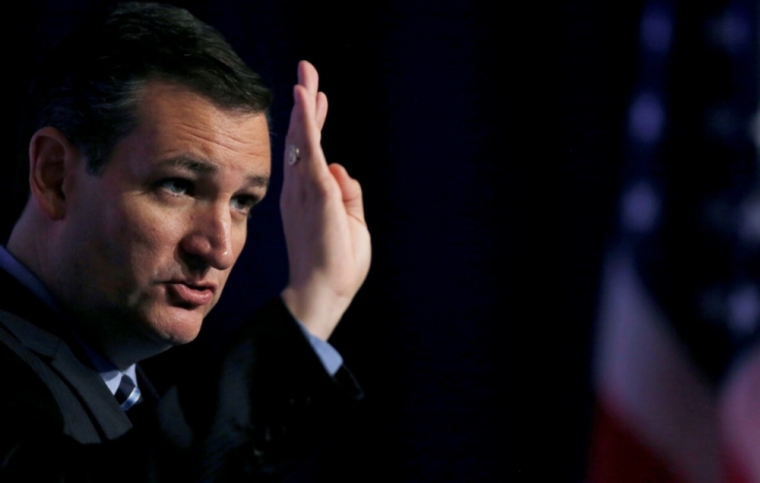 Sen. Ted Cruz of Texas formally declared himself a 2016 presidential candidate early Monday, becoming the first major Republican contender to officially announce a White House bid.
"I'm running for president, and I hope to earn your support!" he tweeted after midnight.
Cruz will formally launch his bid during a morning speech at Liberty University, an evangelical college, in Lynchburg, Virginia, according to The Associated Press.
A Cruz aide told The Washington Post that Liberty was chosen because it is the largest Christian university in the world with an extensive base of activist alumni.
"Liberty enforces a strong message that taking a stand for what is right speaks volumes about character," the anonymous aide was quoted as saying.
It suggests that the campaign will compete in the race for evangelicals and social conservatives instead of a conventional operation, the aide added.
The 44-year-old Tea Party favorite also posted a video on his Twitter account with a preview of his campaign's message.
"It's a time for truth, a time to rise to the challenge, just as Americans have always done. I believe in America and her people, and I believe we can stand up and restore our promise," Cruz says in the video. "It's going to take a new generation of courageous conservatives to help make America great again, and I'm ready to stand with you to lead the fight."
"Cruz is going to make it tough for all of the candidates who are fighting to emerge as the champion of the anti-establishment wing of the party," GOP strategist Kevin Madden was quoted as saying. "That is starting to look like quite a scrum where lots of candidates will be throwing some sharp elbows."
"He's awfully good at making promises that he knows the GOP can't keep and pushing for unachievable goals, but he seems very popular with the right wing," said veteran Republican strategist John Feehery, according to Fox News. "Cruz is a lot smarter than the typical darling of the right, and that makes him more dangerous to guys like Scott Walker and Rand Paul."
Amy Kremer, the former head of the Tea Party Express, was also quoted as saying that GOP candidates "will take a quantum leap forward" with the announcement, and it "will excite the base in a way we haven't seen in years."
There are quite a few viable social conservative candidates seeking to unite the Evangelical support behind them, including former Arkansas Governor and Southern Baptist pastor Mike Huckabee; retired neurosurgeon Dr. Ben Carson; former Pennsylvania Senator Rick Santorum among others.