Teen Returns Money His Father Allegedly Stole From Grieving Widow in Graveyard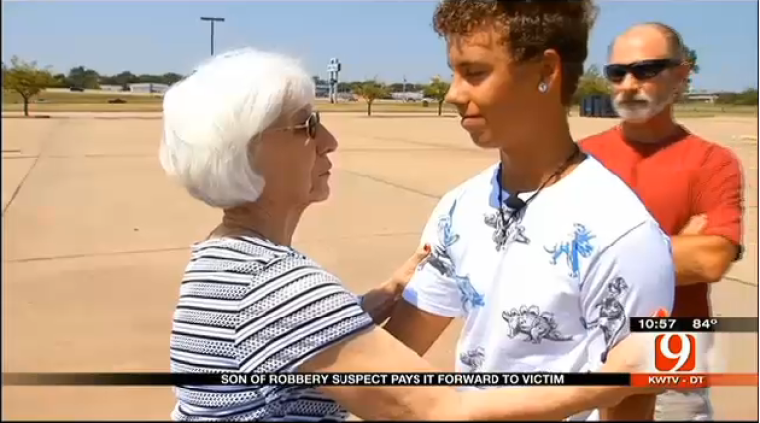 A 15-year-old Oklahoma teenager who found out that the money his father gave him to pay for his band trip might have been stolen, returned the money to a grieving widow who his father allegedly mugged on a recent visit to her husband's grave.
According to a News 9 report, Christian Lunsford, 15, of Moore, Okla., decided to atone for his father's sins by returning the money his father gave him to mugging victim, Tona Herndon.
Herndon was mugged in Bethany Cemetery at about 5 p.m. last Thursday as she tried to get inside her car after visiting her husband's grave who she had buried a week earlier according to News 9.
Her attacker violently grabbed her purse off her arm and left her running for her life with her dog Pappy. Herndon said she had cash, her keys and all her personal information in the purse.
"All at once, this guy grabbed my purse and I hung on to it and he pulled me out of the car," Herndon told News 9.
The teen's father, Shane Lynn Lunsford, was later arrested after he tried using one of Herndon's credit cards at a neighborhood walmart.
Herndon, however, says she distinctly remembers her attacker's face and although police allege he is the one, she says it wasn't Lunsford.
"I'll never forget those eyes," Herndon told News 9. "He is not the man that got my purse."
Christian Lunsford explained in the report that his father was in-and-out of jail during his childhood and although they weren't close, his father recently gave him $250 toward a band trip.
"When I found out this whole situation, I didn't know if it was hers or his or how, I just knew I needed to give the money to her," said Christian.
He arranged to meet with Herndon and apologize to her at the First Baptist Church of Moore where his mother, stepfather and two sisters are members.
"This is a very blessed family," said Herndon after meeting with the family. "I thank them so much for what they wanted to do, to make things right. That was wonderful."
Overwhelmed by the teen's gesture, instead of accepting the money, Herndon returned the cash to Christian.
"He gave and I received, and I gave and he received, so it worked out," Herndon said after the beautiful exchange.
"I was very surprised actually," said Christian. "I didn't expect that at all."