Tensions Return After Police Identify Officer Who Shot Michael Brown; Black Teen's Friend Admits They Were Stealing Cigars From Store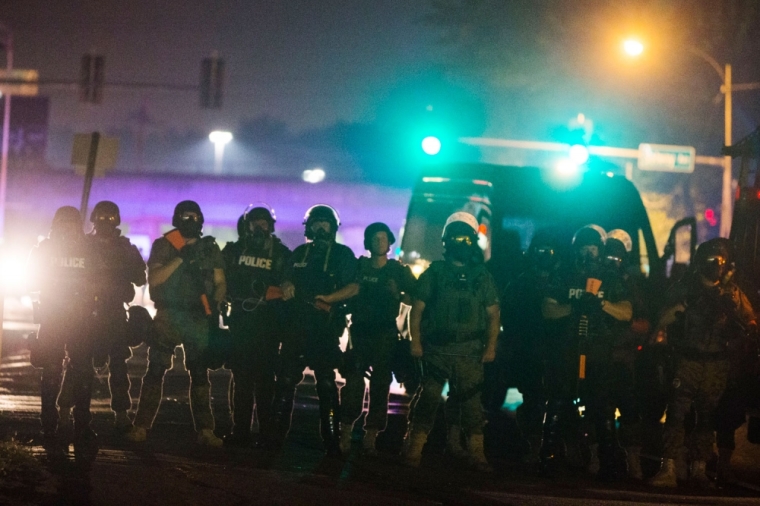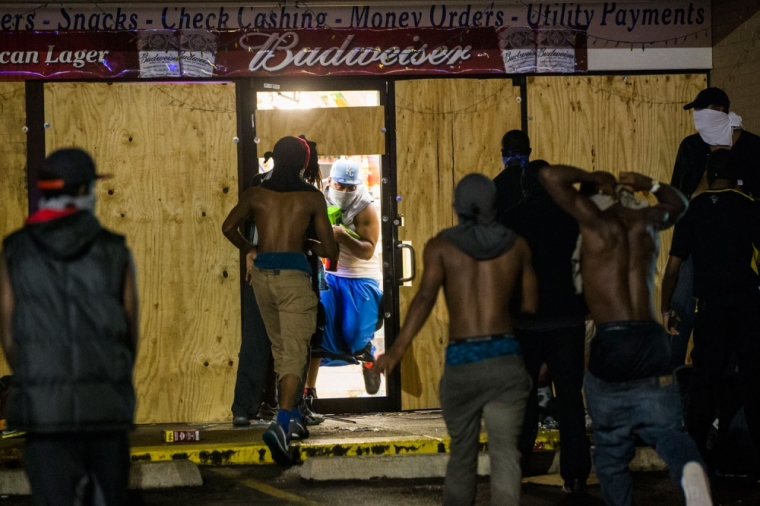 View Photos
Ferguson, Missouri was once again tense early Saturday after police identified the officer who fatally shot a black teen, Michael Brown, last week, and released pictures showing him strong-arming a smaller man inside a convenience store. A friend of Brown has admitted he and the slain teen were stealing cigars.
Early Saturday, about 200 protesters stormed the store where 18-year-old Brown was shot on Aug. 9, and clashed with police, Fox News reported.
While most of the protesters were well-behaved, some broke into the store and began looting it, Missouri State Highway Patrol Capt. Ron Johnson was quoted as saying. Some also threw rocks and other objects at police, he added.
Local residents formed lines to protect the store and other businesses. Ferguson has been tense since the shooting. Capt. Johnson has been appointed by Gov. Jay Nixon to take over security amid tensions that followed the use of tear gas and rubber bullets on protesters by police last week.
"For the sake of the family, the citizens of Ferguson, and the entire region, it is vital that the investigations into the shooting death of Michael Brown move forward in a thorough, open and transparent manner to ensure that trust is restored and justice is done," Nixon said in a statement Friday.
Rev. Jesse Jackson Friday led some protesters in prayer and encouraged them to "turn pain into power" as part of their non-violent struggle, according to KSDK.
Protests erupted once again after Ferguson Police Chief Thomas Jackson said at a press conference Friday that the officer, identified as Darren Wilson, was responding to a 911 call about the robbery of a $48.99 box of cigars, according to The Associated Press.
Dorian Johnson, a friend of Brown, admitted through his attorney that he and Brown had taken part in the theft of cigars, according to MSNBC.
However, Brown's family alleges police are seeking to divert people's attention away from the shooting. Family attorney, Daryl Parks, said the man shown in the footage released by police "appears to be" Brown. But the family asks why he was shot even after he put up his hands in surrender to the officer.
"There is nothing based on the facts that have been placed before us that can justify the execution style murder of their child by this police officer as he held his hands up, which is the universal sign of surrender," the family said in a statement.
The 28-year-old officer has had no complaints lodged against him.
Ferguson police chief said the officer did not know Brown was a suspect when he stopped Brown and his friend last Saturday, according to NBC News. They were stopped "because they were walking down the middle of the street blocking traffic," he said, adding that it was during the encounter that the officer saw the cigars in Brown's hands.
The officer, who has been on administrative leave since the shooting, allegedly received injuries to his face during the encounter with Brown.
Brown's friend, Johnson, earlier told MSNBC that the officer pointed the gun at Brown and said, "I'll shoot." The officer fired shots after Brown held his hands up.
Meanwhile, the Justice Department said FBI agents have also interviewed witnesses as part of a civil-rights investigation.