Terrorists 'Have Succeeded' in Syria, but Remaining Christians Are 'Steadfast in Faith': Patriarch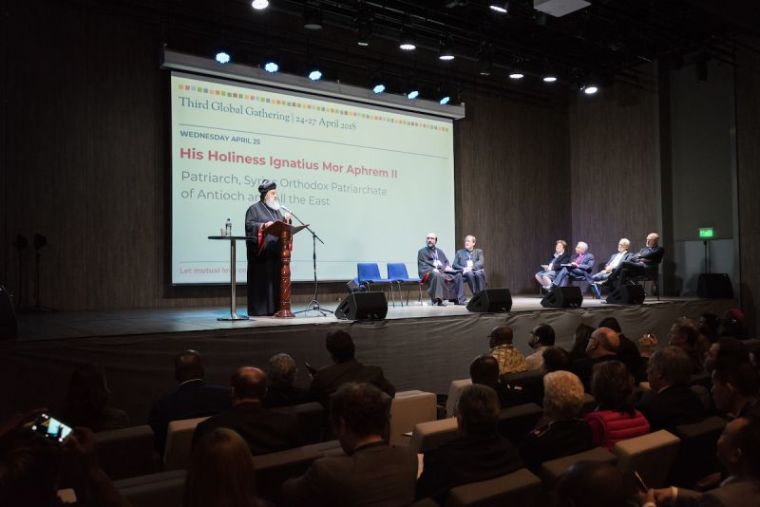 An Orthodox Christian church patriarch based in Syria has warned that radical terror has "succeeded" in Syria, with mass killings, kidnappings, and countless Christians forced to flee in the seven years of civil war.
Mor Ignatius Aphrem II, Patriarch of Antioch, All the East and Supreme Head of the Universal Syrian Orthodox Church, said in a speech at the Global Christian Forum in Colombia on Wednesday that the Aleppo community recently marked the fifth anniversary of the abduction of the Greek Orthodox Archbishop of Aleppo Boulos Yazijy and the Syrian Orthodox Archbishop of Aleppo Mor Gregorios Youhanna Ibrahim.
"These two men of God presented no threat to anyone. As disciples of Christ, called by Him to tend His sheep; they were fully dedicated to their mission. Their care and compassion went beyond their immediate flock. It was extended to the community at large regardless of their religious affiliation, which earned them the love and respect of the entire society in Aleppo," he said in prepared remarks.
"Their abduction, we believe, was a clear message targeting the Christian population of Aleppo in particular and of Syria in General. Unfortunately, the perpetrators of this heinous act of terrorism and barbarism which amounts to a crime against humanity, have succeeded in their mission," he added.
"Thousands of Christians have left Aleppo following the abduction of the two Archbishops and hundreds of thousands have left Syria since the beginning of this global war against Syria."
Aphrem said that despite Christians being decimated, caught in the crossfire of the civil war and targeted by various radical factions, those few still living in Aleppo remain "steadfast" in their "faith in Christ."
The patriarch reflected that Christianity is "not welcomed in the world because it puts people out of their comfort zone" and challenges their philosophical convictions.
He pointed out that today, Christians throughout the world face massive persecution, as they have for many centuries in the past. He reminded the audience of the slaughter of more than half a million Syriac speaking people by the Ottoman Empire 100 years ago, part of the Armenian genocide.
"Today, we continue to suffer persecution at the hands of terrorist groups such as ISIS, Al-Nusra and others, who are targeting Christian congregations and have completely destroyed many of our churches and other institutions," he said.
"Because of our history of persecution and martyrdom, whenever I think of the marks of the church being One, Holy, Catholic and Apostolic I immediately add to it 'Persecuted.' The true church that is faithful to her Lord and Savior has to be a persecuted one."
He noted that Syria has lost close to 40 percent of its entire Christian population in the past seven years, while neighboring Iraq has lost a staggering 80 percent of believers in the past 15 years.
The suffering of Christians worldwide should remind everyone of the suffering of Christ on His way to the Cross, Aphrem noted.
"It is through the path of suffering Christians will continue to embrace the Cross of Christ because we know that our salvation and resurrection is through the Cross for Christ has given us victory over death and sin through His death on the Cross and His glorious Resurrection," he said.
Several other Syrian-based priests have also said that faith in Christ is one of the only hopes for Christians there.
Syriac Orthodox Archbishop Selwanos Petros Al-Nemeh of Homs and Hama pointed out earlier this month that as many as 700 to 800 Christians have been killed due to extremist attacks in Homs in the past few years.
"We will live the resurrection. We hope for peace and happiness, because God gives us the triumph over death. We pray our God to give peace to the whole world, that we can live peacefully and happily together," Al-Nemeh said.
Other priests, such as Fr. Nadim Nassar, have accused the global Church of failing to stand by its brothers and sisters in Syria.
"The Church is only helping in a humanitarian way but it's not enough. I challenge the leadership of the Church East and West ... where are we? Where are the leaders of the Church to stand up and shout and scream in the faces of the politicians and say 'enough, stop the blood and stop this senseless war,'" Nassar said in a March interview.
"Unfortunately, the position of the Church is appalling, and it is shameful."