Texas Gov. Rick Perry Says Marriage Is Between One Man-One Woman, Despite Federal Judge's Ruling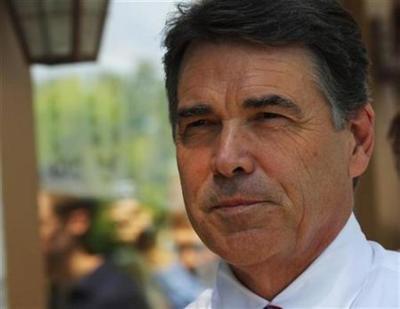 Reacting to a federal judge's ruling Wednesday that deems Texas' ban on gay marriage as unconstitutional, Republican Gov. Rick Perry said it's not the role of the federal government to overturn the will of his state's citizens.
"Texans spoke loud and clear by overwhelmingly voting to define marriage as a union between a man and a woman in our Constitution, and it is not the role of the federal government to overturn the will of our citizens," Perry said in a statement shared with The Christian Post Wednesday afternoon.
U.S. District Judge Orlando Garcia said in his decision that the state's ban on same-sex marriage "conflicts with the U.S. Constitution's guarantees of equal protection and due process." And because it denies "homosexual couples the right to marry," it also "demeans their dignity for no legitimate reason."
"Accordingly," he added, "the Court finds these laws are unconstitutional and hereby grants a preliminary injunction enjoining defendants from enforcing Texas' ban on same-sex marriage."
Garcia's ruling, however, does not lift the state's ban on same-sex marriage and civil unions. It merely grants a preliminary injunction for the four plaintiffs, pending the outcome of an appeal to the Fifth Circuit Court of Appeals in New Orleans.
Proposition 2, an amendment to the state's constitution that defines marriage as a "union of only one man and one woman," passed with 76 percent of Texans voting in favor of the amendment, which also bans civil unions, on Nov. 8, 2005.
Perry maintained that "the 10th Amendment guarantees Texas voters the freedom to make these decisions."
"[T]his is yet another attempt to achieve via the courts what couldn't be achieved at the ballot box," he stated. "We will continue to fight for the rights of Texans to self-determine the laws of our state."
Prohibition of same-sex marriage
The Texas legislature first acted to ban same-sex marriage in 1997 when the Texas Family Code was enacted. "It prohibits the clerk of any Texas county from issuing a marriage license to people of the same gender," Garcia said in his ruling.
A subsequent amendment to the Texas Family Code came in 2003 when the legislature voted to bar recognition of legal same-sex marriages that were executed outside of the state.
Article 1, Section 32 of the Texas Constitution came as a result of House Joint Resolution No. 6 that was passed by state lawmakers during the 79th legislative session, and defines marriage as a "union of only one man and one woman," and also bars civil unions because they are deemed as "a way for same-sex couples to circumvent laws protecting marriage by creating a legal arrangement that is substantially the same as marriage."
The proposed amendment was then put on the ballot as Proposition 2 for voters to decide in 2005, which they approved.
Garcia was asked by the plaintiffs to rule on a pre-trial request to temporarily bar Texas from enforcing its ban on same-sex marriage while a lawsuit filed by the two gay couples proceeds.
"Today's court decision is not made in defiance of the great people of Texas or the Texas legislature, but in compliance with the U.S. Constitution and Supreme Court precedent," Garcia said. "Without a rational relation to a legitimate governmental purpose, state-imposed inequality can find no refuge in our U.S. Constitution."
"These Texas laws deny plaintiffs access to the institution of marriage and its numerous rights, privileges and responsibilities for the sole reason that plaintiffs wish to be married to a person of the same sex," Garcia added.
According to The Dallas Morning News, after a Feb. 12 hearing on the case, Garcia acknowledged that his ruling wouldn't be the final say on the issue of same-sex marriage in the state and predicted that this case, or one of 22 similar ones in other states, "will make its way to the Supreme Court."
"The case he ruled on was brought by two gay men from Plano who want to get married and two Austin lesbians who want Texas to recognize their out-of-state marriage," DMN reports. "It is one of three federal lawsuits challenging the Texas ban — and the furthest along."
The plaintiffs include lawyer Mark Phariss and physician's assistant Victor Holmes, who've been domestic partners for more than 16 years but were denied a marriage license in Bexar County; and Cleopatra De Leon and Nicole Dimetman. De Leon and Dimetman got married in Massachusetts in 2009 and want the state to recognize their marriage.
The plaintiffs' lawyers argued that the state is violating their clients' 14th Amendment rights by denying a privilege — the ability to marry — for reasons mostly of hostility or "animus" toward gay men and lesbians.
A case of judicial activism?
Like Gov. Perry, National Organization for Marriage President Bill Brown asserts that Garcia's Wednesday ruling is a "profoundly disturbing trend of judicial activism."
"We've seen a rash of these rulings in recent weeks, all making the same errors about binding Supreme Court precedents relevant to marriage, and all issued by activist judges bound and determined to redefine marriage in defiance of thousands of years of human experience," Brown said in a statement shared with CP.
"These egregious decisions by unelected judges throwing out the votes of millions of Americans have been shamefully encouraged, aided and abetted by the lawless actions of President Obama and his Administration, especially Attorney General Eric Holder," he added.
Brown also believes that Garcia's decision is a signal that the question of marriage will return before the U.S. Supreme Court, and expressed hope that the Court would hold to its 2013 Windsor decision and affirm states' rights to determine marriage for themselves."
Texas gubernatorial candidates Sen. Wendy Davis and Attorney General Greg Abbott also responded to Garcia's ruling and released the following statements:
"I believe that all Texans who love one another and are committed to spending their lives together should be allowed to marry," said Davis, a Democratic candidate for governor.
Abboott, a Republican candidate for governor who is also listed as a defendant in the case, commented, "The U.S. Supreme Court has ruled over and over again that states have the authority to define and regulate marriage. The Texas Constitution defines marriage as between one man and one woman. If the Fifth Circuit honors those precedents, then Wednesday's decision should be overturned and the Texas Constitution will be upheld."