Texas Governor Rick Perry Baptized in Texas River
Texas Governor Rick Perry was baptized in Little Rock Creek near the city of Independence in a small ceremony last month.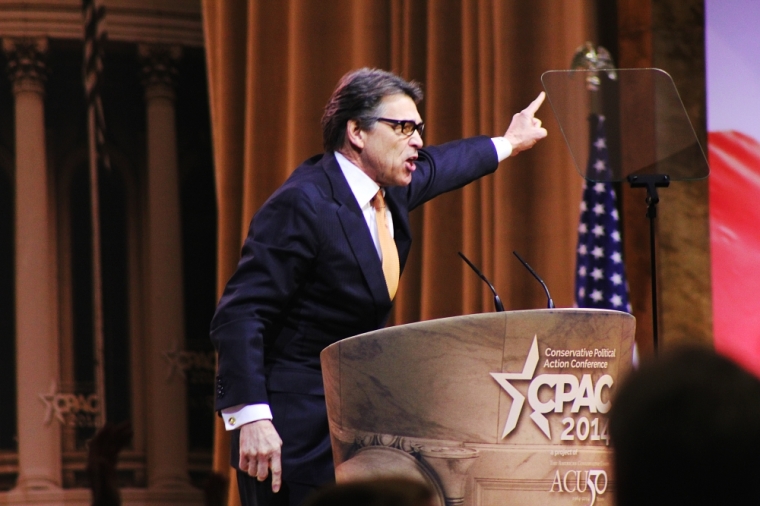 Perry, 64, who has governed the state since 2000, was baptized in the same waters as Sam Houston, the first elected president of the Republic of Texas.
"Gov. Perry has a deep and abiding faith in God," Perry spokesman Felix Browne said in a written statement. "Like many people of faith, the governor wished to reaffirm his commitment in a way that holds great personal meaning."
Perry, a Republican, grew up in the United Methodist Church and attended the same church as former President George W. Bush in Austin until 2010.
Since then, his family has attended Lake Hills Church, a megachurch in Austin that is closer to his current residence. The multisite church boasts about 3,000 members and offers a different religious experience for Perry than the one in which he grew up.
Since Perry was born into a United Methodist family he was likely baptized as an infant. The method of baptism is also different at Lake Hills Church, as Perry explained to The Statesman in 2010.
"They dunk," he said. "Methodists sprinkle."
Throughout his time as governor, Perry has made frequent reference to his faith. In 2006, the longtime Texas governor said that while he let God be the ultimate arbitrator of who would be in heaven one day, he personally believed the way was through Jesus Christ.
"I don't know that there's any human being that has the ability to interpret what God and his final decision-making is going to be. That's what the faith says. I understand, and my caveat there is that an all-knowing God certainly transcends my personal ability to make that judgment black and white," Perry said as quoted by The Dallas Morning News.
In Aug., 2011, Perry organized a prayer meeting, inviting other state governors to join him in an event led by the conservative American Family Association. Some criticized the event as a front for a political event designed to drum up support for his bid for the presidency. Thousands turned out to the event where Perry prayed for the nation and discussed his faith.
Perry is not running for reelection for governor but instead will be succeeded by current Texas Attorney General Greg Abbot, a Republican, or Democrat State Senator Wendy Davis.