Texas Gov. Rick Perry Shocks Justice Advocate with Support for Decriminalizing Marijuana; Says He Doesn't Support Legalization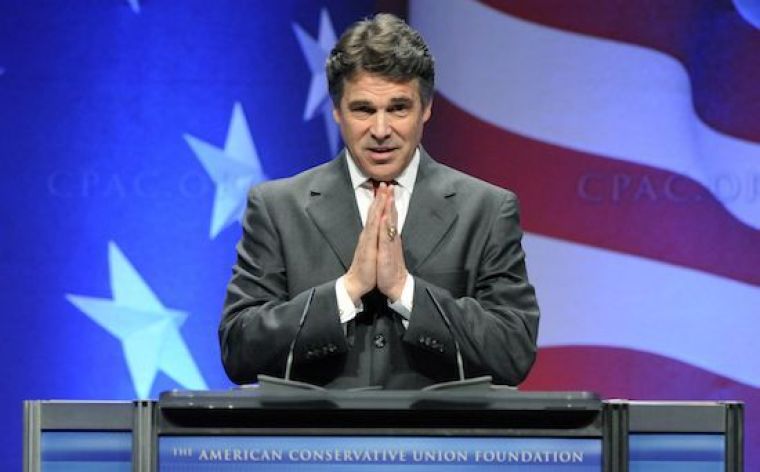 Texas Gov. Rick Perry (R) shocked one justice advocate Thursday when he publicly voiced his support for decriminalizing marijuana for the first time. The governor, however, does not support legalizing the drug.
Perry, according to My San Antonio, told an international panel on drug legalization at the World Economic Forum in Davos, Switzerland that "as governor, I have begun to implement policies that start us toward a decriminalization."
The state's decriminalization efforts, he explained, are being implemented through alternative "drug courts" which provide treatment, as well as softer penalties for minor offenses.
His spokeswoman, Lucy Nashed said Perry remained steadfast in his opposition to legalize marijuana due to dangers associated with the drug but is committed to reducing punishment and jail time for people who smoke it.
"Legalization is no penalty at all, whereas decriminalization doesn't necessarily mean jail time (for minor possession offenses). It means more of a fine or counseling or some sort of program where you don't end up in jail but in a rehabilitative program," said Nashed. "The goal is to keep people out of jails and reduce recidivism, that kind of thing," she added.
"I am shocked," Ana Yañez-Correa, executive director of the Texas Criminal Justice Coalition said of Perry's announcement. She said back in 2007 Perry killed a drug treatment bill her organization had supported. She also highlighted that more than 15,000 people are imprisoned in Texas for drug possession. "I am very happy to hear the governor supports a more rehabilitative approach," she said.
A Statesman report on the Forum noted that among those speaking on the panel were Juan Manuel Santos, the president of Colombia, and former U.N. Secretary General Kofi Annan.
In that report, Perry said he feared removing penalties for marijuana use entirely would send the wrong signal, pointing to recent criticism of U.S. President Barack Obama for suggesting that marijuana was no more dangerous than alcohol.
"The point is that after 40 years of the war on drugs, I can't change what happened in the past. What I can do as the governor of the second largest state in the nation is to implement policies that start us toward a decriminalization and keeps people from going to prison and destroying their lives, and that's what we've done over the last decade," said Perry.
"So I think there's some innovation that goes on in the states that can translate not just to Oklahoma or California or New York, but to Switzerland, to France, to other countries that have this drug issue facing them, that there are some alternatives without going that big full step and decriminalizing and sending a message to people that it's OK," he added.
A drug offender in Texas with less than 2 ounces of marijuana can be sentenced to up to 180 days in jail along with a fine of up to $2,000 while offenders with more than 5 pounds can be slapped with up to two years in jail.
Perry's efforts are part of a growing trend among some conservatives, such as U.S. Sens. Mike Lee (R-Utah) and Rand Paul (R-Ky.) and the advocacy group Right on Crime, to reform the nation's sentencing laws. Congress recently appropriated funds for the "Charles Colson Task Force on Federal Corrections," which will also be tasked with making sentencing reform recommendations.