5 Things We Know About 17-Y-O Texas Shooter at Santa Fe High School
Dimitrios Pagourtzis Described Himself as 'Atheist'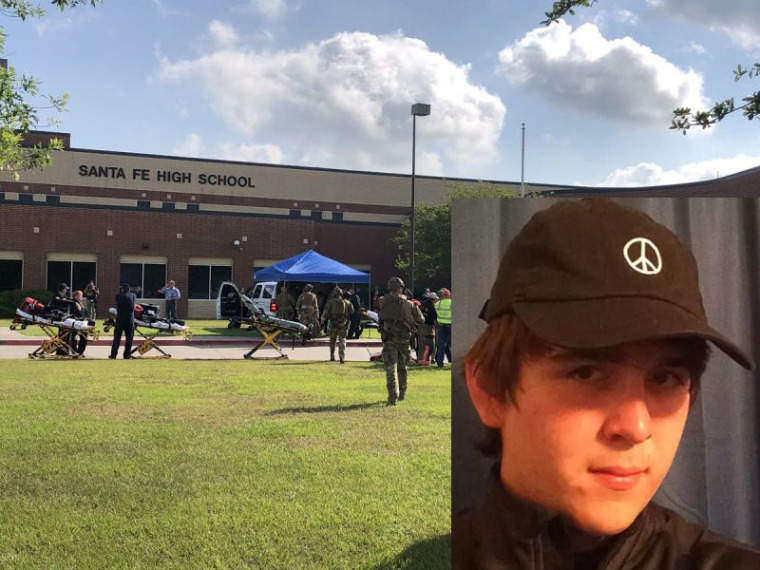 The teenage shooter who killed at least 10 people at the Santa Fe High School in Texas Friday morning described himself as an "atheist" and wrote about his plans to open fire inside the school and to kill himself in private journals, according to a report. Here are five things we know about him thus far.
The 17-year-old suspect, identified as Dimitrios Pagourtzis, opened fire at the school located between Houston and Galveston a little before 8 a.m., killing 10 people, including a substitute teacher and an exchange student from Pakistan.
In a statement to The Christian Post Saturday morning, Secretary of State Mike Pompeo shared his public condolences with the exchange student's family. 
"I send my deepest condolences to the family and friends of Sabika Sheikh, who was killed in the tragic shooting at Santa Fe High School in Texas, yesterday. Sabika was in the United States on the State Department-sponsored Youth Exchange and Study program, helping to build ties between the United States and her native Pakistan. Sabika's death and that of the other victims is heartbreaking and will be mourned deeply both here in the United States, and in Pakistan."
Pagourtzis surrendered after the shooting, and is being held on capital murder with no bond.
Texas Gov. Greg Abbott said the high school junior wrote about his plans in journals on his computer and in his cellphone that police obtained, according to The Associated Press, which quoted the governor as saying, "Not only did he want to commit the shooting but he wanted to commit suicide after the shooting."
Pagourtzis told authorities he "didn't have the courage" to kill himself.
The suspect used a shotgun and .38 revolver which were owned legally by his father, Abbott said, adding that authorities have found fake explosive devices including a Molotov cocktail in the suspect's home and a vehicle as well as in and around the school.
Another 18-year-old student was detained Friday but authorities have not shared any details about that individual, according to CBS Local.
Sen. Ted Cruz, a Republican from Texas, responded to the shooting, saying, "There have been too damn many of these … Texas has seen too many of these."
Here are five key details about the suspect:
1. Pagourtzis was wearing a T-shirt that said "Born to Kill."
Some classmates of the suspect have said he regularly wore a black trench coat and black boots to school.
On April 30, he posted on Facebook an image of the same T-shirt with "Born to Kill" written on it, as well as a trench coat. The post also explained its decorations: "Hammer and Sickle=Rebellion," he wrote, according to The New York Times. "Rising Sun=Kamikaze Tactics. Iron Cross=Bravery. Baphomet=Evil."
2. Pagourtzis likes art inspired by Perturbator's music.
The suspect also posted on Facebook artwork that appears to be inspired by James Kent, known by his stage name Perturbator, a French electronic musician from Paris who has a background as a guitarist in several black metal bands.
Kent's electronic music, largely instrumental, is inspired by the cyberpunk culture. It has been adopted by affiliates of neo-Nazi groups, according to the Times.
3. Pagourtzis was planning to enter the U.S. Marine Corps.
The suspect wrote on Facebook that he plans to join the U.S. Marine Corps next year, according to the Time magazine. However, The Associated Press reported that the Marine Corps has found no one by that name in its records.
4. Pagourtzis was described as a quiet student who was into war video games.
Tristen Patterson, a 16-year-old junior at Santa Fe and who considered the suspect a friend, said he was into video games that simulated war and would at times talk about guns.
"But he never talked about killing people or anything like that," ABC7 quoted Patterson as saying.
Patterson added that Pagourtzis rarely talked about himself, but appeared a little sad at times.
Pagourtzis had no known confrontations with law enforcement.
5. Pagourtzis describes himself as an atheist.
Pagourtzis' Facebook profile shows he describes himself as an "atheist" and that he once also declared, "I hate politics," according to Los Angeles Times.