Texas Senate Approves Controversial Bathroom Bill, Opponents Say It Will Hurt Transgender People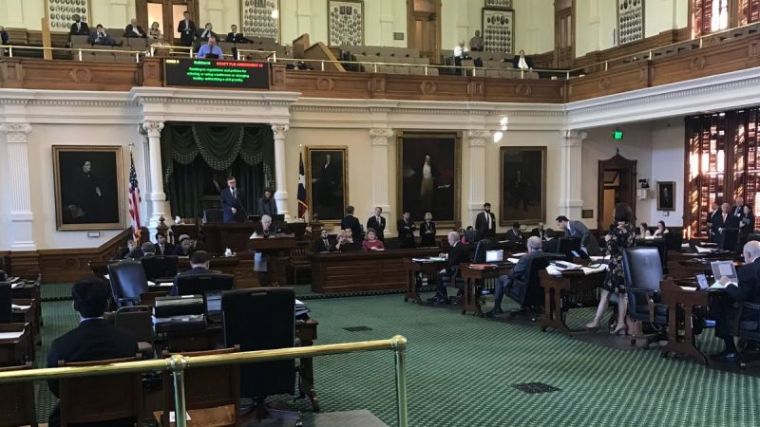 Despite opponents arguing that it will hurt transgender people by discriminating against them, the Texas Senate on Tuesday tentatively approved a controversial "bathroom" bill with a 21-10 vote.
If it becomes law, Senate Bill 6, described as a legislative priority of Lt. Gov. Dan Patrick, would require transgender people to use bathrooms in public schools, government buildings and other publicly-owned facilities that match their "biological sex" and not gender identity. It would also preempt local anti-discrimination laws meant to allow transgender residents to use public bathrooms that match their gender identity.
Individuals who violate the measure will not face any criminal charges for using an opposite-sex bathroom. SB 6 would levy between $1,000 to $10,500 in civil penalties on schools or government entities which fail to comply with the measure, depending on the number of violations.
Republican state Senator Lois Kolkhorst who introduced the bill said even though she has been subjected to much ridicule as a result of the bill, the aim of the measure is to protect women and children.
"I've been subjected to many jokes, everybody snickering and talking about the bathroom bill. They've made light of the issue, accusing us of wasting time," she said on the Senate floor according to KVUE. "I will tell you as a woman, this is not a joke."
Only one Democrat, — state Sen. Eddie Lucio Jr. of Brownsville — voted in favor of the bill. Opponents argued that forcing transgender people to use restrooms that go against their gender identity is discrimination and could cause other problems.
"Your birth certificate says you're a female but you look very much like a man, wouldn't your bill unnecessarily create a problem that doesn't exist today?" Democrat Senator Jose Menendez asked Kolkhorst pointing to two transgender pastors who were born women but now look like men with full beards.
"In 2007, a bill that I carried where an amendment was put on that allowed you to change your birth certificates, that is the remedy to that," Kolkhorst responded.
Other senators argued however that judges had denied birth certificate changes in several cases. It was also noted that the cost to biologically change a person's sex was prohibitive and the reason only one percent of transgender Texans have been able to change their birth certificates.
The Texas Senate is expected to take a final vote on the bill Wednesday after which it will be sent to the Texas House of Representatives where it is expected to face stiffer challenges.
Republican Speaker of the House Joe Straus told KVUE News he is not a fan of the bill and believes it could send the wrong message to companies and events looking to do business in Texas.
The Austin Convention and Visitors Bureau estimates if the bill becomes law, the city will lose around $109 million tourism dollars through 2021. Other cities are also reporting similar losses.
Chris Wallace, president of the Texas Association of Business said in a statement Tuesday that he was disappointed with the progress of SB6.
"We're disappointed the Texas Senate would choose to pass discriminatory legislation like Senate Bill 6, despite clear indications that its passage will have an economic impact in Texas. TAB remains committed to fighting and defending the Texas economy against bills that discriminate and run counter to Texas values," Wallace said.
"Our members believe everyone deserves to be treated fairly and equally, and we have heard what they know- equity and non-discrimination is a twenty-first-century economic imperative. Senate Bill 6 is simply not worth the risk, and it will do nothing to improve personal safety," he said.
Jonathan Saenz, President of Texas Values has a different take on the bill.
"We're thankful for the leadership of Senate author Lois Kolkhorst, Lt. Gov. Dan Patrick, and the strong majority of the Texas Senate for standing up to protect privacy, dignity, and safety in our public school locker rooms and restrooms. We call on the members of the Texas House to now consider the merits of the Texas Privacy Act, which respects private business while making it clear that boys do not belong in the girls' room in our public schools," he said in a statement Tuesday.
According to Texas Values, Senate procedures require a formal, third reading and passage before a bill may be sent to the House. The bathroom bill will not be officially approved by the Senate until the reading on Wednesday afternoon.
To support the bill in the House, Texas Values will be hosting its Texas Faith and Family Day on Thursday, March 16, at the Texas Capitol. A rally from noon to 1 p.m. on the South Steps of the Capitol will feature Kolkhorst and Rafael Cruz, father of U.S. Sen. Ted Cruz.