Texas Tech suspends men's basketball coach over 'racially insensitive' Bible quote about 'slaves serving their masters'
Coach Mark Adams reportedly says comments were 'not racist ... I was quoting the Bible'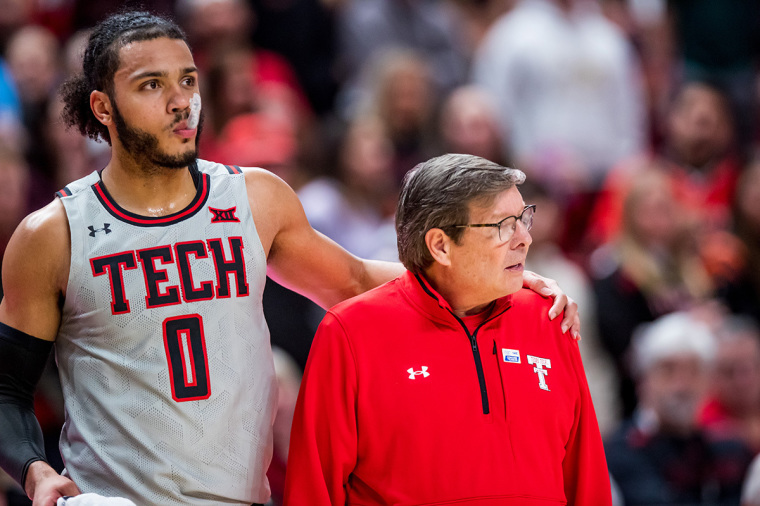 Texas Tech has suspended men's basketball head coach Mark Adams over what the university called a "racially insensitive" Bible quote about slaves and masters.
In a statement Sunday, the university based in Lubbock, Texas, announced that on March 3, athletic director Kirby Hocutt was "made aware of an incident regarding a coaching session between Adams and a member of the men's basketball team."
According to the university, while encouraging one of the members of the team to "be more receptive to coaching," the 66-year-old Adams "referenced Bible verses about workers, teachers, parents, and slaves serving their masters" in what Texas Tech called "an inappropriate, unacceptable and racially insensitive comment."
Following the incident, Adams "immediately addressed this with the team and apologized," the statement added.
Hocutt later addressed the incident with Adams and suspended the coach "effective immediately in order to conduct a more thorough inquiry of Adams' interactions with his players and staff."
No timeline was provided for Adams' return.
A request for comment sent to Adams' Texas Tech email address was returned as undeliverable Monday. It's not clear whether Adams no longer has an email address with Texas Tech.
A spokesperson for Texas Tech did not return a request for comment Monday from The Christian Post.
Adams reportedly told Stadium basketball analyst Jeff Goodman that his comments were "not racist" and were made in the context of quoting a Bible verse as he "told one of his players that there is 'always a master and a servant.'"
"I was quoting the scripture," he was quoted as saying. "It was a private conversation about coaching and when you have a job, and being coachable."
According to Goodman, Adams said that "in the Bible that Jesus talks about how we all have bosses, and we all are servants."
"I was quoting the Bible about that," he added.
The coach addressed the team about the incident the following day, but Adams denied making an apology, saying it was only to "explain the situation."
It's not clear which Bible verses Adams was specifically referencing, though the Scriptures make numerous references to slavery in both the Old and New Testaments, including John 13:16, where Jesus says: "Truly, truly I say to you, a slave is not greater than his master, nor is one who is sent greater than the one who sent him."
In Ephesians 6:5, the Apostle Paul writes: "Slaves, obey your earthly masters with respect and fear and sincerity of heart, just as you would obey Christ." Similar statements are also made in 1 Timothy 6:1, Titus 2:9 and Colossians 3:22.
Adams' suspension comes just days before Texas Tech plays West Virginia in the first round of the Big 12 tournament on March 7.
After being named as head coach in 2021, Adams led the Red Raiders to the Sweet Sixteen of the NCAA tourney but stumbled this season as the team went 16-14 during the regular season.
With a win on Wednesday over the West Virginia Mountaineers, Texas Tech would need an automatic qualifier bid to make it back to the NCAA Tournament.
Last spring, Adams, a class of '79 graduate of Texas Tech himself, signed a contract extension that would pay him more than $15 million through the 2026-'27 season, according to ESPN.