The American family is endangered
Yesterday was the 69th observance of the National Day of Prayer, which was made an official federal government event on the first Thursday of every May by President Truman's official act in 1952.  The movement for the National Day of Prayer was led by a young Billy Graham as a response to the crises produced by the dawn of the Atomic Age and the Korean War.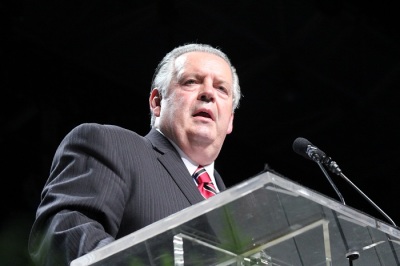 This coming Sunday, we observe "Mother's Day," the day we set aside in America each year to honor and appreciate our mothers. What better time to discuss the declining status of the American family than in the interval between the National Day of Prayer and Mother's Day.  I am so profoundly grateful that our nation has traditionally been a nation of prayer long before 1952. 
Furthermore, I was so profoundly blessed to have a loving, caring Christian mother who had more impact on me during my formative years than any other individual.  My mother always taught me that God loves me and He has a wonderful plan for my life.  My mother is the one who led me to faith in Jesus when I was a small boy through a backyard "Good News Club."  My father was a World War II Navy veteran who was in the fight from Dec.7,1941 – V.J. Day in 1945.
My father taught me to love America and the value of hard work and being a person of courage and integrity.  Truth be known, my parents were probably better parents than they were spouses.  What they did do was present their two children (my younger brother and myself) with a safe, secure, stable environment in which we both knew we were loved and cherished.  They both parented with dedication and effort in their very different, but complimentary maternal and paternal ways.  My parents got married in 1943 in the midst of World War II and they were married for 69 1/2 years.
Increasingly, my family's collective "nuclear family" experience is evermore rare.  In fact, the traditional nuclear family, defined as a husband and a wife and their children living together in an "intact" family, has declined to significant minority status in America with alarming speed.
Currently, the U.S. marriage rate is at an all-time low.  Almost ¼ of our minor children now live with just one parent and no other adult.  That appalling number is THREE TIMES the rate of ALL the others countries in the world.  As Americans we need to understand that what is happening to the family in America cannot be described as "normal" by any method of justification.
Nearly half a million minor children are in foster care across the nation.  The illegitimacy rate in America as a whole has risen to 41% and in the Black community it is approaching 75%.  In 1960 there was virtually no significant ethnic difference in the nation 5% illegitimacy rate.  More than half of our nation's children have lost at least one parent in the home (usually their father) by the time they are six.
This is true despite the fact that study after study has revealed that the single greatest advantage a child can have in America today is to be born into a home where their parents are married and they stay married to each other.
If a child is born into such an intact family, no matter their affluence or lack thereof, they are far more likely to finish high school, graduate from college, not be sexually or physically abused, not have a child out of wedlock, not have an abortion, not experiment with illicit drugs, and to get married and stay married than their non-intact family cohort.
If a child is born into the bottom 20% of the American class structure, that child has a 4 times higher chance of escaping that class status and joining the top 20% if their parents are married and stay married to each other.
Just in recent days we have seen people who should know better, like major officials who served in former Barack Obama's administration, say that police should not use lethal violence to quell knife fights among teenagers which are "fairly common."
That kind of defense of the indefensible is referred to in academic circles as "defining deviancy down."  Daniel Patrick Moynihan correctly labelled this practice back in the 1960's and pointed out that deviancy was still deviancy.
About two decades ago there was a popular analytical model called "The Frog in the Kettle."  The idea was that if you dropped a frog into a kettle of boiling water he would immediately jump out of the boiling water to safety.  However, if you put the frog in a kettle of water and began to heat it gradually to boiling, by the time the frog felt uncomfortable enough to jump, his muscles would be paralyzed by the heat and would be unable to jump.
I am sorely afraid that the parable of the frog and the kettle is being acted out in American society today.  We have seen the family and American society in gradual decline for many years now.  In other words, the temperature has gradually been rising to the point that it is becoming increasingly disturbing.
Now, as the collapse of the family as the basic building block of human civilization accelerates at an ever expanding rate, are we now paralyzed  from leaping out of the boiling water to safety for ourselves and our nation?  Fortunately, or perhaps unfortunately, the choice may no longer be up to us, but instead to citizens impacted by this precipitous decline.
I pray to God that this is not the case but the increasing speed of the decline is disturbing.
Dr. Richard Land, BA (magna cum laude), Princeton; D.Phil. Oxford; and Th.M., New Orleans Baptist Theological Seminary, was president of the Southern Baptists' Ethics & Religious Liberty Commission (1988-2013) and has served since 2013 as president of Southern Evangelical Seminary in Charlotte, NC. Dr. Land has been teaching, writing, and speaking on moral and ethical issues for the last half century in addition to pastoring several churches. He is the author of The Divided States of America, Imagine! A God Blessed America, Real Homeland Security, For Faith & Family and Send a Message to Mickey.