The Christian Post's top 10 news stories of 2019, Part 2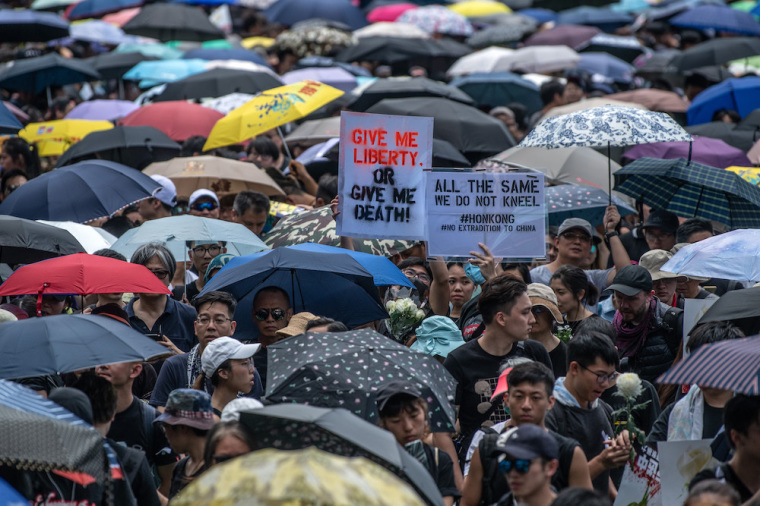 3. China's human rights abuses and the Hong Kong protests
In 2019, the world watched in fascination as nearly 2 million demonstrators took to the streets of Hong Kong to call for political and socioeconomic freedoms as well as autonomy from China.
Protesters — most of them young — have staged mass demonstrations in the semi-autonomous city since June. Initially, the demonstrations were held in response to a since-withdrawn extradition bill precipitated by the murder of a pregnant teenager by her boyfriend during a vacation in Taiwan. 
Because the Hong Kong government does not have an extradition treaty with Taiwan, legislation was proposed that would have allowed the extradition of suspects from the city to other countries, including mainland China.
Hong Kong has been governed under a "one country, two systems" formula since 1997, when Britain returned control of Hong Kong to China. As a result, Hong Kong has enjoyed privileges not granted to China, including an independent judiciary, increased protections, and fewer restrictions on freedom of expression.
Protesters have been credited with forcing the Hong Kong government to formally withdraw the bill and prompting a record turnout at the polls, with approximately 3 million people voting in November's district council elections, giving democratic candidates about 90 percent of the 452 seats.
Since then, the protests have grown into a fierce call for even greater autonomy from China, amnesty for the thousands of arrested protesters, implementation of complete universal suffrage, and police accountability in Hong Kong.
In recent months, violence between police and protesters has escalated throughout the city. Police have used increasingly aggressive means to confront protesters, leading to two deaths. Other demonstrators have been seriously injured as police used tear gas, rubber bullets, batons, and water-cannon blasts while trying to disperse and arrest protesters. Some protesters, however, have attacked and severely beaten civilians overheard speaking Mandarin, a language spoken by many residents from mainland China. 
In November, Chow Tsz-lok, a 22-year-old student, died several days after falling from a parking garage near where police clashed with protesters. A short time later, a police officer shot a protester at point-blank range. Across the city, a man was set on fire after an argument with protesters.
As violence and unrest continues to permeate Hong Kong, Christians — who make up 11 percent of the population — have been actively engaging with the social movement. In June, the hymn "Sing Hallelujah" to the Lord rang out as an unofficial protest anthem.
Additionally, pastors have stood between the police and protesters, shielding young front-line demonstrators with their bodies. Other churches in the area have opened their doors to offer shelter on demonstration days, providing solace to protesters.
"We believe in upholding justice," David Cheung, a pastor who has taken part in the protests, told The New York Times. "Our faith gives us our courage, confidence and hope against this evil government power."
The Hong Kong protests have also seen global support, with rallies taking place in the U.K., France, the U.S., Canada and Australia.
The Rev. Bill Devlin of the Infinity Bible Church, who traveled from the U.S. to Hong Kong to support protesters, told The Christian Post he was tear-gassed multiple times.
"We were praying in the streets. I didn't have my goggles on. I had my glasses and I thought that would be good enough," he told CP. "The tear gas fell right at my feet and within 10 seconds my eyes were on fire and I couldn't see. It was about three minutes before I could see. I had to wash it out with one of those spray things of saline solution."
The Rev. Patrick Mahoney of the Christian Defense Coalition, who also traveled to Hong Kong to join the protests, warned that losing Hong Kong's autonomy and subjecting citizens to China's legal system will have dire consequences for the Christian community and those of other faiths.
"[T]he persecution and the oppressive nature of the mainland Chinese government in 1997 is not what it is today," Mahoney said. "Under President Xi, churches have been bulldozed. Christians are being thrown into jail. Uighurs are being put in internment camps."
"When this 50 years ends and [Hong Kong] becomes part of mainland China, we know right now they will be persecuted," Mahoney added. "They will be brutalized, they won't be able to get a job, their churches will be monitored." 
China's human rights abuses are well documented. In 2019, authorities significantly ramped up repression and systematic abuses against religious minorities, including Christians, Uyghurs, and other Turkic Muslims.
This year, leaked documents revealed the Chinese government has unjustly imprisoned hundreds of thousands to millions of Uyghurs and other Muslim minorities in the Xinjiang region. 
According to the document, detention centers in Xinjiang are run as high-security prisons with strict punishments and no escapes. Camps are allegedly camps run on a point system in which inmates earn points for "ideological transformation," "compliance with discipline" and "study and training."
There have also been allegations of organ harvesting among Chinese prisoners of conscience and an increased crackdown against Christians, as churches that become too large, too political or invite foreign guests are perceived as a threat.
In efforts to free religion from perceived foreign influence, Chinese officials have shut down churches, arrested entire congregations, and reportedly attempted to rewrite the Bible and change words to classic hymns.
Additionally, children are increasingly being removed from church life; worship is monitored via CCTV and spies; and online activity is heavily regulated, with "sensitive" words like "Almighty God" blocked. 
Sam Brownback, the U.S. ambassador-at-large for international religious freedom, warned in March that the Chinese government is clearly "at war with faith."
"We've seen increasing Chinese government abuse of believers of nearly all faiths and from all parts of the mainland," said Brownback. 
"They've increased their repression of Christians, shutting down churches and arresting adherents for their peaceful religious practices," Brownback said. "And to this we say to China: Do not be mistaken, you will not win your war on faith. This will have consequences on your standing at home and around the world."
Open Doors USA's 2019 World Watch List rankings of countries where it is hardest to be a Christian bumped China from No. 43 of the globe's worst Christian persecutors in 2018 to No. 27 this year.
Leigh MarieAnn Klett contributed to this report.