'The Conjuring' Review: A Demonic Scarefest With Christian Themes
If a horror movie's main job is to scare the pants off of you, then James Wan's "The Conjuring" should be regarded as a success for the young director.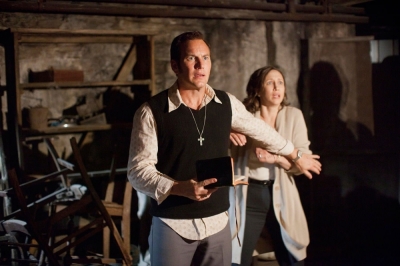 This film is every bit as creepy as some of the exorcism films of the past and tells a story worth listening to. "The Conjuring" is based on the case files of real life ghostbusters Ed and Lorraine Warren.
The couple, famous for their work in the "Amityville Horror," travel to Rhode Island to investigate the home of Roger and Carolyn Perron. The Perrons, who recently moved into this house with their five daughters, encounter supernatural forces that aren't friendly. The Warrens eventually arrive to diagnose their problem as demonic in origin and chaos than ensues.
"The Conjuring" basically does what it's supposed to do, and that's to keep you on the edge of your seat and scare you. It deals with aspects such as religion in a deeper way than what is seen in past exorcism films. The Perron family starts out not embracing any type of religion and the Warrens urge them to baptize their children in the Catholic Church for protection from these forces. Their lack of faith made them easy targets for the demonic.
God's power is on display throughout the film as the Warren's use tactics found in scripture to cast these forces out of the Perron home. Those with a deep understanding of the Bible will surely dig more meaning out of this film than the average secular fan. However, it may be a bit too frightening for children.
The actors took their roles quite seriously and showed a great amount of respect for director James Wan in doing so. Vera Farmiga portrays Lorraine Warren and displays her compassion and clairvoyance in a way that seems believable and honest. Patrick Wilson takes on the role of her husband Ed and also shows us a man who genuinely cared about the Perron family and didn't use his gifts just to attain recognition. Lili Taylor and Ron Livingston took on the roles of these tortured people Carolyn and Roger Perron. Taylor fully embraces the part taking the brunt of what these demons dish out while Livingston plays a by-the-numbers role that left him outshined by the rest of the cast.
The pacing of the "The Conjuring" is interesting as it takes a bit of time before the creators try to spook you. But once the thrillfest begins, you can't help but jump out of your seat again and again.
Here is a related video:
The Conjuring Movie Review (Schmoes Know)