The Forgotten People of India - Part 3: Daughters of India
The Christian Post recently had the opportunity to travel to India to observe the work Christians are doing throughout the country to help empower a societal group that has been neglected for the better part of recorded human history. This is the third part of a four part series detailing their work.
"I am crucified with Christ: nevertheless I live; yet not I, but Christ liveth in me: and the life which I now live in the flesh I live by the faith of the Son of God, who loved me, and gave himself for me," Galatians 2:20.
Girls born into Dalit families in India have few options available to them and a large majority can expect three outcomes – death, trafficked or forced to marry.
The recent and tragic death of a 23-year-old who was gangraped on a bus in New Delhi highlighted just one incident, out of hundreds of thousands if not millions, of women who have been subjected to sexual exploitation and abuse.
Reasons behind such a disproportionally high frequency of attacks in India are varied; however, they are enabled in part because of the wide observance of social and cultural customs that stretch back centuries. Those observances or "traditions" are now manifesting in today's India and endangering India's daughters.
While all children of Dalit families face numerous hardships upon breaching the womb, girls have the unfortunate social position of being considered second-rate citizens, if they are wanted at all.
Girls are widely considered a burden, more commonly in rural areas, due to their lack of available job prospects and the continued cultural use of the dowry, where upon marriage the girl's father pays the husband's family a fee.
This overall "cost" of females beginning at birth is one contributing factor of gendercide – babies being killed because they were born female – and a leading factor for the disproportionate sex ratios in the country.
Dalit girls, unfortunate victims of this atrocity, are also seen as a commodity, and every year thousands of Dalit girls are abducted and trafficked, usually never to be heard from again.
But the fight, on behalf of India's daughters, is being waged. It is offering a way for females to become independent earners under the mantra of "empowerment through education."
The Dalit Freedom Network has made the plight of the Dalits its sole focus and in addition to building more than 100 schools throughout the country, it is offering trafficking victims the care and counsel they so desperately need.
The Good Shepard School, located on the outskirts of Hyderabad, features the Jogini Prevention and Awareness Program. The name Jogini or devadasi comes from a Hindu ritual whereby a girl is dedicated to a temple. She is then bound to the temple god and performs rituals and services, but the girl is mainly used as a temple prostitute, also known as ritual sex slavery.
The program gets its name from the Jogini Prevention Act which was passed in 1988 and outlawed such acts as ritual prostitution and temple dedications. Unfortunately, like many new laws aimed at stopping horrific processes in India, it was largely ignored and unenforced.
The program finds girls that have been abducted and trafficked or who have been forced into prostitution and provides them with medical care, counseling and in some cases legal resources. But treating the situation is only half of the problem faced by those at the Good Shepard School, as some women of the program get treatment, leave and then end up back on the streets.
To break the cycle plaguing countless Dalit girls, many of the Dalit Education Centers (DECs) provide vocational training in order to equip girls with essential skills that give them a means to earn wages. That way prostitution is not the only option for survival.
In addition to the Jogini Prevention and Awareness program, the DECs offer students the chance to learn a trade, such as sewing, and then teaches them how to buy material, manufacture products and sell their goods to businesses or directly to consumers.
The program is known as the Livelihood Augmentation Management Program (LAMP) and it is tasked with equipping adolescent girls who have been exploited, or merely ignored. The trade skills they learn will be able to lead to income for themselves and their families.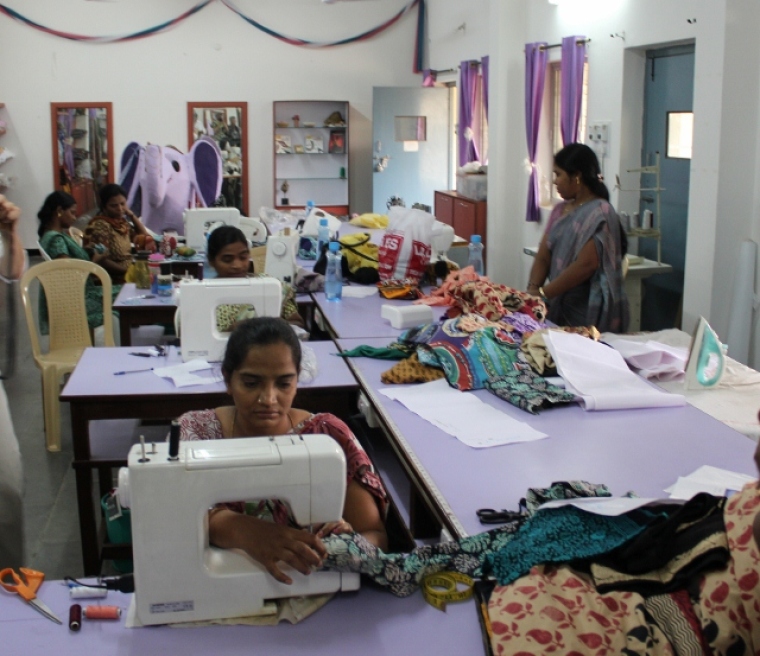 The program serves a dual purpose. First and most importantly, it provides a means to create an income for girls who manufacture goods such as bags, clothes and trinkets.
Second, since the schools are self-sufficient, those in the program produce the school's uniforms and other goods students may use such as bags.
But they also make goods, such as handbags for Global Freedom – a movement started by Friends Church to "create a community of authentic Christ followers" – which are sold through the organizations website.
The students who benefit from this training are then able to teach other members of the household their skills, leading to a family gaining the ability to produce goods and earn income while keeping vulnerable girls free from exploitation.
But the DECs are just one place that is providing a path towards empowerment to India's daughters.
In Bangalore, Jeevaline Kumar coordinates the Tarika Women's Center, which takes in otherwise "untouchable" girls and exposes them to the power and love of Jesus Christ. Many of the girls at the center have never been taught about Christ or his message, but are filled with love of the Holy Spirit during their time there.
Counselors at the center teach girls English, computer courses, and vocational skills like sewing and tailoring that will enable them to become empowered through their own means.
Typically, girls at the center come from similar family backgrounds; either they were forced into prostitution or had no other means of income and turned to selling their bodies as the only way to feed themselves and their families.
But the Tarika center is there for a specific purpose- to serve India's daughters- and once the girls complete any one of several 18-month courses, they are honored with their own graduation ceremony.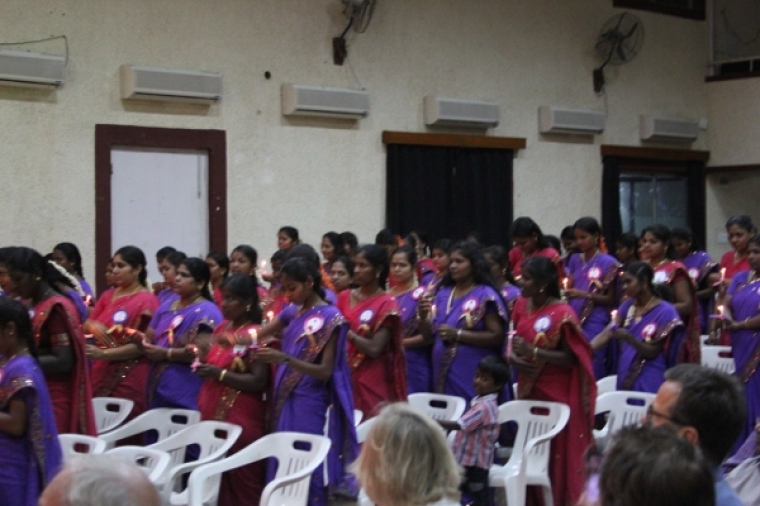 Once called less than human and considered worth less than common animals, these Dalit daughters of India, with many of the families in attendance, walk on stage and are presented with a certificate of completion. For most of the girls, was the first time that they had ever been praised or honored for any accomplishment in their lives.