The 'New VidAngel': Netflix, HBO, Amazon Team Up With Family-Friendly Streaming Site Despite Disney Lawsuit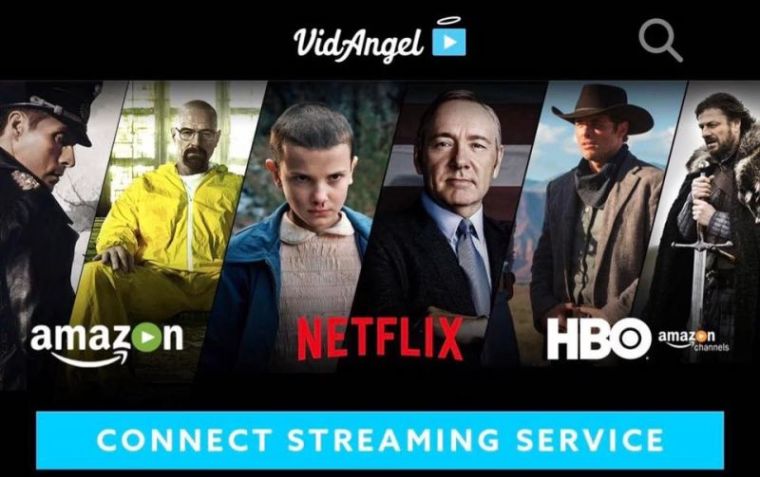 PROVO, Utah — Independent streaming app VidAngel was recently shut down by Disney and other Hollywood companies for filtering TV and movies in an effort to make them suitable for people of faith and families everywhere. But despite efforts to halt the service, VidAngel has now teamed up with Netflix, HBO, and Amazon for a new presumably challenge-proof service.
On Tuesday evening, the Utah-based company flew in some of their industry allies as well as Christian leaders from all around America for an "Investor's Event" titled "Beeping Good News." During the event held at the Dry Bar in Provo, Utah, the company's CEO, Neal Harmon, made the big announcement before a Facebook Live audience of 50,000 and a room full of fans.
Harmon called the cutting edge collaborative filtering system "The New VidAngel."
VidAngel revealed that it now connects to streaming accounts such as Netflix, Amazon and HBO and allows their customers to filter the content they are already paying for. When new episodes come out on those platforms, VidAngel will also provide a filtered version of it within just 24 hours of their release.
The latest filtering system will be accessible on any major device for $7.99 a month with the first month free.
"We've spoken with them (Netflix, Amazon, HBO) and they are taking a 'watch and wait and see' position at the moment. We can't represent them but we're hopeful that they're going to see that we are going to drive them new customers," Harmon told The Christian Post after revealing the exciting news.
According to VidAngel, Hollywood is saturated with nudity, violence, and profanity, making it impossible for children to view films without being exposed to content that is not fitting for them.
The streaming company maintains that they "do not believe in censorship." Instead, their goal is to simply provide families the opportunity to filter the content Hollywood provides and make it suitable for their family.
As a way to cater to the faith-based community, it also provides the option to filter scenes in a film that use the Lord's name in vain, along with the option to filter out adult content.
The small company, founded in 2015 by a group of brothers (Neal, Daniel, Jeffrey, and Jordan Harmon), first drew national attention after being smacked with a lawsuit from some of the biggest names in the film industry: the Walt Disney Company, Lucasfilm, 20th Century Fox, and Warner Bros. The industry giants went after VidAngel because they claimed that the video streaming service was infringing on their copyrighted material.
According to the lawsuit, Disney and the plaintiffs sued for copyright infringement and for violation of the Digital Millennium Copyright Act. The plaintiffs contended that the filtering service did not have authorization to use their films and failed to pay for the licensing of titles.
When Congress drafted the Family Movie Act in 2005, it was made clear that filtering movies does not infringe copyright laws.​​​​ These Hollywood studios nevertheless appear to be combating the Family Movie Act by preventing VidAngel from legally equipping parents and families to edit the content on their streaming devices.
VidAngel claimed they were blindsided by the lawsuit because they actively tried to obtain liceneses from the companies but were ignored.
In September 2016, The Christian Post obtained a joint statement from Disney, 20th Century Fox, and Warner Bros. from Paul McGuire of Warner Bros. Corporate Communications regarding the services of VidAngel:
"VidAngel continues to invoke the Family Movie Act (FMA) to distract from its unauthorized activities. Plaintiffs are not challenging the FMA; rather, they are challenging VidAngel's unlicensed streaming service. As stated in the complaint: 'Nothing in the FMA gives VidAngel the right to copy or publicly perform' Plaintiffs' copyrighted movies and television shows without authorization. 'Nor does the FMA give VidAngel the right to circumvent the technological protection measures on DVDs and Blu-ray discs.' Plaintiffs believe that VidAngel's antitrust counterclaims are without merit and have filed a motion to dismiss them."
While most companies may have closed the business for good and moved on to the next entrepreneurial idea, VidAngel decided to fight back. It launched a campaign to raise money for legal fees, raising a staggering $10 million in just days. Now with a fully customer-funded legal defense, it is working with elected officials and organizations in Washington, D.C., to seek a resolution.
At an appeal hearing last week, the Ninth Circuit heard VidAngel's defense but has yet to rule.
"There were too many families that wanted us to fight for them. Our customers invested $10 million so we could fight this fight, and we just had to fight it. It was stressful and we lost lots of sleep and hair but everyone on this team stuck with it," Harmon told CP.
Not allowing the courts to hold them back, VidAngel is now moving full speed ahead by continuing to create original content through VidAngel Studios and has committed to their new undertaking with Netflix, HBO and Amazon.
The company confidently declared that "VidAngel is back" and is hoping this new filtering collaboration will help Hollywood relinquish control and allow families the freedom to determine what they watch.
For more information and to sign up for the innovative service, visit VidAngel.com. View the live announcement from the "Investor's Event" below: