'The Voice' contestant boldly breaks chains in the name of Jesus on hit NBC show
'The Voice' contestant boldly breaks chains in the name of Jesus on hit NBC show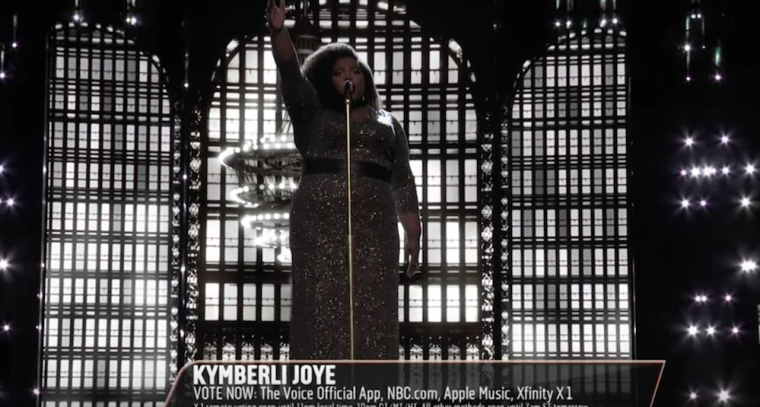 "The Voice" contestant Kymberli Joye performed a power-packed rendition of "Break Every Chain" on the popular singing competition.
The team Kelly singer performed her own soulful rendition of the Tasha Cobbs version of "Break Every Chain" during "The Voice" live top 11 performances on Monday. The song was selected by fans of the show who believed that the gospel song would suit Joye.
While practicing for her performance, a video revealed that Joye wanted "chains of fear and anxiety and all those things that will keep you from fulfilling your dreams" to fall off as she performed it for America.
Her coach, Kelly Clarkson, said "Everyone's about to be saved and blessed," right before Joye hit the stage.
"There is power in the name of Jesus/ To break every chain, break every chain, break every chain/ There's an army rising up/ To break every chain, break every chain, break every chain," Joye passionately sang.
After the performance, the fans erupted in praise and TV Host Carson Daily said he felt "the Spirit" and then thanked the vocalist for her performance.
"Anointed selection," judge Jennifer Hudson declared, revealing that she wanted to run around the studio as she would in church when she feels the Spirit of God.
"You have this boldness and this roundness of your tone that is straight from God, it is such a blessing," Clarkson also told the contestant. "You love gospel music, that's what you want to do. And that's what you're going to do."
On Tuesday's episode of the competition, the Connecticut singer found out that she was advancing into the top 10.
"I hope my fans saw the true Kymberli Joye. Gospel music is what I want to do with my career so I'm so grateful that they picked that gospel song for me. It gave me the opportunity to really show America who I am as an artist," she said.
Joye is 26 years old and is labeled a worship leader and minister, who sings in the choir at her church where her parents are pastors, according to her bio on The Voice website. 
She has worked with chart-topping gospel singer JJ Hairston for the past seven years and is now aspiring to pursue her own gospel music career.