Thousands of Mourners Gather for Coptic Christian Pope's Funeral
Pope Shenouda III of Alexandria, Head of Coptic Orthodox Church, Laid to Rest in Egypt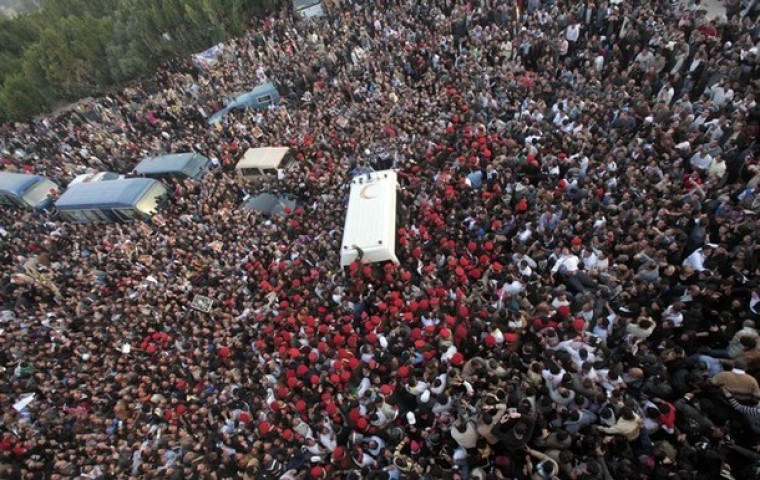 Thousands of people gathered in Cairo, Egypt, on Tuesday to mourn the loss of Coptic Christian Pope Shenouda III of Alexandria, whose funeral was held at St. Mark's Coptic Cathedral.
Mourners flooded the parameters of Cairo's historic St. Mark's Cathedral to bid farewell to the spiritual leader of the Copts, who was known for his temperance and promotion of peace and understanding among Egyptians.
"Egypt is not a nation we live in, rather it is a nation that lives in us," Shenouda was often quoted as saying.
Tearful gatherers chanted in Cairo's streets to say goodbye to the patriarch.
"Farewell, you guardian of national unity," mourners chanted.
Shenouda died on Saturday at the age of 88. He had served as the 117th Pope of Alexandria since 1971. His body will be buried in the St. Bishoy Monastery in the Nile Delta.
The loss of Shenouda comes as Egypt has been undergoing a period of fierce transition, leaving the minority Coptic Christian group uncertain of their future in the country, which is now under the grips of Egypt's Muslim Brotherhood and traditionalist Salfist party.
Egypt's Coptic Christians are the largest Christian minority group in the Middle East.
Coptic Christians were part of the movement to overthrow Egypt's longtime leader, former President Hosni Mubarak, but in the wake of the revolution faced targeted violence that left dozens dead and fearful of what a post-Mubarak Egypt would mean for non-Muslims.
The upsurge of violence targeted against the minority group stirred a worldwide debate about what the future of the Arab Spring movement would mean for marginalized Christians, women, liberals, and other minority groups across the region.
Despite the violence and uncertain transition, Egypt's parliament made strides to honor Shenouda by giving Coptic Christians Tuesday the day off from work to prepare for the funeral service, and declared Tuesday as a national day of mourning.
A moment of silence to honor Shenouda was also held in the Egyptian parliament on Monday, but saw hardline Salfists, whose group maintains the second-largest presence in the parliament, walk out.
As the parliament works to draft a new constitution, many fear that the rights of minority or marginalized groups including Copts, women, and liberals, will be lost among the voices of hardliners and extremists pushing to rebuild Egypt as an Islamic state.
The loss of Shenouda's stabilizing and peaceful force only adds to these fears.
"In the absence of a wise Coptic leader like Shenouda, the situation will be considerably more dangerous, leading to potentially tense situations," a spokesman for the leftist Tagammu Party told Egypt's Ahram News.