Thousands Protest Gaza Conflict in France, Home to Europe's Largest Jewish, Muslim Population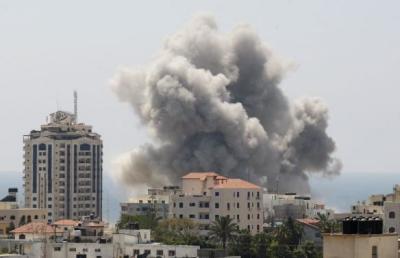 Thousands of people gathered in two different cities in France this past week to offer their support and opposition to Israel in its continued conflict with Hamas and the Gaza Strip.
Those supporting Israel's efforts to defend itself from Hamas rockets gathered in Marseille, located in the south of France to march on Sunday. Nearly 2,000 pro-Israel demonstrators reportedly gathered in the streets to offer their support to the Middle Eastern country; they were shielded by riot police from nearby pro-Palestine protesters.
 "We are here to show our solidarity with Israel, which has been attacked and has a right to defend itself," William Labi, who leads the governing body of Marseille's Jewish congregations, told Reuters.
In Paris last Wednesday, thousands of pro-Palestine protesters gathered to oppose Israel's military intervention on the Gaza Strip that has resulted in over 1,000 casualties since the missile exchange began on July 8. According to RT.com, the rally in Paris last Wednesday gathered over 14,000 participants, who reportedly chanted "boycott Israel" and "From Paris to Gaza: Solidarity."
Some attending the Paris protest criticized French president Francois Hollande and the country's foreign policy, arguing that France should stand up to Israel and do more to stop the Israeli offensive in Gaza.
"I voted for Hollande and I would never expect this stance from a socialist government. By not standing up to Israel he is legitimizing the massacre of Palestinians," Paris resident Mina McCamery told The Local.
"France has to be tough against Israel and impose economic and political sanctions. That's the only way they will listen," she added.
According to The Jerusalem Post, France holds both the largest Jewish and Muslim populations in Europe, and therefore increased aggression in the Middle East is likely to flare up emotions in France as well.
Israel and Palestine have continued to exchange missile fire since July 8, and the attacks continued Monday despite the Muslim holiday of Eid al-Fitr that caps the month-long fasting observance of Ramadan.
Despite attempts from U.S. Secretary of State John Kerry to reach a ceasefire, a truce between the Hamas and Israel appears to be far from the near future. On Monday, Israeli Prime Minister Benjamin Netanyahu said he and his government would continue to defend themselves from Hamas attacks for however long they needed to.
"We need to be ready for a prolonged campaign," Netanyahu told reporters. "We will continue to act aggressively and responsibly until the mission is completed to protect our citizens, soldiers and children."