Thousands Want Ray Lewis' Statue Gone for Kneeling During NFL Protests as He Insists He Was Praying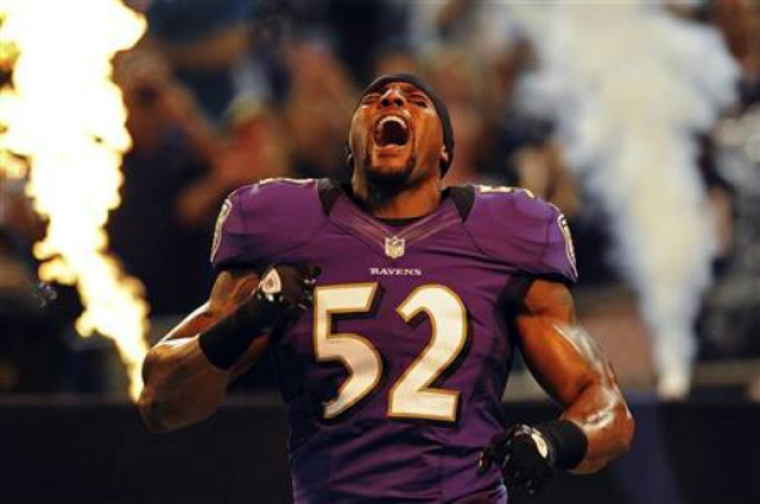 Nearly 68,000 NFL fans have signed a petition to remove a statue of former Baltimore Ravens linebacker and born-again Christian Ray Lewis from M&T Bank Stadium after he apparently joined current players in kneeling during the national anthem Sunday. Lewis has insisted, however, that he was praying.
"I want the Ray Lewis statue at Ravens Stadium removed because of his refusal to stand during the national anthem," said the petition started by Eric Moniodis of Hydes, Maryland.
"That song honors our country and our veterans who fought for it. To kneel during it is disrespectful, regardless of what you are protesting. I will not stand for that kind of disrespect toward our country, especially from a legend such as Ray Lewis. You stand for the national anthem as a salute to those who can't stand because they fought for this land," it ended.
Lewis appeared to join his former team at Wembley Stadium in London on Sunday in taking a knee on the field as part of sweeping protests in the NFL in response to controversial comments by President Donald Trump urging team owners to fire players who kneel during the national anthem.
"Wouldn't you love to see one of these NFL owners, when somebody disrespects our flag, to say 'Get that son of a b---- off the field right now, out, he's fired. He's fired!'" Trump said during a campaign event for Sen. Luther Strange, according to AL.com.
On Tuesday night, however, during a discussion on Showtime's "Inside the NFL," Lewis made it clear that he kneeled to "simply honor God in the midst of chaos."
"You hear people saying, 'Oh, he took a knee.' I absolutely did not take a knee," Lewis said, making a distinction between himself and former San Francisco 49ers quarterback Colin Kaepernick.
"I'm watching young kids just confused. Everybody confused. Nobody don't know what they're talking about. What I'm going to do if I'm going to stand up? If I'm going to grab hands? If I'm going to interlock? What am I going to do? So I walked away ... and I didn't drop on one knee and order the protest ... I dropped on two knees," he said, noting that his prayers also had nothing to do with Trump.
"Trump can't bother me," he explained. "But it's a brotherhood, and I have to lead young men. They're watching a leader who once came before them. So what do I do? I can't grab an arm with them because that means I'm mad at what Trump said, and I ain't in the league no more.
"You can only stand or pray," he said.
The Maryland Stadium Authority told The Baltimore Sun that due to recent statue-related protests that they have beefed up security around Lewis' statue.
"There is additional security at the statue plaza at this time," Rachelina Bonacci, a spokesperson for the authority, said.
"Certainly observers can notice the presence of uniformed security officers at M&T Bank Stadium, which includes the statue plaza," she added. "The additional officers and other security enhancements have been in place since Sunday afternoon."
Kaepernick began kneeling during the performance of the national anthem last season to protest social injustice. He was also seen at training camp practices wearing socks depicting cops as pigs and donated $25,000 to "Assata's Daughters," a group named after FBI fugitive and convicted cop-killer Assata Shakur. His donation was made "as part of his goal to provide $100,000 to underprivileged communities. He designated $2,500 specifically for 'Cop Watch,' a program that trains volunteers to follow and videotape police officers," TownHall reports. 
Since becoming a free agent Kaepernick has been without a team and his supporters have argued that he remains unsigned because of his activism. He indicated earlier this year that he would be ending his kneeling protest and stand for the national anthem instead.