'There Is No Comparison' Between Me and Ray Rice,' Says Born-Again Christian, Retired Baltimore Raven, Ray Lewis of His Protégé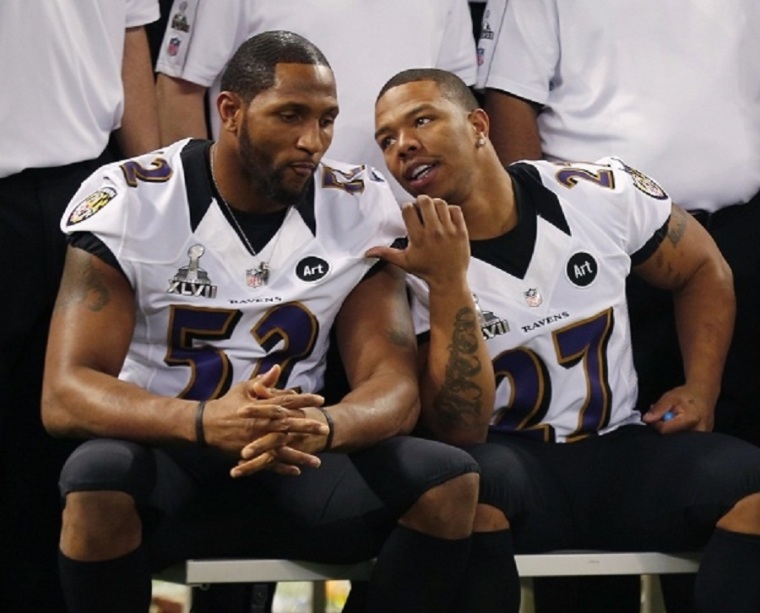 Former Baltimore Ravens linebacker and born-again Christian Ray Lewis, who was once accused of killing two people but went on to retire as a darling of the NFL, condemned his former protégé and teammate Ray Rice, 27, Monday as a media storm erupted over video evidence of a domestic violence episode between him and his wife earlier this year.
"I'm disappointed. This is personal for me," Lewis explained during ESPN's "Monday Night Countdown."
On Sept. 8 TMZ released footage from the altercation between Rice and his wife, Janay, sparking a media firestorm. The Ravens also terminated Rice's contract and the NFL suspended him indefinitely.
"So I'm torn because this is a young man I really took up under my wing and tried to mentor to make sure he had a successful career and stayed away from things like this. Seeing this video, let me be very clear with going through this personally, a man should never, ever put his hands on a woman. Bottom line. We can speculate about a lot of things but what we need to make sure is very clear is what we saw on this video is him putting his hands on a woman and that's where it's personal for me," said Lewis.
Lewis said he took Rice's actions personally because he watched his mother suffer domestic violence in his home.
"That was one of the greatest things that drove me in my life, which was to make sure a man never touched my mom again. I witnessed that and there were times I went through beatings with her," said Lewis. "To go through that and know what that feels like, that a woman is lesser than you and can't fight back. If that's my sister or daughter, then we have another issue."
"So for me, it stings," he continued. "It stings because he's a friend and I've always tried to take this young man and give him something different. Teach him something different and educate him while he was going on in this process."
When asked about how the Ravens treated him during his 2000 murder trial, which saw him pleading guilty to obstruction of justice, compared to the way the team has treated Rice, Lewis said, "there is no comparison."
During Lewis' trial, according to The New York Times, "No one in football was more loyal to Lewis than the Ravens' owner, Art Modell. When Lewis needed money to pay for an estimated $1.5 million in legal fees, Modell advanced a portion of Lewis's salary. Most of all, Modell defended Lewis, both to the NFL and to the public."
''I was criticized by people in the league office for leading with my chin,'' Modell told the Times. ''I told the league, 'If I am going to lead, it should be with my chin.' People in the league said, 'Well what if he's guilty?' I told them, 'He's not capable of killing anybody.'''
Lewis went on to explain why what Rice did was so heinous when compared to him being charged with murder.
"There is no comparison. This is nothing about me, personally, me speaking with the owner of the Ravens today, Steve Biscotti, just moments ago. … And just listening to the reason why Ray Rice will never play for the Ravens again, he put his daughter — he put anybody that's connected to him that's a female — he put them in that position. When you do that you have to take a step back," he said.
"One thing Steve made very clear, there is no comparison of me and Ray Rice. It's night and day. It's night and day of anything we've ever been through and that's why both situations are totally different," he added.