Tim Keller concerned about Christians radicalized by both sides of nationalism, xenophobia debate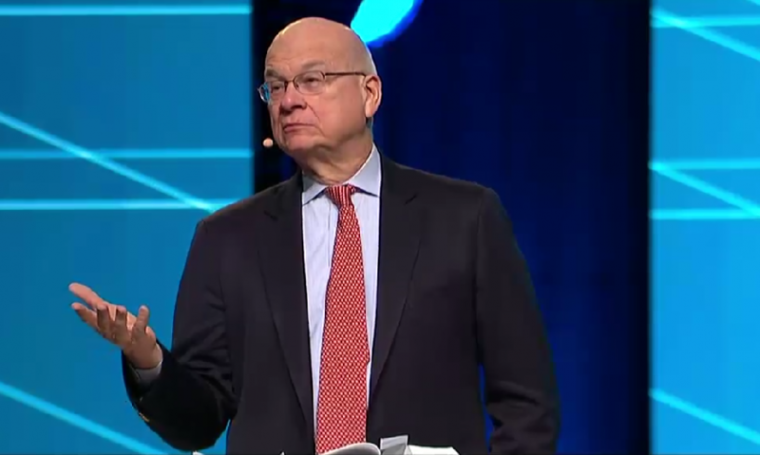 The biblical story of Jonah speaks to the nationalism, xenophobia and racism prevalent in America today, and Christians should be "uncomfortable" identifying with either political party, Tim Keller argued.
During a recent interview with The Gospel Coalition, Keller, author and founding pastor of Redeemer Presbyterian Church in New York City, discussed his new book, The Prodigal Prophet: Jonah and the Mystery of God's Mercy.
Keller said he has preached on Jonah multiple times over the years, with the application of the message changing from time to time. The first time he preached on Jonah, it was in Virginia during the 1970's where he applied the story to race relations.
The second time he preached on Jonah was in 2001 at the Manhattan-based Redeemer Presbyterian: "It was completely different," he said. "Here we're talking about the danger of turning around saying, 'Oh, these Muslims are horrible people.' It was a different kind of danger; it wasn't white and black, it was America versus these awful terrorists."
"It was not easy to preach about that, because what happened in New York was awful ... we had people who were going to our church who were killed," he said.
The book of Jonah speaks to the social climate today because it talks about politics, identity, and treating those who are racially and religiously different with respect, Keller contended.
"You could say that Jonah was putting his own national interest, the interest of Israel, over the spiritual good of the people of Ninevah," he explained. "He knew that if Ninevah was destroyed by God, then that would make Israel safer...he was putting his nation over the spiritual good of these people."
The book of Jonah clearly reveals that "God actually cares about all races and all people, and in the end, His Church will consist of people from every tribe, people, and nation," Keller said. "We can't just lift up one nation over other nations."
While some nations are clearly "better" than other nations, our commitment to Christ "relativizes" that fact, Keller argued.
"I'm a Christian first, but I'm American second. I'm a Christian first, and I'm white second. If that's not true, then you need to read the book of Jonah because that's part of what it's trying to say," he said, pointing out that "every time Jonah is near the pagans, the pagans look better than Jonah does."
"Jonah is sneering at these people, but actually, there's a lot of admirable things about these people. You shouldn't be sneering at people of different races and religions," he said.
Keller admitted there's "not a whole lot of doubt" about the fact that nationalism is on the rise in the United States, and many Christians are "stuck a little bit."
"There's nothing wrong with saying, 'of course, we need to have secure borders,'" he said. "But there's another part of us that says we need to be kind to the alien, the immigrant ... there's got to be a balance here, and I don't see a balance."
The pastor warned that on one hand, some Christians are "blind" to "what could happen if we keep going down this 'anti-immigrant, these are not our people'" road. On the other hand, there is a "left-wing backlash against nationalism and Donald Trump," and much of it isn't based on biblical principles.
Keller explained that many white Christians who are Republican and black Christians who are Democrat are made to feel "uncomfortable" and "stuck" because each party has a "package deal" that doesn't entirely reflect their views on every issue.
"I think it's fair to say — and I've gotten heat on this — I do think most thoughtful, balanced Christians should feel somewhat uncomfortable in either political party," he said, adding he can think of "all kinds of reasons" Christians should vote either Democrat or Republican.
"Christians need to recognize the danger of what they call xenophobia, where you're fearful of people who are different," he said. "I'm afraid of Christians getting too radicalized on either side. I do see some more liberal Christians who say, 'you can't be a Christian and vote Republican,' and I'm seeing plenty of Republican Christians saying the same thing about the Democrats."
During a previous interview with The Christian Post, Keller warned against characterizing "worldwide evangelicalism as simply conservative or liberal."
"In some ways they're more liberal because there's a lot more poor people, a lot more nonwhite people who care about justice, but at the same time they are very conservative when it comes to sex and gender and things like that," he explained. "So they're looking at the American church and they are asking questions. They're saying 'Why aren't you caring more for the immigrant?' 'Why aren't you caring more for the poor?'"
The media tends to "simplify everything" when it comes to the Church — and that's not "completely fair," Keller said.
"The world and the world church are looking at the evangelical church and thinking right now, the American evangelical church has been caring more about its own political power than it does about the outsider, the marginalized," he said. "I don't think that's completely fair, because I think there are plenty of churches that are not like that."
Keller also told CP that the book of Jonah is about hearing and obeying God's Word — no matter what the cost. He explained that while the "main message" of the book is about showing mercy and compassion to nonbelievers, many Christians are "harsh and condescending" when they evangelize.
"I have seen it," he said. "So I would say, even though Jonah did eventually go to Nineveh, he went to the city to preach there, but he didn't love the city. And he didn't love the people at all, didn't love them or respect them. And clearly, that's one of the messages of the book is that it's not enough just simply to preach at people, you also have to love and respect them, too. So you shouldn't just be preaching at nonbelievers, you should be caring, respecting, and listening to them as well."