Tim Tebow Agreed to Appear on 'The Bachelor?'
Tim Tebow has agreed to take part in "The Bachelor" reality television show, according to host Chris Harrison, who also expressed doubt that the professional athlete would actually appear on the ABC program.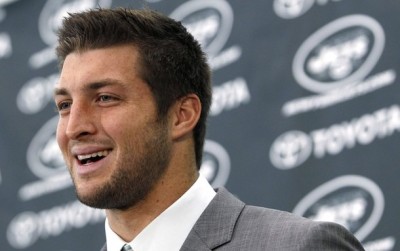 While guest hosting on "Access Hollywood Live" Monday, Harrison revealed that he spoke to the 24-year-old Jets backup quarterback about appearing on the series to find love.
"I met about him becoming our next Bachelor, I think he'd be a great Bachelor," Harrison said. "He did say yes, but he'd never do it. He has a little job called quarterback in the NFL."
"The Bachelor" host admitted that others have agreed to take part in the show without following through.
"They always say yes, but then it never happens," he said.
Although Tebow has yet to confirm an appearance on the television series, a new poll has confirmed that he is ranked highly among women. In a poll conducted by AshleyMadison.com, married women named Tebow as the second most coveted athlete behind David Beckham.
Tebow may not speak about potential love interests often, but others have expressed an interest in the evangelical Christian football player's romantic life. While attending the Metropolitan Museum of Art Costume Institute Gala in May, the athlete spoke with "Access Hollywood" about his dream woman.
"I'm looking for a sweet, kind, caring girl," Tebow told "Access."
When asked if his future girlfriend had to be "hot," Tebow laughed.
"I mean, that doesn't hurt," he said.
Despite being desired by married women and other people's interest in his love life, the Christian athlete has been open about admitting that he is a virgin. The former Heisman trophy winner first publicly admitted that he was a virgin during a SEC Media Day press conference, when a reporter asked the then-21-year-old college football player if he was saving himself for marriage.
"Yes, I am," Tebow answered three years ago. "I think you're stunned right now. You can't even ask a question. … I was ready for that question, but I don't think y'all were."
However, the NFL player acknowledged that he was the subject of many rumors recently and that he was enjoying being single.
"I'm definitely single and having a good time," Tebow told "E! News" during the Tebow Foundation Charity Celebrity Golf Classic in Ponte Vedra Beach, Fla., in April. "It's amazing, I can meet someone for 10 minutes at an event, and the next thing you know, you're dating that person, you've been with them for two years and you're about to have four kids with them. It's amazing how rumors can spread."