Tim Tebow Appreciative of Mom Saying He's Ready for Majors, but Is Not Focusing on Possible Call-Up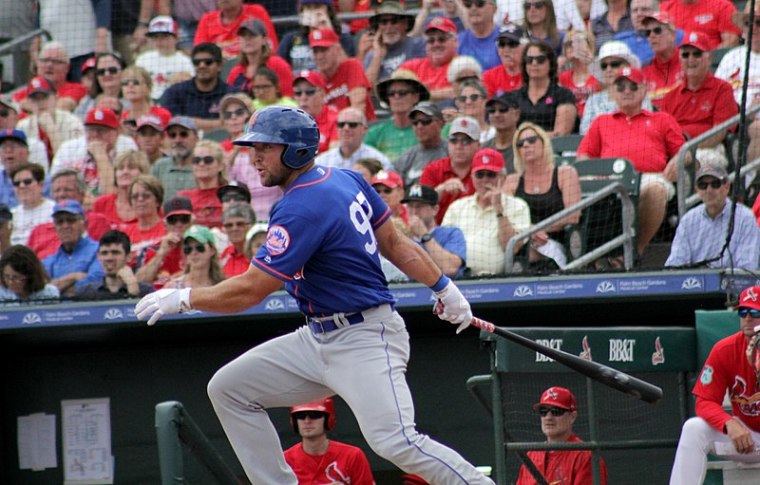 Binghamton Rumble Ponies outfielder and designated hitter Tim Tebow is fresh off an appearance in the Double-A Eastern League All-Star Game, and his mother is hopeful that the next step for him will be playing in the majors.
TMZ Sports recently cornered Pamela Tebow at the LAX airport where they asked questions about her son's future in baseball. During the impromptu interview, Mrs. Tebow said she and her husband would vote for Tim to get a call-up to the majors, but emphasized that the decision is not up to her and that she's unaware of what the New York Mets have in mind for her son later this year.
She also said that she and her husband would be in the crowd for Tim's first home game if the Mets did indeed call him up.
After his mom's comments made headlines, Tebow provided an interpretation of what she was trying to say.
According to Tebow, "That was my mom trying to be sweet getting caught off guard by TMZ at the airport," The Sun Sentinel reported.
The 30-year-old said it's a "good thing" that his parents will always believe in him.
Still, Tebow himself is not getting caught up in all the chatter about him possibly being promoted to the Major Leagues. He said that he "can't worry about any of that" and right now, his focus remains firmly on the process of getting better each day.
Tebow did admit that he, too, is aiming to reach the majors at some point, but he still prefers to use his time and energy getting ready for the daily grind of playing in the Minor Leagues.
Mrs. Tebow also told TMZ that her son is a good example for other boys because he's showing them not to be fearful of trying to do something just because others are doubtful that they will succeed.
She said that her son wasn't bitter about the end of his football career. "He had such a good attitude because he believed it was God's plan for him. And then, we all just supported him because he still had a competitive drive."