Tim Tebow Defends His Baseball Dream in Interview With ESPN Critic Stephen A Smith (Watch)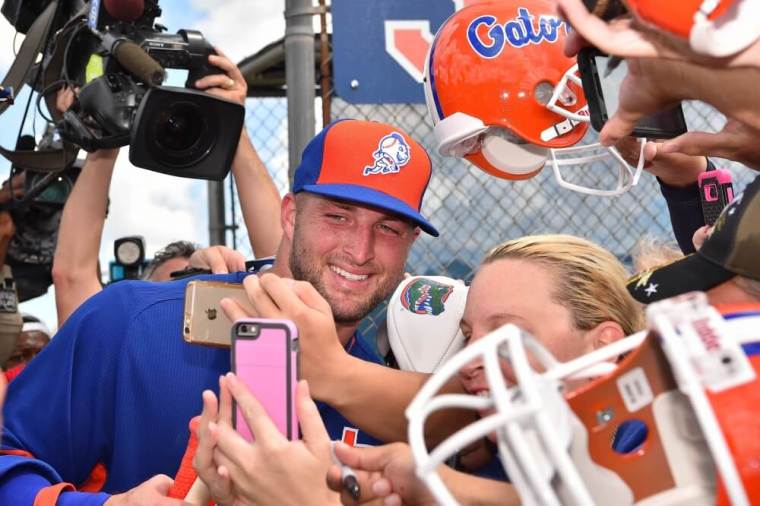 Popular Christian athlete and former Heisman Trophy winner Tim Tebow eloquently answered criticisms about his decision to drop his professional football aspirations and pursue a career in baseball on Tuesday when he was put in the "hot seat" on an episode of "First Take" on ESPN 2.
After Tebow made headlines this summer when he signed a minor league contract with the New York Mets, many sports fans were left wondering why the 29-year-old national championship-winning quarterback with NFL playoff experience would set aside his NFL dreams to try his hand at a sport he hasn't played competitively in 12 years.
Although Tebow hasn't played in a regular season NFL game since the 2012 season, he has received offers from NFL teams to play other positions besides quarterback.
After Tebow explained in the interview that his decision to play baseball stems from the fact that his two favorite things to do growing up as a kid were to play quarterback and to hit a baseball, co-host Max Kellerman asked Tebow to respond to critics who might say that it is somewhat selfish of Tebow to play baseball since he is known as the kind of football player that "inspires teammates" and "can make a team greater than the sum of all of its parts."
"I don't have to live my life based on how other people want me to live. If I was on a team and that team asked me to do something, I would do anything," Tebow responded. "But if I am not on a team and a team offers me a contract to sign with someone to go and play tight end, H-back, fullback, running back, whatever it is, and I have had a lot of those offers, I don't have to go sign with them. I am not on their team. That's just making a professional decision to not go do something that I didn't really have in my heart. It wasn't a dream."
"I am sure you have turned down contracts, Max," Tebow added. "Everybody wants you and you have turned it down. Does that make you a bad team player because you turned down a contract with a team you weren't on?"
Later in the conversation, co-host Stephen A. Smith, an ESPN commentator widely-known for his critical opinions, hit Tebow with a question similar to the one Kellerman asked.
"You are a Heisman Trophy winner, you are a national champion, you're about winning. The way I look at is that if you haven't played a sport in over a decade, your chances of success at that particular sport are limited. Whereas with football, you clearly have that 'it' factor and there are other things that you could do on a football field than play quarterback," Smith said. "You're chances of success seem to be greater in football rather than baseball. So, what is wrong with somebody looking at you and saying, 'That's what you should be doing.'"
Tebow replied by saying that it is OK for other people to look at him and think that he should be playing football but ultimately, they are not the ones who will make that decision.
"When are dreams based on chances? Dreams are based on something that is in your heart," Tebow explained. "They are passions based on something that you want to try, not on chances. I'm so grateful that I get to go pursue something, even if it's a long shot, for something that I might be able to go do and go do it pretty well. But if it's not in my heart, why am I going to do that?"
Tebow continued with his own critique on the complacency shown by many in today's society who set aside their life dreams because of the fear of failure.
"I think that's something that's unfortunate in society, is a lot of people just go do what they feel like they should do and live with the status quo and go live by all these rules ... just go accept your average [9-to-5 job] rather than striving for something," Tebow asserted. "Because the ultimate goal isn't to succeed or fail. The ultimate goal is to give it everything you have for something on your heart and a dream and pursuing that. And if you get to live out your dream every single day, then the result doesn't matter. I can look back 20, 30 years from now and be able to look at this time and say, 'You know what? I gave everything I had to football. I gave everything I had to baseball. And I was able to live out some dreams.' In my opinion, that's pretty awesome."