Tim Tebow's New Book 'Shaken' Now Features YouVersion App, Companion Bible Study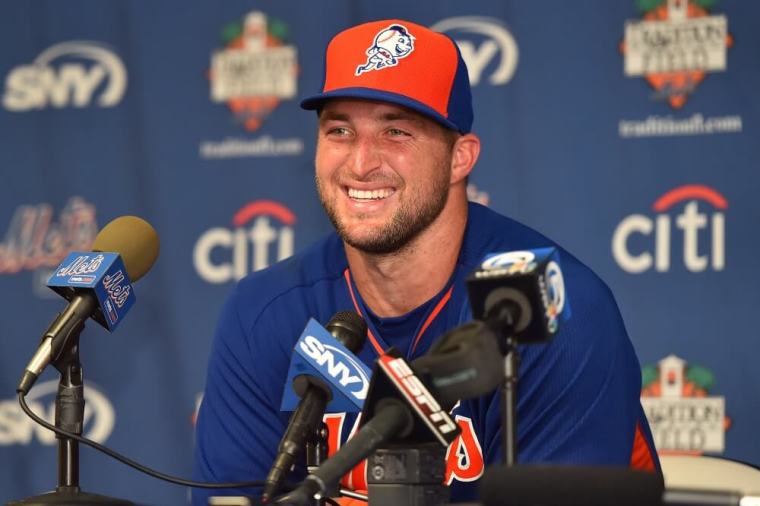 Tim Tebow's new book, Shaken: Discovering Your True Identity in the Midst of Life's Storms, now includes a companion YouVersion Bible app devotional along with a Bible study book that will be released next month.
After the October release of his book, the 29-year-old athlete and author started November with the release of a YouVersion five-day Bible study, Shaken Bible Study: Discovering Your True Identity in the Midst of Life's Storms by Tebow, released by publishers WaterBrook & Multnomah.
In the Bible study book, which will be released on Dec. 20, Tebow mixes devotional content with Bible verses for an interactive experience in which questions are posed to readers.
"Has your life been shaken? Tossed by life's storms? So has athlete Tim Tebow's," a description on the YouVersion devotional reads. "In these devotionals he leads you on a path to finding a secure identity in God."
On the first day of the devotional titled "A Future and a Hope," Tebow focuses on Jeremiah 29:11 while speaking about identity. He then asks the reader, "How do you see yourself? How do you think God sees you?"
The second daily devotional, titled "Your Life a Masterpiece," studies Ephesians 2:10 and supporting content for readers to reflect on the evidence that God is making something beautiful happen in readers' lives. On day three, Tebow empowers readers to choose love over fear by reading 1 John 4:18, while day four focuses on pain being transformed by reflecting on Romans 8:28.
The final day of the devotional highlights Psalm 139:14 for keys to finding "the unique you" and what makes each person special.
Along with the YouVersion app, a DVD will also be released in conjunction with the 100-page Bible study book.
Pastor Judah Smith of the City Church in Seattle, Washington, is among the church leaders who've praised Tebow for bringing people hope with his new book.
"Whether or not you've followed Tim's career, Shaken speaks to something we've all had to deal with — trusting God when the plans for our lives don't work out as we expected. Tim shares his journey from the Broncos to the Jets to the Patriots and beyond with refreshing honesty," Smith said. "He comes alongside us as a friend and gives us hope for the days our lives take an unexpected turn. I am so grateful to call Tim my friend; his life and passion constantly inspire me!"
For more information about Tebow's upcoming Bible study book, click here.