TobyMac Admits 'I Can't Do Much Without God,' Offers Powerful Advice to College Students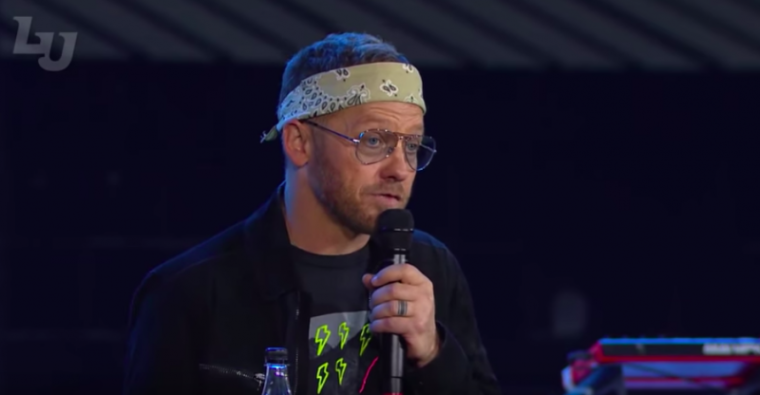 Grammy Award-winning Christian singer TobyMac has reflected on his impressive career and admitted he "can't do much" without God, encouraging college students to wait on the Lord's timing in today's fast-paced world.
During an appearance at Liberty University, the former DC Talk singer, who graduated from the college in 1988, explained that as a student, he never intended to pursue music. In fact, he was studying political science and aspired to become a professional golfer.
However, God had a different plan in mind: TobyMac (Toby McKeehan) formed friendships with two men — Michael Tait and Kevin Max — who would later become his bandmates, and began writing songs which would later turn into chart-topping hits.
"College is such a pivotal point in your lives," he said. "I would just encourage you guys that whatever you're thinking you're going to do now, God might end up giving you a different plan. Be open to that because He could switch things around, and it could be so dope."
Decades later, McKeehan has released eight albums, won several Grammy Awards, and written more than 100 songs. But none of his success would be possible without God, he said.
"I just can't do much without God," he admitted. "When I walk in the studio, even though I've written a lot of songs, I still walk in a needy man. I still say, 'God, hollow me of myself. Hollow me of me and the junk that would get in the way of Your way, my pride, my insecurity, my doubt, and just hollow me enough to where You can breathe a song through me that would turn people's eyes to You.'"
The singer emphasized that every song he writes "begins with collaboration with God" before moving into people. Humanity was created for community, he said, encouraging students to engage with one another in today's technology-driven world.
"I feel like isolation is so prominent right now," he said. "We kind of pulled back when troubles come our way instead of stepping into community. We've sort of pulled back to our phones and our computers versus stepping into community, and community is where it's at. It was Jesus' plan."
The singer acknowledged that it's easy to become impatient with the Lord's timing and encouraged students to understand what it truly means to be a servant and wait and trust God's plan.
"I know you guys are young and ready to do your thing, and I get it, but a servant waits, that's the calling on a servant, to wait on his Lord," he said. "When He (God) gives you a job, He'll open the doors. You won't have to kick them down. I tell everyone who asks me how I made it in the music business that I never had to kick any doors down. There's nothing wrong with going hard, but God opened doors, and I was willing to step through them. He'll open the right doors if you're a servant."
The singer, who recently released his eighth album, The Elements, said that he draws from his decades-long music career to incorporate "depth and wisdom" into his songs.
"I figure if I'm not offering depth and wisdom, I'm hanging the cleats up," he said. "I think an artist that's my age should be offering depth and wisdom because I have journeyed, I have journey, so I owe it to you to offer you something if you listen. I owe it to you to offer you wisdom and depth and pain and beauty."
The singer is preparing to headline his "Hits Deep Tour," which will kick off in 2019. Artists Jeremy Camp, Jordan Feliz, Ryan Stevenson, We are Messengers and Aaron Cole will all join him on the road.