Casting Crowns Urges Unity at Florida's Biggest Christian Concert: It's Time to Start Loving People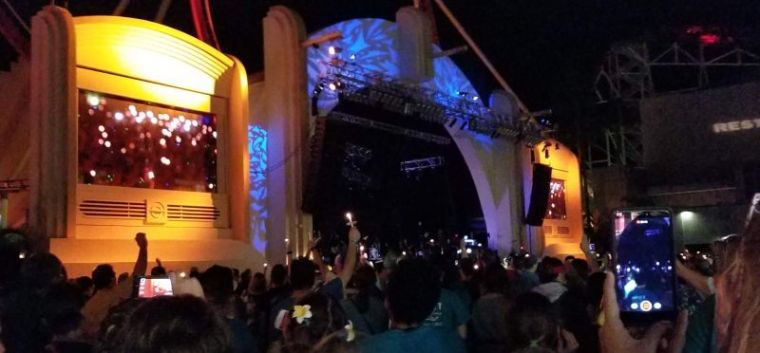 ORLANDO — Casting Crowns sang at "Rock the Universe" 2018 at Universal Orlando Resort this past weekend and just before midnight on Saturday, the band led a candlelight vigil to encourage Christians to unite in the love of God during these "dark times."
"Right now all you see is dark, you don't see skin color. You don't see men, women, you don't see nationalities or people groups," frontman Mark Hall said as all the concert lights were shut off and the hundreds in attendance were handed candles to light up.
The audience stood in reverent silence as Hall proceeded to speak on the importance of worship.
"Worship was God's gift to you because God knew that you weren't going to need any help asking for stuff. He knew you wouldn't be good at telling Him you love Him and telling Him thank you," he explained.
The Georgia-based pastor said he himself realized worship was way more than singing and it was his chance to "go to God in prayer and learn how to thank and love Him, so much more than music."
"When we worship, God doesn't need to be reminded about how good He is; we do. Don't ever miss a chance to love Him with a song," Hall encouraged.
The band then went into worship, leading the crowd with the song, "Great Are You Lord."
Everyone in attendance held their candlesticks high as they joined in and sang the lyrics, "It's your breath/in our lungs/So we pour out our praise to you only/Great are you Lord."
Hall paused the song to share a message of unity and hope in times when everything seen in the media is divisive.
"Did anybody next to you, did their candle go out? Did you reach over and help them light it back?" the singer inquired. "Before you helped somebody light their candle, did you ask them what color they were? Did you ask them what school they went to, what kind of church they went to? Did you ask them if they were conservative or liberal, or who they voted for? Or did you just reach over and give them the light?"
"Listen, it's dark out here and we need some more light. It's time to lay down some things. It's time to start loving people," Hall concluded as everyone cheered and went back into worship.
Rock the Universe was held for the 20th time on Sept. 7-8 and included some of Christian music's biggest names, including TobyMac, Lauren Daigle, Zach Williams, Trip Lee, for King & Country, Andy Mineo, and Casting Crowns who closed out the weekend-long family event.
Between music sets, everyone enjoyed Universal Studios' attractions like Revenge of the Mummy, Hollywood Rip Ride Rockit and the new "high-octane" Fast & Furious – Supercharged ride.
The Music Plaza mainstage was filled to capacity multiple times as hundreds gathered to enjoy the music and fellowship.
"To me, Rock the Universe is like a youth camp for the family. You get to just get away for a few days, have fun, enjoy the parks, and then every night spend time with some music that's feeding your soul and that's lifting you up and that's giving hope and to do that as a family, that's just really cool," Hall told The Christian Post in a recent interview.
Universal Orlando is now offering tickets for their next event, which will now be held earlier in the year. For information on the upcoming "Rock the Universe" event, which is scheduled for February 2019 and will feature Lecrae, Matthew West and Bethel Music, click here.