Tolerance Tyrants Strike Again: Louie Giglio, the Inaugural Uproar, and a Marketplace of Ideas
Tolerance Tyrants Strike Again: Louie Giglio, the Inaugural Uproar, and a Marketplace of Ideas
We wish we could say that we were shocked by the withdrawal of Pastor Louie Giglio from President Barack Obama's Inauguration ceremony. Pastor Giglio was invited to deliver the benediction based on his well-known commitment to justice, and the inspiration he has provided to our generation to join his life's work. We are certain that any prayer he would have offered on Inauguration Day would be characterized by grace, humility, and wisdom.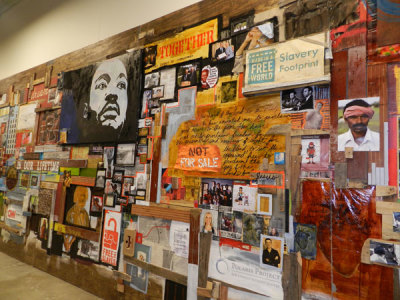 We are two members of our generation who have been profoundly impacted by the teaching and leadership of Pastor Giglio since we were in high school. We have seen firsthand some of the countless lives that have been transformed – both physically and spiritually – through his unique Christ-centered ministry. Pastor Giglio's deep love and concern for all people and desire to point them to Jesus is evident, whether he is interacting with the most prominent leaders in our country or serving the needy and captive in our world.
Most recently, we participated in the Passion 2013 conference at the Georgia Dome this month with more than 60,000 students and ministry leaders from around the world, a gathering which equips young people to positively impact their sphere of influence. Pastor Giglio used that platform to shine a light on the injustice of modern-day slavery, including human trafficking, forced labor and child labor. He launched the "End It Movement," bringing in a wide array of partner organizations and abolitionist leaders to communicate the plight of the 27 million people currently enslaved today. The purpose was to awaken those in attendance and the millions watching online to action, to prevent human trafficking, and to rescue and restore those who have suffered terrifying injustice.
Closer to home, we have seen Pastor Giglio – through his ministry at Passion City Church – lead and facilitate efforts to collect school supplies for children in lower income neighborhoods, help relocate families displaced by local apartment fires, and reach out to refugees from third world countries who have recently moved to Atlanta. He always encourages his congregation to be generous in meeting tangible needs and uses his microphone to highlight those who could use a second chance or new start in life.
This intersection of worship and justice is exactly the type of work that our Christian faith compels us to engage in, as Jesus Christ serves as the ultimate example of one who gave His life to free those in bondage and bring hope and healing to a world in desperate need. It is also the type of work that for years many secular progressives have been saying Christians need to focus on, rather than engaging in the so-called "culture wars."
It was against this backdrop that the nation witnessed the uproar surrounding Giglio's inaugural invitation. Sadly, we are unsurprised.
The extreme opposition to Giglio was yet another example of a tragic lesson we learned firsthand as students at public universities. And that lesson is this: unless you embrace, applaud, and advocate for the homosexual lifestyle and same-sex marriage, your views, your voice, and even your work on behalf of the poor and suffering are not welcome in the public square.
Despite all the sacrificial efforts one may have invested into humanitarian causes for the greater good, there is this rabid insistence that in order to do anything in the civic arena – including offer a prayer at a monumental event for our nation – you must not have, at any time in your history, spoken in a way that is disagreeable to a certain group of activists.
This extreme attitude is as hypocritical as it is vicious, and it filters down to every segment of society. It manifests itself not only in large-scale events such as inauguration every four years, but every day in law and policy and procedure at government institutions, including, for example, colleges and universities. Sometimes – as in the case of Giglio – the tactic of the far-left involves attempts to shame and shun those they disagree with, and other times they actually use the force of law to silence those who do not share their worldview.
Exclusive Op-eds from the Presidential Campaigns
We have both been plaintiffs in federal cases for free speech and religious liberty against our respective schools (Ruth filed suit against Georgia Tech in 2006, and Jennifer against Augusta State University in 2010). We were repeatedly censored, threatened, and condemned for our refusal to conform to a narrow agenda regarding human sexual behavior. We were told by administrators and professors that we must change our Biblical beliefs, follow impossibly vague speech codes, and undergo comprehensive programs of thought reform. Our cases, filed by Alliance Defending Freedom, defended the freedom of Christian and conservative students to speak on matters of public importance and to pursue our fields of study without compromising our convictions. In response to our lawsuits, the Tolerance Inquisition unleashed its fury. We faced everything from snide insults to false attacks on our character to threats of rape and murder so serious that Ruth was put under police protection.
We don't expect everyone to agree with us. That being said, it is frightening that a small group of activists are able to exercise such absolutist control of public discourse. We are disheartened that people pushing a certain sexual agenda are willing to undermine free speech, resort to fierce personal attacks, and promote censorship rather than engage in our uniquely American marketplace of ideas where everyone's voice is heard. Since when does expressing the view that sex should be reserved for the sanctity of marriage – Giglio's "unpardonable sin" – mean a ticket to exile merely because some might disagree? Since America 2013… in which a man's work to end human slavery means nothing to those constructing a nationwide intellectual gulag.
The Giglio controversy once again demonstrates that often those who so proudly and loudly wear the mantle of "diversity and inclusion" in reality only welcome and tolerate conformity.
Obama Picks Pastor for Inaugural Prayer (Picture)
Louie Giglio: Me and Chris Tomlin (LIFE Today / James Robison)