Tony Campolo: On Theology, 'I'm an Evangelical' (Interview)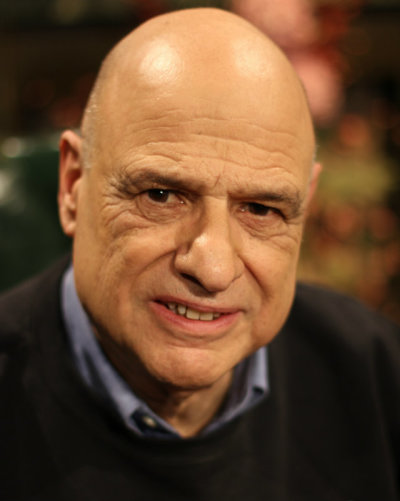 Famed preacher and sociology professor at Eastern University Tony Campolo told The Christian Post in an interview that on theological matters he still considers himself an evangelical Christian.
Earlier this month, Campolo garnered headlines after the U.K. publication Premiere published remarks he made in which he said he no longer considered himself an evangelical.
Campolo also received controversy when a blog entry written in response to his comments brought up remarks he made in 2005 regarding who can be saved.
The author of more than 30 books and former head of the Evangelical Association for the Promotion of Education recently talked with CP on matters regarding salvation, the evangelical label, and the backlash he has received since Premiere printed his comments.
Below is an edited transcript of The Christian Post's interview with Campolo.
CP: What are your views on salvation?
Campolo: They are very traditional. I believe that when Jesus died on the cross that He took upon Himself the sins of people who will repent and trust in Him for their salvation. I believe in the penal substitutionary doctrine of the atonement. And I guess the only thing that causes any confusion is I think that the — that there is no theology of the cross that exhausts its meaning.
But If I was preaching I would preach the penal substitutionary doctrine of atonement and tell the people in the congregation if you are looking for salvation, quote from the Scripture, "there is no other name under Heaven whereby we can be saved."
Second thing, I guess I would add to that there was some implications that I might be universalist. And I'm not. I believe that the justice of God requires that there be some way for people who have done things that are disastrous and evil and need to be, I guess the word is punished, there's no other word.
CP: In a 2005 interview with Shane Claiborne, you are quoted as saying the following:
"... what can I say to an Islamic brother who has fed the hungry, and clothed the naked? You say, 'But he hasn't a personal relationship with Christ.' I would argue with that. And I would say from a Christian perspective, in as much as you did it to the least of these you did it unto Christ. You did have a personal relationship with Christ, you just didn't know it."
How do you respond to the critics who view these comments as being contrary to Christian teaching on salvation?
Campolo: I think if you take that statement and let it stand alone, I think it's worthy of criticism. I would hope that I would make it clear that you need to have that personal relationship with Christ. I believe that what I was trying to communicate with that interview would go something along the line and it's this: that you can't have a personal relationship with Jesus without coming into a personal relationship with those who are in need.
In short, the two are tied up together. When Jesus says this, 'Love the Lord your God with all your heart, with all your mind, and with all your strength and with all your soul, the first commandment, and the second is like it, love your neighbor as you love yourself,' He says these two, this second commandment is like unto the first.
In short, I make it clear, that a personal relationship with Jesus always requires a personal relationship with others, especially those who are in need. In other words, you cannot separate personal relationship with Christ with personal relationship with others. Because in my preaching I make it as clear as I can and I think a lot of criticism that comes my way is deserved in the sense that I'm not always understood by my listeners or as clear in my presentation as would be ideal.
But I am saying this: that when you come to know Jesus as your personal Savior, you will find that Jesus chooses to present Himself to us to those who are in need. And those who are desperately hoping to be connected with us. I believe that the idea of separating personal relationship with Christ with personal relationships with those in need is something that I am not ready to go along with. I see them tied up together.
So I'm not suggesting that personal relationships with others is a substitute for a personal relationship with Christ, I am saying that a personal relationship with Christ inevitably leads to and involves an intimate relationship with those who are poor, that are needy, that are depressed, and I think that when we look at Matthew 25 that's what He's saying to us."
CP: Since stating that you no longer consider yourself an evangelical, what sort of feedback or even backlash have you received?
Campolo: I think I've gotten a lot of backlash. The thing that I failed to communicate, and that's why I am glad to have this interview, is that I am still — if you mean by "evangelical" a set of convictions and beliefs — then I am an evangelical.
I believe that these are the three characteristics that for me define somebody with evangelical beliefs. First, I believe that salvation comes from having a personal transformative relationship with the resurrected Christ. That the same Jesus who died on the cross and took upon Himself my sin and the sins of others who would repent that same Jesus resurrected is a living presence and to become a Christian you have to invite Him into your life to establish a kind of biological relationship with Him.
You got to surrender and invite Him to invade you, to possess you, to transform you. Just accepting a theological proposition is not enough, there has to be a surrender to the person to the influx of Christ into their mind and heart and soul.
Second thing is there is the Apostles' Creed. I have said it seems ever since I was a young guy that the Apostles Creed for me sums up the basic doctrines of what one has to believe to be a Christian and specifically to be an evangelical. And it says everything accept one thing, which I think has to be added and this is the third point: I believe that you have to have a high view of Scripture.
You cannot look at the Bible and say it's an inspiring book, you can't look at the Bible and say its great Christian literature, you can't look at the Bible and say its interesting religious thought. But I think you have to believe, if you're going to have evangelical beliefs, you have to believe that the Bible was written by men into whom the Holy Spirit, the third member of the Trinity, invaded and possessed them, and guided what they wrote.
Those three things. So far as being evangelical in theology is concerned, they are the things that I believe. So in that sense, I am still an evangelical when it comes to faith practices and faith beliefs. What I am trying to communicate, and I think a lot of people would agree with me, is that the word "evangelical" has become politicized in a way that causes some of us to be alarmed. This has to do a great deal with what is presently going on in the political scene here in the United States.
When the word evangelical becomes synonymous with being in the Donald Trump camp, I have a problem with that. Just as much as I have a problem with being evangelical is putting you in the Hillary Clinton camp.
I think to tie up the Christian faith with any political ideology is in fact to distort what we are and I think it verges on idolatry. When we remake God in our own political image, I think we have really some serious problems. So that becomes a big thing with me and that's why I think the word has lost a lot of the meaning it once had.