Tony Evans Talks Wycliffe's Scripture Impact Award, Biblical Literacy and Avoiding Pastor Burnout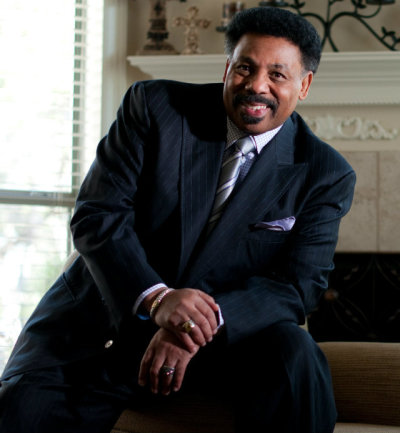 Tony Evans and his wife, Lois Evans, have been awarded the Wycliffe Bible Translators USA's 2013 Scripture Impact Award for the work they have done in helping to promote Scripture translation on a global scale.
The pair, who founded Oak Cliff Bible Fellowship in Dallas in 1976, will be presented the award on Sunday, Sept. 8 by Wycliffe USA President and CEO Bob Creson before the Texas megachurch's 9,700-member congregation.
"Tony and Lois Evans have long been tireless advocates for the important work of Scripture translation around the world," Creson said in a statement. "Their encouragement to believers from all walks of life to support and participate in translation work has helped further our mission and advance rapidly toward our goal of seeing a Bible translation project in progress in every language still needing one by 2025."
Wycliffe USA created the Scripture Impact Award in 2003 in honor of the late Dr. Bill Bright, founder of Campus Crusade for Christ International (now Cru in the U.S.), in celebration of his love for the Lord and the Scriptures.
The award recognizes men and women who have a passion for the Bible and demonstrate a strong commitment to promoting Scripture, according to the nonprofit organization. Previous recipients of the Scripture Impact Award include Dr. Luis Palau, Dr. Charles R. and Cynthia Swindoll, Rick Warren, Caroline and Bunker Hunt, Dr. Barry Black and Dr. Billy Graham.
In 2008, a member of Dr. Evans' congregation who worked as a Wycliffe translator became the first Africa-American woman to help complete a translation of the New Testament into Kagayanen language, a dialect of the Philippines.
The influential and popular evangelical Christian minister recently spoke with The Christian Post about how Oak Cliff Bible Fellowship promotes global outreach and Bible engagement.
Below is a transcript of Dr. Evans' conversation with The Christian Post.
CP: What kinds of ministries does Oak Cliff have that encourages or fosters international outreach and Bible translation or engagement?
Evans: The biggest thing that we do is our short-term missions trips. We encourage everyone in our congregation to take a short-term mission. A lot of those trips are in concert with Wycliffe. The main place has been Papua New Guinea, where we've sent mission teams to be engaged with them in the work of supporting the work of Bible translation.
We have missionaries that we support who are part of Wycliffe, particularly in supporting minorities to be engaged. We support an outreach team that not only goes over there but that works with the nationals in Papua New Guinea for the purpose of translation. When there are particularly minority missionaries in our church who want to be engaged in Bible translation and support it, we support them in becoming full-time missionaries there.
I flew over to the Philippines to celebrate the translation of the New Testament with one of our African-American missionaries who labored there for 18 years to make the translation. We were part of that community celebration at Puerto Princesa for the Kagayanen Bible, so we were engaged in that.
CP: You mentioned that African-Americans have long been under-represented in global missions and Bible translation. Why do you think that is? And how might churches, Christian organizations and ministries help to change that?
Evans: It exists because unfortunately in our history, African-Americans for a long term were not allowed to be participants in missionary enterprises because of the racial divisions in our country. Unfortunately, that division kept them out of schools for training for that purpose and kept them out of missions organizations. So the problem exists because there was a late start.
Secondly, the problem exists because the social reality that is often faced by African-Americans keeps us centered about our situation here, from a whole survivalistic, missional perspective. That also prohibits this view of the world from a missiological standpoint.
We've had a relationship with Wycliffe and we've had exposure to Wycliffe, and that has gained more interest in Wycliffe and the other missionary organizations that we are involved with. I think engagement, involvement and developing relationships – and of course, we cannot underestimate the importance of the pulpit in proclaiming to the congregation the importance of looking beyond ourselves and being citizens of the world. It broadens your scope, it broadens your involvement, it expands your appreciation, so what we do is use the pulpit to promote it as well.
CP: I'm sure you've heard the findings regarding how little Christians actually engage the Bible and come up short in Bible knowledge. What are your thoughts on that?
Evans: Biblical literacy is a problem today. There are so many distractions. Far too many churches do not take the Bible seriously, so there's no real interest in reading it. Then, not providing people the challenge to do it. For example, we had a Read Through the Bible in a Year program for our church, we encouraged members to do that. Because everybody was doing it, most people did it. So creating things that incentivize, encourage relationally (and) that take place simply so that people become re-acquainted with the Bible and don't put it aside as just a reference book for inspiration, but as what it really is – that is, the Word of God in print.
CP: You have seen a lot of Christian leaders and churches come and go, I presume, in your near-40-year leadership of Oak Cliff Bible Fellowship. And there's that long-referenced and dreaded statistic that every month, about 1,500 pastors quit the ministry. What are your thoughts on that, and what encouragement do you have for Christian leaders in danger of becoming a statistic?
Evans: Ministry burnout is a real problem because it's never-ending. You never run out people, and those people never run out of needs, and unfortunately they often look to the pastor to be the end-all to all of their [troubles]. So it can be overwhelming.
I think pastors need to structure their churches so … that they raise up leaders so that believers can help other believers, so that members can help other members. That's what all the "one anothers" in Scripture are all about. So as Jethro told Moses in Exodus 18, that the burden won't only be on you. I think we add to our problem when we develop this hero mentality and want to solve every problem and not equip the saints to do the work of the ministry. One of those key works of the ministry is the mutual edification and building up of each other. I think the emphasis on small groups is trying to accomplish that. Anything you can do that connects believers with one another engages the church to go the next level, which keeps the pastor from being burnt out which therefore keeps him in the ministry.
CP: Are there any trends you have been noticed in Christianity, perhaps in the U.S. or globally, that you find encouraging or troubling?
Evans: The greater impetus on the connectivity of members as a result of small groups [is encouraging]. And there's a younger generation coming up who wants to minister to people but realize that we are in a different world now. [Also,] the world of technology, the use of technology in ministry that allows us to be relevant to the contemporary society.
Now the danger is, I do think too often people leave the Word and acquiesce to the culture, therefore compromising the standard. No matter how much technology you use, if the Word is not the center and does not have the authority that it was designed to have, then you won't have the impact that you want to have. So I am concerned that the Word is getting lost in our desire to be relevant.