Trump Is the 'Antithesis' of Jesus' Teachings on the Sermon on the Mount: Joe Scarborough
MSNBC host Joe Scarborough has called President Donald Trump the "antithesis" of the teachings of Jesus Christ, especially when taking a look at the Sermon on the Mount in the Bible.
"You look in Matthew, and go through the beatitudes. Every single beatitude. You go through Jesus's teaching. What he says he wants people to be. Donald Trump is the antithesis of just about every single thing that Jesus Christ said on the Sermon on the Mount. Go read it," Scarborough urged on "Morning Joe" on Tuesday.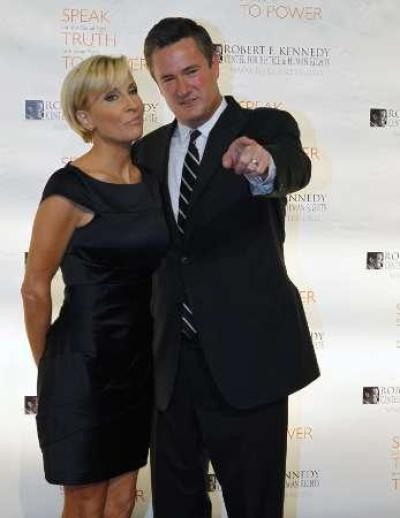 The MSNBC host, who has said that he is a Southern Baptist, claimed that Trump is almost purposefully contradicting the Gospel.
"None of us are perfect, but he goes out of his way it seems to thumb his nose at all conventions. Including the basics of the beatitude," Scarborough added.
Scarborough criticized Trump for initially mocking Senate Majority Leader Mitch McConnell, R-Ky., for failing to push through legislative wins in the Senate, before the two announced that they are on the same agenda.
An MSNBC panel further slammed the president for failing to address the deaths of four U.S Green Berets in an ambush in Niger, and admitting that he had not yet called the families of the fallen soldiers.
Scarborough and co-host Mika Brzezinski have blasted Trump over a number of issues in the past year, with the president lashing back on Twitter several times.
"Crazy Joe Scarborough and dumb as a rock Mika are not bad people, but their low rated show is dominated by their NBC bosses. Too bad!" Trump tweeted in July.
In another couple of tweets in June he wrote:
"I heard poorly rated @Morning_Joe speaks badly of me (don't watch anymore). Then how come low I.Q. Crazy Mika, along with Psycho Joe, came ...to Mar-a-Lago 3 nights in a row around New Year's Eve, and insisted on joining me. She was bleeding badly from a face-lift. I said no!"
MSNBC responded to Trump at the time by issuing a statement:
"It's a sad day for America when the president spends his time bullying, lying and spewing petty personal attacks instead of doing his job."
Trump has insisted that his administration is standing up for and defending "Judeo-Christian values," and spoke before a major gathering of social conservatives in Washington, D.C. last week at the 12th annual Values Voter Summit.
"I appointed and confirmed a Supreme Court Justice in the mold of the late great Justice Antonin Scalia, the newest member of the Supreme Court, Justice Neil Gorsuch," Trump said, listing out his accomplishments.
"To protect the unborn, I have reinstated a policy first put in place by President Ronald Reagan. The Mexico City Policy. To protect religious liberty, including protecting groups like this one, I signed a new executive action in a beautiful ceremony at the White House on our National Day of Prayer," he added.
Conservative author Michael Brown, host of the nationally syndicated Line of Fire radio program, argued in an op-ed in The Christian Post on Monday that some evangelicals have been guilty of trying to present Trump as a "saint."
"He is presented (by a precious few) as a truly Christian man who can do no wrong, a selfless champion of the people whose most unbecoming tweets are justified because of the fierceness of the battle. He is one of us, and he is our hero!" Brown wrote of some evangelical thinking.
"I addressed this concern during the campaign, and since the election, I have urged my fellow-evangelical leaders not to sell their souls in defense of our president. We only discredit ourselves when we ignore his shortcomings," he added.
Brown noted that most evangelicals "grimace" when Trump sends out "Psycho Joe" tweets, but at the same time rejoiced at the Gorsuch appointment.
"They're willing to put up with the former for the sake of the latter, although they wish the former would finally stop. And you can be assured they are not mistaking Donald Trump for the Apostle Paul. Trust me on that," he said.