Trump Expands Ban on Foreign Aid Abortion Funding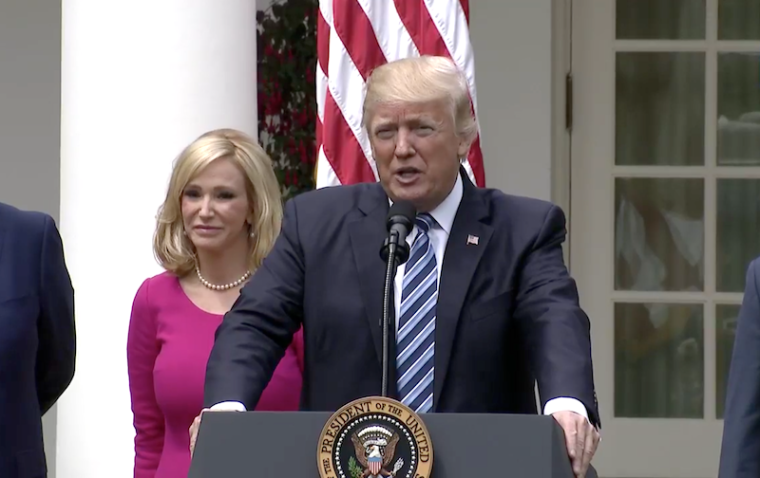 Pro-life leaders are elated following President Trump's implementation of an executive order modernizing the Mexico City policy to further ensure that no foreign aid dollars will be used to fund organizations who perform abortions overseas.
The Trump administration implemented the renamed executive memorandum, called "Protecting Life in Global Health Assistance" which covers all foreign health assistance through government agencies like the State Department and USAID.
Days after taking office, President Donald Trump directed the secretaries of state and health and human services to implement a plan to reinstate the Mexico City Policy, which stops U.S. taxpayer funding of the abortion industry overseas. Monday's presidential memorandum approves the plan developed by the state department. 
Susan B. Anthony List President Marjorie Dannenfelser said in a press release the move is proof that "[v]otes in America have international consequences." An action like this is "one of the reasons pro-life voters worked to elect Donald Trump to the White House," she said in a statement of the group's website Monday.
"We have officially ceased exporting abortion to foreign nations," Dannenfelser continued. "No longer will we undermine the pro-life laws and cultural commitments of other countries by funding organizations like Marie Stopes International that obsessively promote and perform abortion."
The expanded policy includes $8.8 billion in foreign assistance while not cutting funding from American aid. The expansion covers the President's Emergency Plan for AIDS Relief and the President's Malaria Initiative, both of which were established under President George W. Bush but did not contain restrictions on abortion funding at the time. Groups that currently receive funding and provide abortions or abortion referrals will have to decide whether to drop those services or let the funding go to different groups. 
U.S. Senator from Utah Mike Lee also praised the move in a statement, calling it "one of the several bold steps President Trump has already taken to protect life in foreign assistance."
Lee is urging is colleagues to turn the measure into law permanently and has introduced a resolution in the Senate to that effect.
Trump's decision to expand the Mexico City policy stands in contrast to his predecessor, Barack Obama, whose administration approved taxpayer funds to Marie Stopes International, which boasts that abortion is at the "core" of its mission. By the year 2020, the group states as a goal on its website, 90 percent of all women who access abortion and post-abortion services in their centers will also receive a modern method of contraception.
Prior to his election President Trump made four commitments to the pro-life movement, including redirecting Planned Parenthood's taxpayer funding to comprehensive health care centers for women. The defunding of Planned Parenthood was a provision attached to the repeal and replace health care that recently passed the House 217-213 but will likely face an even tougher fight in the Senate.
Yet whatever the obstacles, pro-life leaders remain eager to see that happen.
"Now that the president has put a stop to our tax dollars subsidizing foreign abortion providers and promoters, it's time for Congress to finish the job here in the United States and stop the hundreds of millions of tax dollars going to the biggest abortion chain in America, Planned Parenthood," said Lila Rose, president of the pro-life group Live Action, in a statement Monday.
"The federal government's most important duty is to protect human life, so it is unthinkable that our tax dollars fund a corporation that destroys the lives of over 320,000 preborn children each year right here at home."
Likewise, Family Research Council president Tony Perkins applauded the Trump administration, noting in a statement that the President "keeping faith with the almost 60 percent of Trump voters who supported him and Vice President Pence based on their endorsement of the Republican Party's platform on life and religious liberty."
As The Christian Post reported, at the May 3 SBA List gala pro-life leaders in Congress who were once skeptical of Trump's pro-life bona fides are elated at the direction the White House is taking on the life issue.
Congressman Trent Franks of Arizona told CP that he believes the 45th U.S. President has the "potential to be the Abraham Lincoln of the unborn."
Jill Stanek, National Campaign Chair for the SBA List said then that thus far Trump has been "the most pro-life president we have ever seen."
"And in a way, his coming into the movement as an ally seems to have freed him to be able to take a lot of actions that others might have been a little too skittish to take," she said.