Trump Blames Clinton's 'Bad Judgment' After Aide Separates From Disgraced Sexting Aficionado Anthony Weiner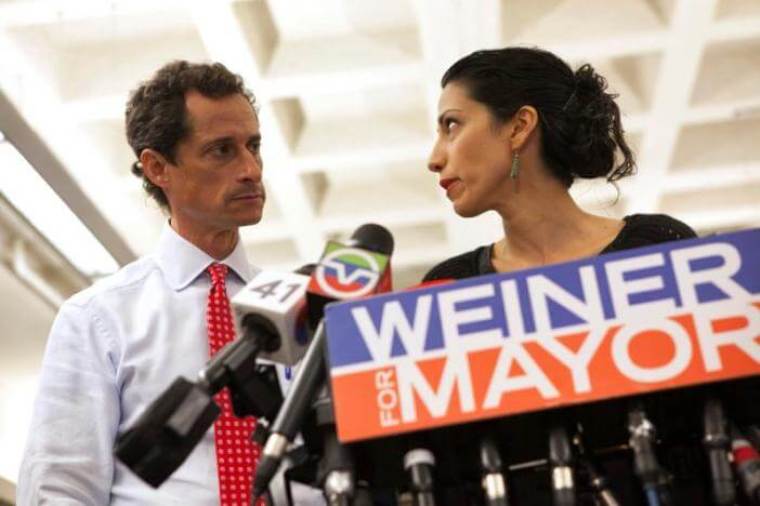 Hillary Clinton aide Huma Abedin revealed on Monday that she is separating from her disgraced former politician husband Anthony Weiner after he was caught in yet another sexting scandal, prompting Donald Trump to criticize Clinton's "bad judgment" regarding her inner circle.
Huma Abedin, who served as Clinton's deputy chief of staff to the U.S. secretary of state from 2009 to 2013, and is now part of the Democratic nominee's presidential campaign, was said to be "furious and sickened" after new sexually suggestive photos appeared online of Weiner.
"After long and painful consideration and work on my marriage, I have made the decision to separate from my husband. Anthony and I remain devoted to doing what is best for our son, who is the light of our life. During this difficult time, I ask for respect for our privacy," Abedin announced in a statement, according to CNN.
Weiner resigned as New York congressman in 2011 after photos of a sexual nature emerged of him with another woman. As The New York Post pointed out, the newly released photos of the disgraced politician half-dressed in bed, next to his 4-year-old son, Jordan, were apparently sent to an unidentified woman in 2015.
Weiner had attempted to resurrect his political career in 2013 with a bid for mayor of New York City, but his campaign was derailed by another sexting scandal.
Later on Monday, Trump released his own statement on the issue, praising Abedin's decision, but criticizing what he called Clinton's "bad judgment."
"Huma is making a very wise decision. I know Anthony Weiner well, and she will be far better off without him. I only worry for the country in that Hillary Clinton was careless and negligent in allowing Weiner to have such close proximity to highly classified information," Trump said.
"Who knows what he learned and who he told? It's just another example of Hillary Clinton's bad judgment. It is possible that our country and its security have been greatly compromised by this."
Records show Trump was a Weiner donor, contributing $2,000 each to Weiner's 2007 and 2010 campaigns.
BBC News White House analyst Tara McKelvey wrote that the only question is why did it take so long for Abedin to decide to split from Weiner, given his sex scandal history.
Abedin had previously said she was trying to keep her marriage working for the sake of the entire family, and in an interview with The New York Times said that her job as Clinton aide became a refuge.
"My compass was my job," she said.
McKelvey wrote: "Abedin is now officially separated from her husband, ending (at least temporarily) a marriage that has been scrutinised in public for years."
She added: "Clinton is now in the final stretch of her campaign. Abedin will have to focus — and try not to think about her personal problems. That may be a relief."