Did Trump Botch Bible Quote?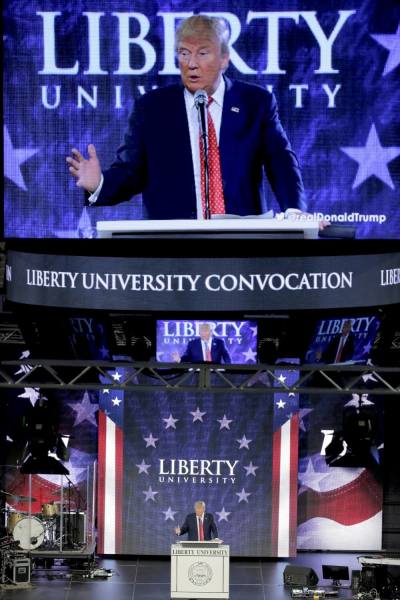 Republican presidential hopeful Donald Trump recently garnered extensive criticism for reportedly botching a Bible verse at a speech before a large group of young evangelical Christians.
Speaking at Liberty University in the Commonwealth of Virginia on Monday, the billionaire real estate mogul cited a verse from Second Corinthians.
"We're going to protect Christianity. I can say that. I don't have to be politically correct … Two Corinthians, 3:17, that's the whole ballgame … is that the one you like?" stated Trump, as reported by Politico.
Trump calling the Bible book "Two Corinthians" instead of "Second Corinthians" received critique from both Liberty students and many others on social media.
"He mispronounced a book of the Bible. He cursed — twice. And on Martin Luther King Day, the GOP presidential candidate said he was honoring the slain civil-rights leader by dedicating to him the record crowds he says he drew for the school's opening convocation. (Students are required to attend.)," NPR noted.
"Students in the room snickered and laughed, and advisers to two of Trump's top rivals, Texas Sen. Ted Cruz and Florida Sen. Marco Rubio, were quick to point out the gaffe on Twitter."
However Bobby Ross, Jr. of GetReligion.org noted in a piece published Tuesday that Trump might not have actually done anything wrong when calling the Epistle "Two Corinthians."
Ross pointed out that in British English the term "Two Corinthians" is used and Trump does have a Scottish mother, thereby likely influencing how he spoke the name of the New Testament Book.
"So no, Trump didn't really mess up. Except that he probably did.The takeaway from a media reporting standpoint: More context is always helpful. So are fewer assumptions," wrote Ross.
Trump's speech was part of his effort to shore up support among the Evangelical Christian vote, which is a crucial voting block for the Republican Party base.
During his campaign, Trump has taken questions about his religious beliefs and has had mixed results regarding his efforts.
For example, while Trump has claimed that the Bible is his favorite book, he for some time he refused to name his favorite Bible verse and then when doing so, apparently misquoted it.
According to the King James Bible translation, 2nd Corinthians 3:17 reads, "Now the Lord is that Spirit: and where the Spirit of the Lord is, there is liberty."