Trump's Deportations of 1,400 Iraqis, Many Christians, Blocked by Judge Who Warns of Death by ISIS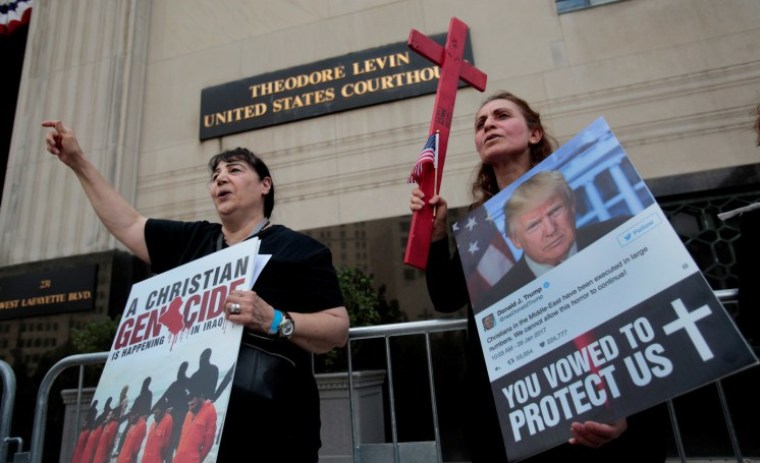 A federal judge in Michigan halted the deportation of as many as 1,400 Iraqi nationals on Tuesday, warning that their lives are at stake, with Christians pleading President Donald Trump for mercy.
CBS News reported that U.S. District Judge Mark Goldsmith issued a 24-page opinion against the Justice Department's efforts to deport the nationals, many of whom are Christians.
The Justice Department has been seeking to deport people with criminal records, and has argued that the judge doesn't have jurisdiction in the immigration matter.
"Without a stay in place, deportations will begin immediately, which may mean a death sentence for some deportees," the court wrote, according to BuzzFeed.
"Petitioners have presented significant evidence — not contested by the Government — that many will face death."
Goldsmith also cited the treatment of Christians in Iraq since 2014 at the hands of Islamic State terror group:
"Religious minorities were particularly vulnerable to these atrocities, with Christians being given the horrific choice to 'pay a protection tax, convert to Islam, or be killed.'"
Back in June, the judge again delayed the deportations on the basis of the court needing more time to determine its jurisdiction.
Many of the relatives of the Iraqis threatened by deportation have argued that they have paid their dues to society, and warned that sending them back to the Middle East could see them killed at the hands of IS.
"We're just hopeful that people continue to pray for these that are being detained, and understanding that this is a humanitarian crisis and that the administration steps in and puts a halt to these deportations," Martin Manna of the Chaldean Community Foundation told Catholic News Agency on Monday.
U.S. Immigration and Customs Enforcement officials have been rounding up Iraqi nationals, many of them from Chaldean Christian backgrounds, who had come to America legally, but had failed to complete the proper process in applying for green cards, or had committed a misdemeanor or felony in the past.
One woman threatened with deportation, whose name wasn't provided, apparently came to the U.S. as a five-year-old, and now has three children who are American citizens.
She committed misdemeanor fraud and was given a final order of removal in 1986, serving probation time and being released "on an order of supervision." Although she had been complying with the order, Manna said, she was still detained in the latest raids.
Former acting director of ICE John Sandweg said back in June that the overwhelming majority of those detained pose "little or no threat to the United States."
"The use of discretion in this case is more than appropriate. When you're talking about 30-year-old nonviolent offenses, in no way, shape or form does it make sense to remove them at this time," Sandweg said.
The American Civil Liberties Union filed a class-action lawsuit seeking to stop the deportations in June, with a number of prominent Christian voices in America also speaking out.
"I find it very disturbing what I have read about Chaldean Christians being rounded up by U.S. ICE (Immigration and Customs Enforcement) for possible deportation. I would encourage the president to have someone investigate these cases thoroughly," the Rev. Franklin Graham said in a Facebook post on June 16.
Top U.S. Catholic leaders also joined in condemning the arrests of the Chaldeans, and wrote in a letter to U.S. Secretary of Homeland Security John F. Kelly:
"The fact that they have a significant risk of experiencing persecution and even possible bodily harm because of their faith is, from our moral perspective, an important factor to be weighed in the calculation to deport."
Another hearing in the case has been scheduled for Wednesday.