Trump dominates CPAC straw poll, DeSantis comes in distant second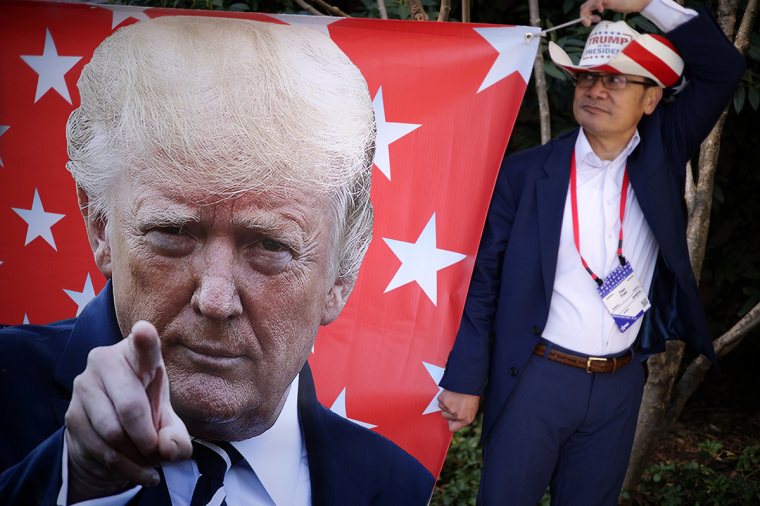 Former President Donald Trump is the clear favorite among a slate of declared Republican presidential candidates and potential candidates, according to voters in a straw poll at the annual Conservative Political Action Conference in National Harbor, Maryland.
CPAC conducted a straw poll in conjunction with Real America's Voice and McLaughlin & Associates measuring attendees' presidential preference heading into the 2024 Republican presidential primaries. The poll, which surveyed 2,028 people who attended the event and was released Saturday, found former President Donald Trump securing 62% of the vote, followed by Florida Gov. Ron DeSantis at 20%. DeSantis is widely thought to be considering a presidential bid but has not formally declared an interest in running for the top spot.
Perry Johnson, a little-known declared presidential candidate who spoke at the convention, received 5% support as the party's presidential nominee while declared candidate and former United States Ambassador to the United Nations Nikki Haley captured 3% of the vote. Vivek Ramaswamy, another declared Republican presidential candidate, secured the support of 1% of respondents, along with Sen. Rand Paul, R-Ky., Sen. Ted Cruz, R-Texas, and former Secretary of State Mike Pompeo.
The poll also asked who attendees would like to see as the Republican vice-presidential nominee in 2024. 2022 Arizona Republican gubernatorial candidate Kari Lake won the support of 20% of respondents, followed by DeSantis (14%), Haley (10%), Ramaswamy (6%), Pompeo (6%), South Dakota Gov. Kristi Noem (5%), Paul (4%), Sen. Tim Scott, R-S.C., (4%) and Virginia Gov. Glenn Youngkin (4%).
Unsuccessful 2016 Republican presidential hopefuls Dr. Ben Carson and Cruz each received 3% support as the vice-presidential candidate, while former Vice President Mike Pence, who served alongside Trump for four years, only received 1% support.
The previous CPAC straw poll, conducted at the Dallas conference last summer, found Trump winning 69% of the vote, followed by DeSantis (24%) and Cruz (2%). All other candidates and potential candidates included in the poll received 1% of the vote or less.
When asked if they "ever felt personally or professionally threatened" because of their political beliefs, 73% answered in the affirmative, while 22% said no. The overwhelming majority of attendees (89%) indicated they had no plans of getting a coronavirus shot in the future while 5% said they already had.
Nearly three-fourths of those surveyed (74%) expressed a desire for laws regulating abortion at the state level following the overturning of the U.S. Supreme Court case Roe v. Wade, which determined that the U.S. Constitution does not contain a right to abortion. Thirteen percent thought abortion laws should be made at the federal level, while an additional 13% were not sure.
Seventy-nine percent of participants expressed disapproval of the U.S. government "giving billions of dollars in aid and military weapons to help Ukraine fight the war against Russia," with 61% strongly disapproving. Only 16% of those surveyed supported giving money and weapons to Ukraine.
The survey also asked attendees who they thought would be the Democratic nominee for president in 2024. Just 39% predicted that incumbent President Joe Biden would be his party's standard bearer in 2024, while 21% thought that California Gov. Gavin Newsom would capture the nomination. Fourteen percent forecasted former first lady Michelle Obama winning the Democratic nomination, while 6% thought Vice President Kamala Harris would become the nominee.
Additional candidates received a minimal amount of support, including 2016 Democratic nominee and former first lady Hillary Clinton (3%), Transportation Secretary Pete Buttigieg (2%), Rep. Alexandria Ocasio-Cortez, D-N.Y., (1%), talk show host Oprah Winfrey (1%) and Sen. Joe Manchin, D-W-Va. (1%).