Trump: Media N. Korea Coverage 'Almost Treasonous;' Evangelicals More Thankful Than Jews for Jerusalem Embassy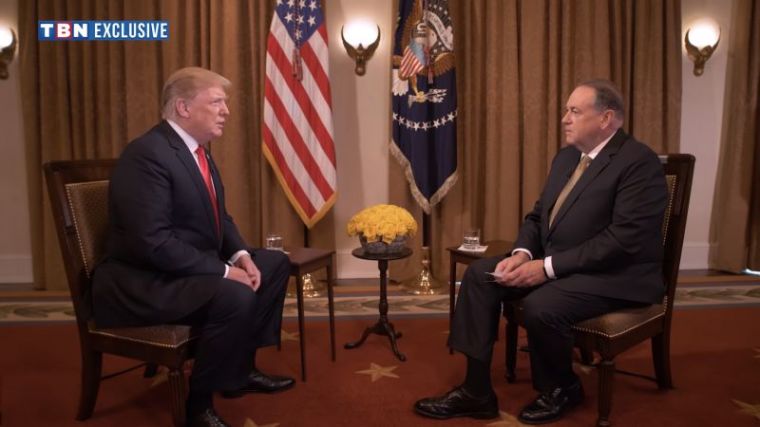 President Trump told former Arkansas Gov. Mike Huckabee in an interview that mainstream media's coverage of his summit with North Korean leader Kim Jong Un was "almost treasonous." He also revealed that evangelicals are more thankful than Jews for moving the U.S. embassy to Jerusalem.
On his show on Trinity Broadcasting Network that aired Saturday, Huckabee asked Trump if he trusts Kim Jong Un, and the president said he certainly does.
Trump said he's had a "very good relationship" with the North Korean leader and "we have a good chemistry together."
"He's looking to do the right thing," Trump told Huckabee, whose daughter Sarah Huckabee Sanders is the White House press secretary. "He wants to bring enterprise into North Korea. They have tremendous potential in terms of location … it's an amazing piece of property to put it in real estate terms … It's got unbelievable natural potential and I think he wants to do something with it."
The president added, "I think he doesn't want to go through what would have to go through because that wouldn't be a good thing for anybody."
Huckabee asked if Kim Jong Un doesn't make good on his commitment, what is the U.S. prepared to do?
"First of all, we came to a wonderful agreement, it's a shame the fake news covers it the way they do… It's almost treasonous, you want to know the truth," Trump said.
"Well in the meantime we got our hostages back, we get the remains back of our great heroes that have died (in the Korean War) — the big thing is the denuclearization," he added.
"If you listen to the mainstream media, it's almost like I lost a negotiation," Trump said.
Huckabee then praised Trump for fulfilling his campaign promise to move the U.S. embassy in Israel from Tel Aviv to Jerusalem, noting that Trump's predecessors also promised that but failed to act on it.
"You know who really likes it the most are the evangelicals," Trump said. "I get more calls of thank you from evangelicals than … I do from Jewish people… Jewish people appreciate it but evangelicals appreciate it more than Jews, which is incredible."
Huckabee also spoke to the president about recent immigration controversies. Trump said the recent family separations were the Democrats' fault because they could not "sit down to draw an agreement that's good for security."
"We need merit-based immigration," Trump stressed.
On Wednesday, Trump signed an executive order ending parental separations after around 2,000 children were taken from their parents, who are being held in Border Patrol detention centers as their claims are being processed.
However, on Friday, the president met with families whose loved ones have been killed by illegal immigrants to highlight their "permanent separation" in response to criticism over his administration's crackdown on illegal immigration.
Meanwhile, Trump's press secretary Sarah Huckabee Sanders said she was asked to leave a Virginia restaurant Friday night because of her work in the Trump administration.
"Last night I was told by the owner of Red Hen in Lexington, VA to leave because I work for @POTUS and I politely left. Her actions say far more about her than about me. I always do my best to treat people, including those I disagree with, respectfully and will continue to do so," she tweeted Saturday.