Trump Meets With 'Angel Families' of Children Killed by People Who Entered the US Illegally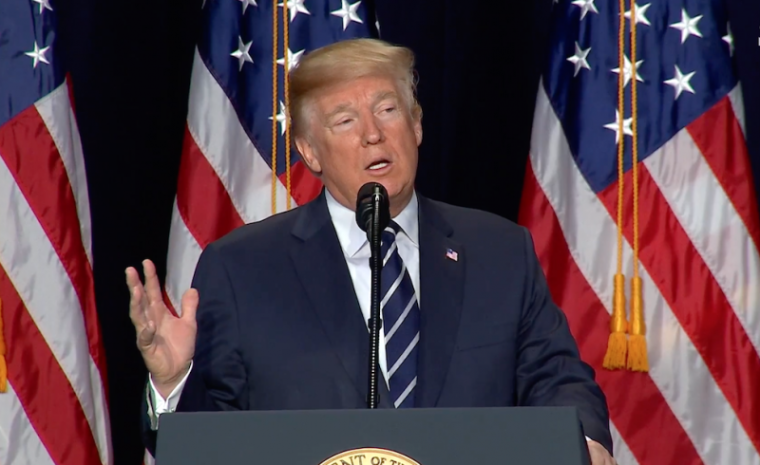 President Trump on Friday met with families whose loved ones have been killed by people who entered the United States illegally, highlighting their "permanent separation" in response to criticism over his administration's crackdown on illegal immigration.
"These are the American citizens permanently separated from their loved ones. The word you have to think about is 'permanently,'" Trump said at an event Friday at the White House where Angle Families had been invited, according to Fox News.
"Because they were killed by illegal immigrants. These are the families that the media ignores. This is a very unfair situation," Trump added.
At the event, also attended by Vice President Mike Pence, families held photos of their departed loved ones.
On Wednesday, Trump signed an executive order ending parental separations for those who recently crossed the border illegally after 2,300 children were taken from their parents who are being held in Border Patrol detention centers as their claims are being processed.
Why don't media talk about drug crimes, MS-13 gang activity and killings, Trump asked Friday. "Where is the media outrage over the catch and release policy? Where is the condemnation of Democrats in sanctuary cities that release violent criminals into our communities?"
Trump added that the Angel Families are "brave Americans."
Angel mothers spoke at the event.
Laura Wilkerson shared about the loss of her 18-year-old son, Josh, in 2010. "Josh was brutally tortured, strangled over and over, set on fire after death. His last hours were brutal. None of our kids had a minute to say goodbye. We weren't lucky enough to be separated for five days or 10 days. We are separated permanently," she said.
Sabine Durden, another angel mom who immigrated to the United States legally, thanked Trump for saving her from committing suicide after her only son was killed by an immigrant felon from Guatemala who was in the U.S. illegally.
Legal immigrant mother of son slain by illegal alien from Guatemala says she was going to commit suicide until she heard @realDonaldTrump speak on immigration reform. pic.twitter.com/gKHAi5zwB8

— The Daily Caller (@DailyCaller) June 22, 2018
"Thank God our president and vice president … they rallied behind us," she was quoted as saying. "They were the only ones and gave us a little light. I was gonna end my life — I had no purpose. But President Trump coming down that escalator that day and talking about illegal immigration stopped me in my tracks and I had no clue at that point that I would ever be at the White House."
Durden said she "didn't place him (her son) in harm's way" by entering the country illegally, but couldn't protect him on July 12, 2012, when he was struck by an unlicensed truck that was being driven by a man who was in the country illegally. "This is my only child. I have no family. That's it. The public needs to know and they deserve to know that this could happen to each one of you at any second."
Michelle Wilson-Root, another mother whose daughter was killed in 2016, shared her story. "Our separation is permanent. Sarah never gets to go on to be a wife, a mother, a grandmother, an aunt. My son does not have his only sibling any longer. My life has been devastated. So has my daughter's family and friends," she said.
"Sarah is never coming home," she continued. "I never get to take a selfie with her again. I have no more pictures of her," Root said. "Our police officers, our Border Patrol, please continue to fight."
In 2013, an African-American father whose son was murdered by a gang member who was in California illegally and had three gun possession charges, testified before the House Judiciary Committee about how laxity in deporting undocumented criminals led to his son being killed. His wife, Anita, was serving in Iraq when their son,  a high school football standout, was gunned down near his home in Los Angeles. 
"He shot my son in the stomach and then in the head, killing him," Jamiel Shaw Sr. said of his son, who was also named Jamiel. "Do black lives really matter? Or does it matter only if you are shot by a white person or a while police man?" 
Shaw later credited Trump for speaking up for parents whose children were murdered by people who were in the country illegally, noting that these families have largely been ignored by the media.  
Trump was roundly criticized by the media, members of both political parties and even evangelicals for his policy of separating children from their parents or other adults who accompanied them when they crossed the border illegally. 
On Friday, The Christian Post reported on the false Time magazine cover that purported to show a 2-year-old girl crying after being separated from her mother at the border. The truth, however, is that the child's mother, Sandra Hernandez, had placed her daughter on the ground while Border Patrol agents talked to her and asked if her daughter was OK and if she needed anything. 
In 2013, Hernandez was deported from the U.S. after she entered the country illegally under the Obama administration. She recently left her husband and three other children behind in Honduras in an attempt to cross again, seeking better economic opportunities, but claimed asylum. 
People who seek asylum at U.S. border entry points are not separated from their families. While Hernandez crossed the border illegally, she was also not separated from her daughter when she claimed she was seeking asylum. 
Entering the U.S. with no visa or any legal authorization and doing so outside U.S. border entry points is a misdemeanor crime. Crossing the border illegally a second time is a felony.
Some confusion over the administration's former family separation policy stems from the 1997 Flores Settlement Agreement which states that children can only be detained for 20 days before they're released to the Department of Health and Human Services.
In 2016, the Ninth Circuit of Appeals ruled that the Flores Settlement Agreement not only applied to unaccompanied children, but also applied to accompanied minors. This means that after 20 days children can no longer be detained alongside their parents or the adults who accompanied them across the border, but must be released to family members already living in the U.S. or a sponsor while their parents remain in detention.
During the Obama administration, a federal judge ruled that children could not be detained with their mothers who crossed the border illegally because of the Flores settlement. 
"In 2015, Judge Dolly M. Gee of the Federal District Court for the Central District of California rejected the Obama administration's arguments for holding the families, saying they violated the long-standing 1997 class action suit known as the Flores settlement, which governs the treatment of unaccompanied minors apprehended at the border," The Daily Caller News Foundation reports. 
"Gee slammed the Immigration and Customs Enforcement, the Obama administration, and other federal officials in the ruling for allowing children to be held in facilities that were of 'widespread and deplorable conditions.'"
Trumps executive order states that Homeland Security is to maintain custody of detained families during criminal proceedings and as their asylum claims are adjudicated. For the Secretary of Defense Jim Mattis and the heads of other agencies to find or construct facilities to house the detained families. And for Attorney General Jeff Sessions to prioritize the adjudication of cases involving immigrant families who are detained.