Franklin Graham Blames Politicians of the Past for Trump Policy Separating Families at Border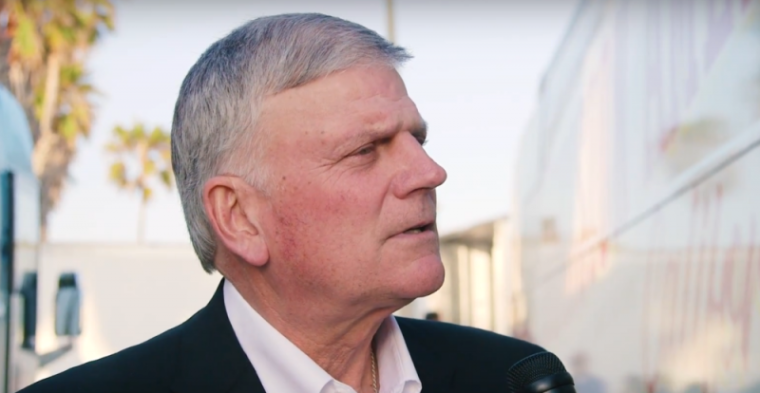 Leading evangelist Franklin Graham has argued that past politicians, rather than President Donald Trump, is to blame for the administration's "zero-tolerance" immigration enforcement policy that has resulted in more children being separated from their immigrant parents who have been criminally charged at the U.S. Southern border in recent months.
Graham, the president of the Billy Graham Evangelistic Association and the humanitarian aid group Samaritan's Purse, spoke with The Christian Broadcasting Network this week and discussed a number of hot topics, including North Korea, a California LGBT bill and immigration issues.
Graham, who is one of the most prominent conservative white evangelical leaders in the country and the son of legendary evangelist Billy Graham, was specifically asked his thoughts about the recent immigration policy shift of the Trump administration that has led to the subsequent separation of hundreds of children from families charged with unlawfully entering the country.
Previously, the U.S. government used discretion when determining which family's not to prosecute so that family units could remain intact.
However, the new "zero-tolerance" policy has outraged immigrant rights advocates and concerned other evangelical leaders as as over 1,700 children have been reportedly separated from their families in the last 17 months.
"I think it is disgraceful and terrible to see families ripped apart," Graham said. "I don't support that one bit."
Although the new "zero-tolerance" policy was announced in April by Trump's Attorney General Jeff Sessions, Graham seemingly placed the blame for the separation of children on politicians and lawmakers of previous decades.
"I blame the politicians for the last 20 or 30 years that have allowed this to escalate to the point where it is today," Graham, who has served as in some capacity as an informal adviser to the Trump administration, argued. "We are a country of laws and laws need to be obeyed, no question about that. The situation we have today because of our lawmakers in Washington over generations ignoring this. I am hopeful that something can be done to fix it."
Like Graham, Trump also considers the policy to be "horrible." The president claims, however, that his administration is enforcing the policy because of a law that Democrats need to be pressured to change.
PolitiFact reports that it is a policy of the Department of Homeland Security to place children of parents facing a misdemeanor unlawful entry charges into the care of the Department of Health and Human Services' Office of Refugee Resettlement. Previously, not all border-crossing cases were prosecuted, thus it allowed families to remain together. Even when the cases were prosecuted, families were often allowed to stay together in family detention centers until their cases could be processed and heard in court.
Matthew Soerens, U.S. Director of Church Mobilization for World Relief and the field director of the Evangelical Immigration Table, told The Christian Post in an interview Thursday that the separation of children at today's large scale did not happen under the George W. Bush or Barack Obama administrations.
"This change in policy from the attorney general is what made this happen," Soerens said. "The attorney general could change it back."
According to Soerens, changing the policy back would mean that the U.S. government is able to use more discretion when determining which immigrants to charge with misdemeanor unlawful entry crimes that would lead to their children being seperated from them and being put in separate crowded detention facilities or in temporary foster care.
But according to reports, the Trump administration seems to be gearing up to detain even more children as it is looking to build tent cities in Army bases in Texas.
Responding to Graham's claim that politicians of the last 20 to 30 years are to blame, Soerens explained that there are definitely things that "Congress has done wrong" during that time relating to immigration. However, he stressed that it is important not to overlook the fact that the "zero-tolerance" policy started this April.
"[Congress] could have put things into place in the last 30 years that would have prevented this situation. Among those things would be a robust refugee resettlement program," he said. "I do think it is important to acknowledge that this wasn't happening at the beginning of the Trump administration, it wasn't happening in the Obama administration on anything like the scale that we are seeing today, which is a direct result of this zero-tolerance policy."
Sen. James Lankford, R-Okla, an avid defender of persecuted communities and religious freedom, told a constituent on the phone Thursday that he plans to ask the White House to "keep families together as much as we can possibly keep families together for as long as we can possibly keep them together."
"If at some point an adult starts going through prosecution and goes through the hearing, at some point, there is going to be a little bit of a separation," he said.
Other prominent evangelicals have voiced their opinion about the zero-tolerance policy.
Last week, the Evangelical Immigration Table called on Trump to reconsider the zero-tolerance policy in a letter signed by notable leaders from the National Association of Evangelicals, the Southern Baptist Ethics & Religious Liberty Commission, World Relief and the National Hispanic Christian Leadership Coalition.
"As evangelical Christians guided by the Bible, one of our core convictions is that God has established the family as the fundamental building block of society," the letter reads. "The state should separate families only in the rarest of instances."
Additionally, the Southern Baptist Convention this week passed a resolution on immigration calling for "maintaining the priority of family unity" in the immigration system.
On Thursday, Sessions defended the policy during a speech in Indiana:
"If you cross the Southwest border unlawfully, then the Department of Homeland Security will arrest you and the Department of Justice will prosecute you. That is what the law calls for — and that is what we are going to do. Having children does not give you immunity from arrest and prosecution. It certainly doesn't give immunity to American citizens.

"However, we are not sending children to jail with their parents. The law requires that children who cannot be with their parents be placed in custody of the Department of Health and Human Services within 72 hours.

"We currently spend more than $1 billion a year in taxpayer dollars taking care of unaccompanied illegal alien minors. Most are in HHS custody. They are provided food, education in their native language, health and dental care, and transported to their destination city—all at taxpayer expense.

"It should be noted the perils to which these parents subject their children. Hundreds of aliens die every year trying to make it to the border to illegally enter this country. In many cases, children are trafficked, abused, or recruited by criminal gangs. No one should subject their child to this treacherous journey—and yet the open borders lobby encourages it every day."