Pro-lifers respond to Trump's claim 'abortion issue' cost Republicans in the midterms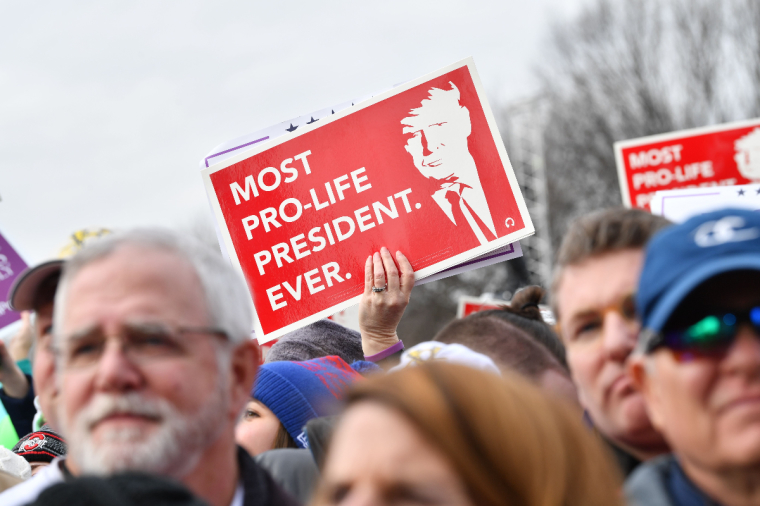 Former President Donald Trump has suggested that Republican candidates' positions on abortion led to the party's lackluster performance in the midterm elections, drawing strong reactions from leading pro-life activists and figures on both sides of the political aisle.
In a statement on Truth Social Sunday, Trump argued that it wasn't his fault that "Republicans didn't live up to expectations" in the 2022 midterm elections. 
"It was the 'abortion issue,' poorly handled by many Republicans, especially those that firmly insisted on No Exceptions, even in the case of Rape, Incest, or Life of the Mother, that lost large numbers of Voters," Trump wrote. 
"Also, the people that pushed so hard, for decades, against abortion, got their wish from the U.S. Supreme Court, & just plain disappeared, not to be seen again."
Trump's comments come as the 118th U.S. Congress takes office Tuesday. While Republicans hoped to make significant gains, as the party out of power typically does in midterm elections, they only netted nine seats in the U.S. House of Representatives elections and lost a seat in the U.S. Senate.
The midterm election results were enough to secure a Republican majority in the House, but the net loss of a Senate seat means Democrats will maintain control of the chamber for the next two years. 
One of the nation's leading grassroots pro-life organizations Susan B. Anthony Pro-Life America, which spent around $78 million to mobilize the pro-life vote in the 2022 midterms, reacted to Trump's comments in a statement Monday.
"The approach to winning on abortion in federal races, proven for a decade is this: state clearly the ambitious consensus pro-life view on abortion and contrast that with the extreme view of Democrat opponents," the organization shared in a statement. "We look forward to hearing that position fully articulated by Mr. Trump and all presidential candidates."
The group's statement concludes by stating that "a profound midterm lesson" in 2022 is "those who adopted the Ostrich Strategy on abortion lose."
Lila Rose, president of the pro-life activist organization Live Action, believes that Trump "is way out of line here on life."
"He does not have a pulse on where his potential base is — as many believed he has in the past. This kind of nonsense will be a losing political strategy for him," she tweeted. 
In another tweet, she claimed that "midterm losses has ZERO to do [with] the pro-life cause & more to do with poor election strategies that the Republican Party has been employing for years."
"Hardcore pro-lifers won re-election in states across the country; bad candidates & bad campaign strategies lost," Rose wrote. 
"I think a lot of Republicans didn't handle the abortion question properly," Trump asserted in the interview. "I think if you don't have the three exceptions, it's almost impossible in most parts of the country to win. If you don't have three exceptions — I said to a very nice man running for governor of Pennsylvania — 'If you don't have the three exceptions, you can't win.'"
Trump was referring to Pennsylvania's Republican gubernatorial nominee Doug Mastriano, who lost his race by double digits in a state the former president only narrowly lost in 2020. Similarly, Trump pointed to the abortion stance of Michigan's Republican gubernatorial nominee Tudor Dixon as the reason for her loss. Dixon also lost by double digits in a state that Trump lost by a much smaller margin in 2020.
Ben Domenech, editor-at-large of The Spectator, also disagreed with Trump's analysis.
In a Twitter thread Sunday, Domenech rejected the idea that "Republican candidates think abortion should be banned when a mother's life is at risk." 
"The most pro-life R incumbent candidates won," Domenech stated. He listed Florida Gov. Ron DeSantis, Georgia Gov. Brian Kemp, Texas Gov. Greg Abbott and Ohio Gov. Mike DeWine as examples of pro-life Republican candidates who won re-election this year as other Republican candidates lost.
Domenech also pushed back on the idea that pro-life voters "disappeared, not to be seen again," contending that "there is no evidence for this whatsoever."
"The GOP maxed out its voters, so that makes it impossible. Increased young women pro-abort voters doesn't decrease other side."
Rep. Ted Lieu, D-Calif., a critic of the former president, cited his most recent comments about the 2022 election as evidence that "Trump never believed life began at conception." In a tweet published Monday, Lieu concluded that "he was using the abortion issue only to gain power." 
"Now that you're no longer useful to him, Trump blames you for losing and wants you to shut up," Lieu maintained. "If you still support him, you are disrespecting yourself." 
In a post-election press call, Susan B. Anthony Pro-Life America President Marjorie Dannenfelser criticized Republican strategists for failing to make the party's position on abortion clear in the aftermath of the Supreme Court's decision overturning Roe v. Wade as the pro-choice side spent hundreds of millions on pro-abortion advertising. Democrats accused Republicans of trying to prosecute women for having abortions.
Dannenfelser, who co-chaired the Trump campaign's pro-life coalition in 2016, believes that candidates like Trump-backed Mehmet Oz, a Republican who ran for Senate in Pennsylvania, lost because they assumed the abortion issue would "go away."
"Even though we wanted him to win and we broke our backs trying to help him to win, he did a very poor job of saying what he would do if he were elected for the people of Pennsylvania on the life front," Dannenfelser said.