Trump's SCOTUS Nominee Brett Kavanaugh Believes Roe v. Wade Is 'Settled Law,' Senator Says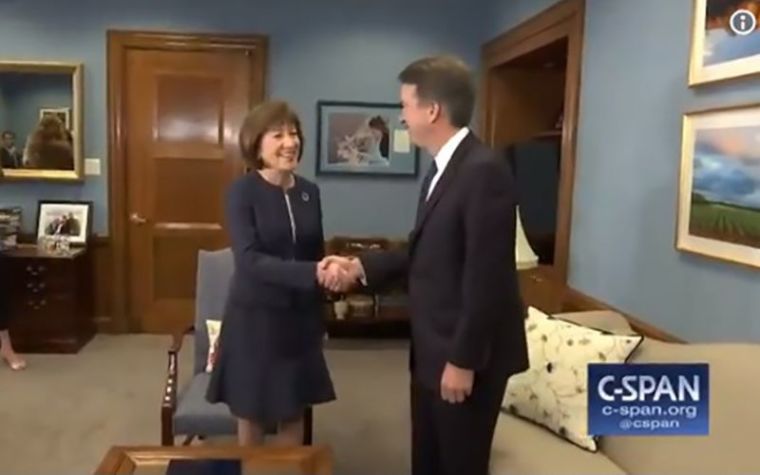 United States Supreme Court nominee Judge Brett Kavanaugh has said that he considers the Supreme Court decision Roe v. Wade to be "settled law," according to a Republican senator who's considered to be a swing vote.
Sen. Susan Collins, R-Maine, held a one-on-one meeting with Kavanaugh Tuesday, and said they covered a "wide range of issues," including gun laws and executive power.
When asked what came up when they talked about abortion and its legality, Collins responded that they "talked at great length about precedent" regarding abortion.
"We talked about whether he considered Roe to be settled law. He said that he agreed with what [Chief Justice John Roberts] said at his nomination hearing, in which he said that it was settled law," said Collins.
Collins also said that she had not committed to either voting for or against Kavanaugh, explaining she has "always waited until after the Judiciary Committee hearings before rendering a final decision on a Supreme Court nominee."
In July, President Donald Trump nominated Kavanaugh to replace the retiring Supreme Court Justice Anthony Kennedy, in a move many believe will make the high court more conservative.
Kavanaugh has gotten much opposition by progressive groups that believe if confirmed he would help lead to the overturning of Roe v. Wade.
"There's no way to sugarcoat it: with this nomination, the constitutional right to access legal abortion in this country is on the line," Dawn Laguens, executive vice president for Planned Parenthood Federation of America, previously said. "The balance of the Supreme Court is at stake — we cannot allow it to be tilted against the constitutional right to access abortion. Generations of women, especially women of color, will be affected."
While largely supported by conservative groups, some including the American Family Association have argued that Kavanaugh will be more liberal than assumed.
"Judge Kavanaugh's reasoning on religious liberty, Obamacare and issues concerning life have proven to be of major concern," said AFA President Tim Wildmon in a statement last month.
"For these and other reasons, we are calling on citizens to urge their senators to firmly oppose the nomination of Brett Kavanaugh as a justice on the U.S. Supreme Court."
Regarding Collins' comments about her meeting with Kavanaugh, conservative commentator and journalist Ramesh Ponnuru took to social media to express his doubts about how Collins' words could be interpreted.
"This statement leaves us with no greater certainty about how Kavanaugh would vote in an abortion case," tweeted Ponnuru. "Not sure whether Collins genuinely thinks 'settled law' precludes overturning/narrowing or just wants cover."