Trump signs prison reform bill FIRST STEP Act: 'Everybody said it couldn't be done'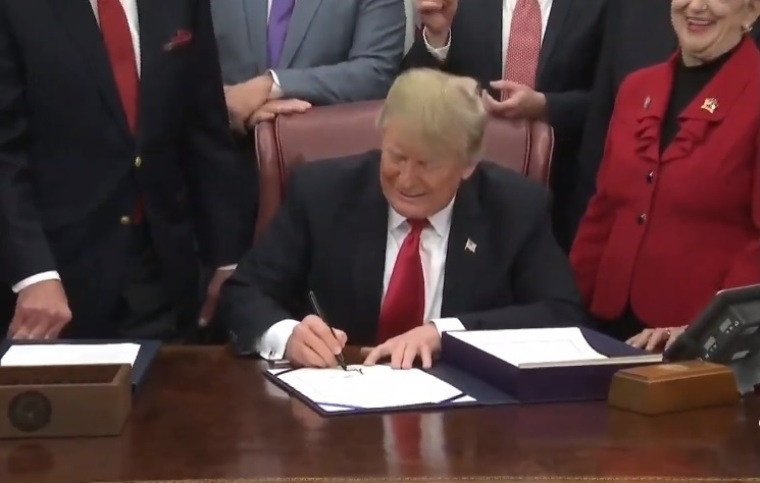 President Donald Trump signed into law on Friday what proponents say is the most comprehensive federal prison reform bill in decades.
Trump signed the bipartisan, evangelical-backed FIRST STEP Act at the Oval Office of the White House joined by criminal justice reform advocates, faith leaders, ex-offenders and lawmakers who've pushed hard to pass the bill before the close of the current Congress.
According to the White House, the bill "paves a new pathway for our federal justice system" and reforms decades of policies that "have failed Americans."
White House officials noted that approximately 77 percent of state inmates and 38 percent of federal inmates are rearrested within five years of their release.
Trump admitted that he did "start off a little bit on the negative side" when it came to his opinion of the FIRST STEP Act but was persuaded over the last few weeks by speaking to "people really involved" and by looking at the successes that states like Texas, Kentucky, Georgia and others that are "known for being tough on crime" have had passing similar reforms.
"Criminal justice reform — everybody said it couldn't be done," Trump said at the signing ceremony. "They said that the conservatives won't approve it and the liberals won't approve it. They said nobody is going to approve it, everybody is going to be against it. It has been many years, numerous decades and nobody came close."
He thanked the individuals in the room for their efforts in pushing for the legislation, including his daughter, Ivanka, and son-in-law Jared Kushner, who received an applause from the advocates in the room for their efforts within the White House. He also thanked Democrat lawmakers Sens. Nancy Pelosi and Chuck Schumer, among other congressional leaders, for their support of the bill.
"This was incredible bipartisan support," Trump said. "Everybody worked so hard on this. Behind me is a cross section of everybody in our country. We have everybody here. … We had everybody wanting this. We had a few people that didn't and that's OK. It is impossible to get 100 percent."
The bill passed in the Senate last week by a margin of 87–12, a tally that the president called "unheard of." In the House, the bill passed this week by a vote of 358–36.
"You look at this vote, 358–36, you don't have votes like that," he added, before noting that border security isn't getting the same support. 
Last month when announcing his support for the bill, Trump assured that the bill was only a "first step" but noted that it's a "big first step." He said it will make communities safer and "give former inmates a second chance at life after they have served their time."
"Thanks to our booming economy, they all now have a chance at more opportunities than they have ever had before," Trump said at the time, stating that the job market is the "best it's been in over 50 years."
"This is true. Our economy is so strong that when people are getting out of jail they are actually able to find jobs," the president added. "I have three instances of companies that hire people coming out of prisons. And they are so thrilled by the performance of these people. Now they are doing it more and more and more."
He added that the legislation will provide "low-risk" inmates with new incentives to learn the "skills they need to find employment, avoid old habits and follow the law" when they are released from prison. The new incentives will encourage participation in vocational training, educational coursework and faith-based programs like Prison Fellowship that Trump says will help "reduce their chances of recidivism."
Under the law, eligible prisoners can participate in such programs to earn time credits to spend part of their sentence in halfway houses or some kind of supervised release.
Prison Fellowship, an evangelical prison ministry founded by the late Chuck Colson, says that the bill's passage opens the door for it to install the Prison Fellowship Academy in federal prisons. The program is installed at 80 prisons in 27 states and has helped countless ex-offenders find God and get on the right path to a successful release.
"This legislation will increase the access of faith-based and nonprofit organizations, like Prison Fellowship, to provide desperately needed programming in the federal prison system and help reduce recidivism," Prison Fellowship President James Ackerman said in a statement. "From our work in many states across the country, we can say without hesitation that these programs restore lives — putting people on a new path and eventually reduce crime."
The law also addresses some issues with mandatory minimum sentencing laws for low-level, nonviolent drug offenders by lowering mandatory minimums for second-time offenses to 15 years instead of 20 and lowering the mandatory sentence for a third offense to 25 years instead of life in prison.
The law also makes retroactive a 2010 bill reforming sentencing disparity between crack cocaine and powder cocaine offenses. The approximately 3,000 people convicted before the 2010 reforms that would have received lower sentences can petition for release.
Before the signing, the president mentioned the name of Alice Johnson, a grandmother who was sentenced to life in prison in 1996 for her role in a Memphis cocaine trafficking organization who exhibited good behavior in prison. Earlier this year, Trump commuted Johnson's sentence and she was released after an appeal from celebrity Kim Kardashian.
"Alice Johnson, I let her out. She was in jail for 22 years and she had another 28 years and the crime was, let's say, I think most of you would agree, is not worth 50 years in prison," Trump explained.
The legislation also broadens the "safety valve" that allows courts to have discretion to avoid giving mandatory minimum sentences in cases where the mandatory sentences might not be appropriate.
"There was another case where a judge came to me and he was mandated to put a man in jail for 28, approximately, years. He wanted him to go to jail for two years," Trump explained. "He actually left the bench. He quit. He was a highly respected judge and is a respected person. He left the bench because he was so saddened that there was nothing he could do. Because this young man was mandated to spend a good portion of the rest of his life in jail and the judge had no power to do anything about it."
There was some opposition to the bill that felt that the law didn't go far enough to address the inadequacies in the U.S.' mandatory sentencing laws and war-on-drug policies that have led to mass incarceration. Meanwhile, a few conservatives staunchly opposed the bill on claims that it could lead to the release of "thousands" of dangerous and violent criminals in federal prison.
Also speaking at the signing ceremony was Vice President Mike Pence, who assured Trump that he is fulfilling part of his vow to "make America safe again" by singing the legislation.
"By opening the doorway to more opportunities for not just education but character education and faith-based programs in our system, we are going to see more families intact again," Pence, the former Republican governor of Indiana, said. "More people are going to choose a better pathway when they come out having paid their debt to society."
"I think back to that election night where you pledged to be the president to all the American people," Pence added. "And today, Mr. President, I look across this room and this bill represents your commitment to stand up … for all of the American people and the values they hold dear."
The bill is modeled after successful reforms that have taken place in states like Georgia and Texas. In pushing for the passage of the bill, criminal justice advocates have continually pointed out that some of the same reforms that are also in the FIRST STEP Act have helped Texas reduce its crime to its lowest rate in decades, close eight prisons and save billions of dollars.
The legislation was backed by over 2,500 faith leaders from various theological backgrounds, according to the White House. Among those are prominent evangelical leaders. The Trump administration had over the course of the year met with various faith leaders to hear their thoughts on the issues with the justice system, including a heavily criticized meeting with black pastors.
"The First Step Act responds to longstanding concerns that have been expressed by the National Association of Evangelicals and others about the overuse of incarceration and the destructive impact of prison life," Galen Carey, vice president of government relations at the National Association of Evangelicals, said in a statement.
Timothy Head, executive director of the conservative evangelical grassroots organization Faith & Freedom Coalition, said that it has been "extremely challenging" as the organization and other groups supportive of criminal justice reforms have lobbied hard over the past four years for some kind of substantial relief.
"[T]oday's bill signing proves that all of the time and effort was worth it as inmates in the federal system will now have a smarter, fairer, system that will reduce recidivism and restore lives," Head said in a statement. "[F]ederal justice reform is now a reality."
Although some critics have questioned how much of an impact the FIRST STEP Act will have, supporters say it is the "most consequential criminal justice bill in a generation."
"The strong and effective leadership of conservatives made these reforms possible," Pat Nolan, the director of the American Conservative Union Foundation's Center for Criminal Justice Reform and former Prison Fellowship executive, said in a statement.  As a result, inmates will leave prison prepared to be good parents, good employees, and good neighbors. And our communities will be safer."