Trump Talks About His Greatest Asset on Mike Huckabee's New Show on TBN (WATCH)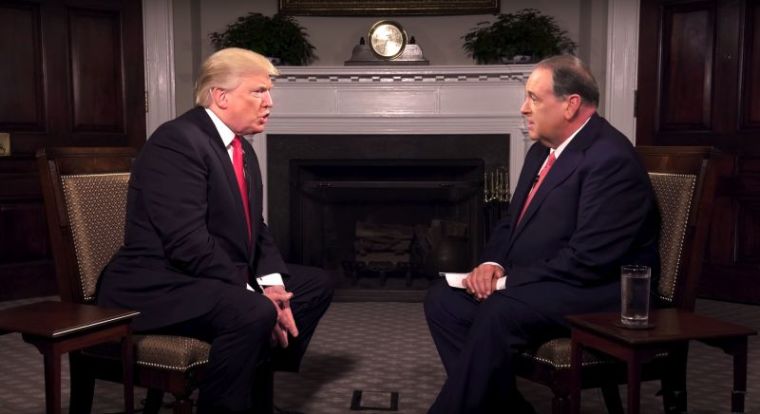 President Donald Trump sat down with Mike Huckabee for the premiere episode of his new show "Huckabee," which will air Saturday night. In the interview, the president talks about one of his greatest assets, first lady Melania Trump.
One of your greatest assets is the first lady, Huckabee says in the interview for his new show for the Trinity Broadcasting Network, praising her for her empathy and for connecting personally with people. "It's true," Trump responds.
Huckabee then asks if her soaring approval ratings bother Trump.
"She is very popular," Trump agrees, and continues, "She's a very private person. And honestly, she loved her other life. Her other life was a good life, before I decided to do this."
The president adds that she doesn't need popularity. "But she does like to help people. And she sees how important it is. … And she's taken tremendous abuse. But the good news is the people understand her."
>
The first lady was recently criticized for wearing five-inch stilettos when she boarded a plane to Texas after Hurricane Harvey caused devastation in that state, with the mainstream media claiming that she was out of touch. However, when they arrived in Texas, she was wearing sneakers, not heels.
"She's a very good person," Trump adds.
Trump also blasts the filibuster rule during his conversation with former the former governor of Arkansas, who ran for president twice and whose daughter, Sarah Huckabee Sanders, is the White House Press Secretary.
"I thought that when I got to the Oval Office, I would have a bill sitting on my desk, repeal and replace, a beautiful healthcare bill, and it didn't happen," Trump tells Huckabee. "But remember, it didn't happen because of a lot of Republicans, that horrible thing happened because of a few people, really a few people," he continues.
Republican Sens. John McCain, Susan Collins and Lisa Murkowski had opposed the Senate's repeal and replace plans.
"We have 52 senators, and we have to get rid of the just absolutely crazy voting where you need 60," the president says. "It's called the filibuster. It's a disaster, okay. It's a disaster for the Republicans. They have to get rid of it. If they don't get rid of it, it's just a death sentence."
In the interview, Trump also talks about tax reform, Israel, Iran, North Korea and his recent visits to Las Vegas and Puerto Rico.
Huckabee has joined the My Faith Votes initiative, "a non-partisan movement inspiring Christians to vote," as honorary national chairman, warning that unless Christians step up and vote, America could be facing an "irreversible" decline.
"I could not be more thrilled to accept this role as the new honorary national chairman of My Faith Votes," he said in a statement this week. "For nearly 40 years, as a pastor, governor and presidential candidate, I've never been more convinced of this: Christians will determine every election in America if they just show up."
He added, "We've reached a tipping point in America's history, and we'll either emerge from it stronger and better than ever before or we'll slide into an irreversible decline. It's time for people of faith to step up to the plate and lead our nation."