Trump's Defense Secretary Pick Gen. 'Mad Dog' Mattis Has a Way With Words: Here Are 5 Incredible Quotes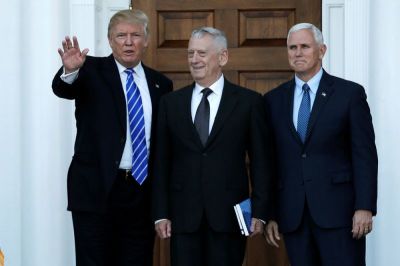 President-elect Donald Trump's nominee to run the Pentagon, Retired Marine Gen. James Mattis, is known for his blunt, terse statements he made during his 44-year military career in the Marine Corps.
During his service, Mattis was considered to be an intellectual among the upper ranks, with his personal library numbering more than 7,000 volumes. He enlisted in the Marine Corps in 1969, and later went on to serve as the 11th commander of U.S. Central Command until 2013. The 66-year-old former general has served during the first Gulf war, and also in Afghanistan and Iraq.
Most recently, Trump said the four-star general convinced him that the controversial torture method of waterboarding did not work. The president-elect had earlier vowed to bring back waterboarding. However, Trump quoted Mattis as saying, "I've never found it (torture) to be useful … [g]ive me a pack of cigarettes and a couple of beers, and I'll do better."
Here are five earlier quotes by Mattis, whose statements are known as "Mattisisms."