Trump's Porn Star Payoff Timeline, and Why It Matters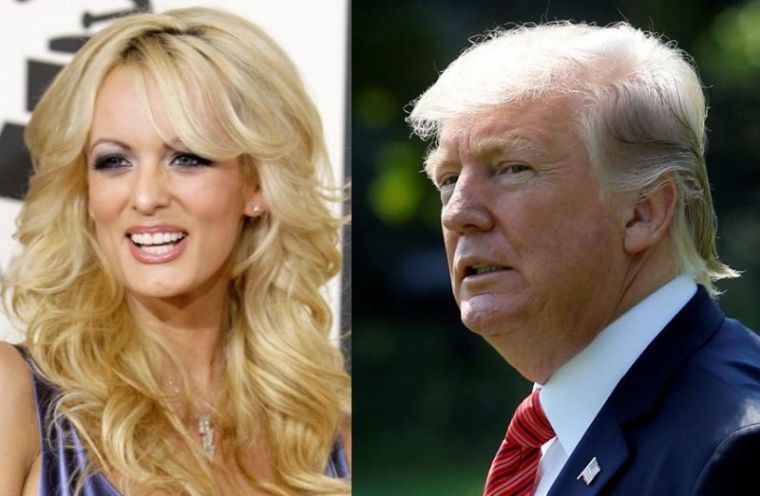 To understand why President Donald Trump's porn star payoff matters, know the timeline of events.
The Timeline:
July 2006: Trump met porn star Stormy Daniels, whose real name is Stephanie Clifford, at a celebrity golf tournament. Clifford claims Trump invited her to his room and they had sex. This was 18 months after Trump married Melania and four months after their son Barron was born.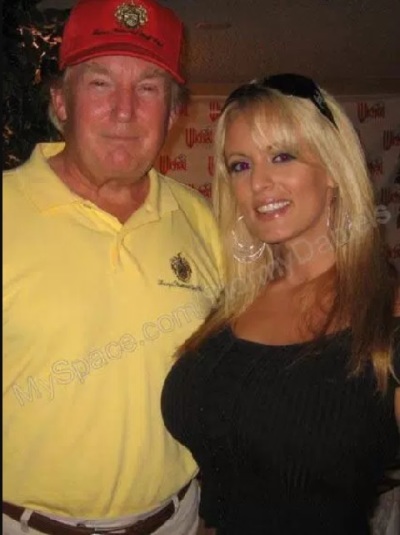 2011: In Touch Weekly interviewed Clifford about the alleged affair. One of Clifford's close friends and her ex-husband corroborated the story and all three reportedly passed a polygraph test. In Touch didn't publish the story at the time because Trump's lawyer, Michael Cohen, threatened to sue the publication if it did, two former employees told CBS News.
Oct. 7, 2016: Nearly one month before the Nov. 8, 2016, presidential election, The Washington Post reported on a 2005 "Access Hollywood" video in which Trump is heard saying that he can grab women by their private parts and they will let him because he's famous. An open microphone captured the conversation and Trump was unaware the mic was on.
After the video, several women claimed Trump sexually harassed them. Some of the stories were similar to what Trump bragged about doing in the video.
There was great concern on the Trump campaign team that the video would dampen turnout among politically conservative Christians. Evangelical leaders were torn on what to think about the video. See, for instance, here, here, and here. 
Oct. 9, 2016: Two hours before his first presidential debate against Democratic nominee Hillary Clinton, Trump held a live press conference with three women who had accused Clinton's husband, former President Bill Clinton, of sexual misconduct and rape.
Oct. 12, 2016: A Reuters poll showed Trump's support among evangelicals dropped 12 points since the "Access Hollywood" tape was revealed.
Oct. 17, 2016: Cohen, a lawyer whose only client is Donald Trump, incorporated Essential Consultants LLC.
Oct. 27, 2016: Essential Consultants paid Clifford $130,000.
Oct. 28, 2016: Clifford signs a non-disclosure agreement to keep quiet about the affair with Trump.
Nov. 4, 2016: The Wall Street Journal reports that Clifford was scheduled to appear on ABC's "Good Morning America" to talk about the alleged affair. The report also said the National Enquirer paid former Playboy centerfold Karen McDougal $150,000 for her story about an alleged affair with Trump, but then didn't publish the story. Trump campaign spokesperson Hope Hicks claims the allegations are "absolutely, unequivocally," "totally untrue."
Nov. 8, 2016: Trump wins the presidential election.
Jan. 12, 2018: The Wall Street Journal breaks the story on Cohen's payment to Clifford. The White House responded, "These are old, recycled reports, which were published and strongly denied prior to the election." Cohen accused WSJ of "raising outlandish allegations against" Trump and "perpetuat[ing] this false narrative." Cohen also sent WSJ a statement signed by Clifford denying she had an affair and received hush money from Trump.
Feb. 18, 2018: Cohen admits to paying Clifford, adding that it wasn't a campaign expense and he wasn't reimbursed by the Trump campaign.
March 7, 2018: Clifford sues to invalidate the non-disclosure agreement.
March 9, 2018: Cohen tells ABC News that he used a home-equity line of credit to pay Clifford with his own money.
March 25, 2018: Clifford appears on CBS' "60 Minutes." She said her previous statement denying the affair was a lie and confirms she signed a non-disclosure agreement in October 2016 to keep quiet about an affair with Trump.
March 26, 2018: When asked about the "60 Minutes" interview, a White House spokesperson referred reporters to the Trump campaign or Cohen, and reiterated that Trump denied "these underlying claims," which could have been a reference to the affair rather than the payoff, but the White House was not specific.
April 5, 2018: Aboard Air Force One, Trump says he didn't know about the payment to Clifford. "You'll have to ask Michael Cohen," he said.
April 9, 2018: The FBI raids Cohen's office, home and hotel room, and seized records related to Clifford and other documents.
April 26, 2018: Trump calls into "Fox and Friends." Among the many topics, he talks about Clifford, saying that Cohen "represented me" in "this crazy Stormy Daniels deal" and "from what I see, he did absolutely nothing wrong."
May 2, 2018: Former New York Mayor Rudy Guiliani, who is now leading Trump's legal team on issues related to the Russia investigation, appears on Fox News' "Hannity" and says that the payment to Clifford came from Trump. The money was "funneled through a law firm, and then the president repaid it." The next morning Guiliani confirmed that Trump knew he would reveal that information on the show.
May 3, 2018: Guiliani tells The Washington Post that Trump reimbursed Cohen in monthly installments of $35,000. He called it a campaign expense and implied there might have been other payoffs, saying, "That [Clifford payment] and probably a few other situations that might have been considered campaign expenses."
The payments were not included in Trump's June 14, 2017, financial disclosure report.
But elsewhere in the interview he claimed the payment was a personal rather than campaign expense.
"I also think, personally, neither one of them [Cohen and Trump] saw it as a campaign thing; they thought of it as a personal thing. Personal reputation, family, wife, harassment charge. She [Clifford] doesn't want a lot of money? Pay her. Let her go away. Follow me?" Guiliani said.
That same morning, before attending National Day of Prayer events, Trump responded in a series of three tweets. He noted that Clifford signed a letter saying there was no affair as part of a non-disclosure agreement, she violated the NDA by saying she had an affair, the story that she was paid not to disclose was "false," and the act of paying someone $130,000 to not tell an untrue story is "very common among celebrities and people of wealth." He also claimed he will sue Clifford for talking about the affair he says never happened.
Here are Trump's complete remarks (lightly edited for grammar and clarity): "Mr. Cohen, an attorney, received a monthly retainer, not from the campaign and having nothing to do with the campaign, from which he entered into, through reimbursement, a private contract between two parties, known as a non-disclosure agreement, or NDA. These agreements are very common among celebrities and people of wealth. In this case it is in full force and effect and will be used in Arbitration for damages against Ms. Clifford (Daniels). The agreement was used to stop the false and extortionist accusations made by her about an affair, despite already having signed a detailed letter admitting that there was no affair. Prior to its violation by Ms. Clifford and her attorney, this was a private agreement. Money from the campaign, or campaign contributions, played no role in this transaction."
May 4, 2018: Guiliani issues a statement, billed as a clarification of his earlier remarks, saying, "The payment was made to resolve a personal and false allegation in order to protect the President's family. It would have been done in any event, whether he was a candidate or not."
May 8, 2018: Clifford's lawyer, Michael Avenatti, reveals that Essential Consultants, the company Cohen set up for the purpose of paying off Clifford, received $500,000 from Columbus Nova, an investment firm with ties to Russian billionaire Viktor Vekselberg. The same company registered a number of alt-right websites during the 2016 election. The investigation into Russian interference in the 2016 election, led by special counsel Robert Mueller, questioned Vekselberg on the matter.
May 16, 2018: Trump releases a financial disclosure report that says he paid Cohen between $100,000 and $250,000 last year. 
Why This Matters
This timeline of events matters in at least three different ways.
1) Campaign Finance
Unreported campaign contributions and loans to a campaign in excess of contribution limits violate campaign finance law. It doesn't matter whether the money was reimbursed by the candidate or came straight from the candidates own wallet.
The payment was made less than two weeks before the election. It was also less than three weeks after the "Access Hollywood" tape. Most polls at this time showed a tight race but suggested Trump would lose. The Trump campaign knew it needed high turnout among white evangelicals. If Trump wanted to payoff Clifford to protect his family, he would've done it in 2011 when she talked to In Touch. 
The money paid to Clifford was clearly with the intent of influencing the outcome of the election, which makes it a campaign expense under the Federal Election Commission's definition.
2) White Evangelicals and Elections
White evangelicals are among Trump's most reliable voters. The Clifford saga also matters because of its potential to dampen election turnout among this key demographic.
Perhaps this is the reason some of Trump's more devoted evangelical supporters have continued to defend his actions on the Clifford drama. Jerry Falwell Jr., Franklin Graham and Robert Jeffress, have argued that what happened with Clifford doesn't matter because: it's "totally irrelevant," "nobody's business" and "these things happened many years ago," "he has changed" and lust is "the same as committing adultery," and so forth.
But the payoff happened less than two years ago, just weeks before the election; Trump lied about knowing about the payoff last month; and he admitted to lying about it just this month (which may have also been a lie, see "The Russia Investigation" below).
Also, notice Trump is arguing the porn star payoff wasn't a campaign expense because it was to protect his marriage. If the allegations aren't true, why would he need to pay Clifford to protect his marriage? Is Trump saying Melania would divorce him over untrue allegations?
Further, this is not how Christians advise protecting marriage. Trump should tell his wife the truth, not keep information from her with porn star payoffs. And if the allegations are true, Trump needs to repent and seek forgiveness and restoration, not try to hide it. Either way, this doesn't fit the "changed man" narrative espoused by Trump's evangelical supporters.
In a 1998 WSJ op-ed, Graham wrote about President Clinton and Monica Lewinsky that, "If he will lie to or mislead his wife and daughter, those with whom he is most intimate, what will prevent him from doing the same to the American public?" In 2011, Jeffress argued that Christians should take "moral character" into account when evaluating candidates. With these incredible double standards, Trump's evangelical supporters are relinquishing any authority to criticize the moral character of politicians.
Will white evangelicals continue to support Trump under such circumstances? How much cognitive dissonance can one take?
3) The Russia Investigation
With the FBI raid on Cohen and the news about Vekselberg, the Clifford affair is now connected to the Russia investigation, which could be much more serious for Trump.
Many questions remain open. As Mike Allen and Jim VandeHei have detailed for Axios, the connections between the Trump campaign and Russia that we already know about are extensive. And Mueller knows more than we do.
Is Trump now lying about a payment to Clifford to hide that the payment actually came from Russia? Looking at the timeline of events, why would Guiliani announce that Trump made the payment after Trump had denied it? The circumstances had changed. The announcement came after the FBI raid on Cohen's office, so Trump and Guiliani likely knew at the time that the FBI and Mueller had the information about Vekselberg's payment to Cohen. By claiming that Trump made the payment, the Trump team could be setting up a denial to future accusations that Russia made the payment to Clifford to help Trump.
This is a much more serious allegation. Violating campaign finance law is unlikely to lead to impeachment, but colluding with a foreign government to win the election might. Taking the fall for a campaign finance violation, therefore, even if he didn't do it, would make strategic sense.