'Truth Isn't Truth,' Giuliani Says in Defense of Trump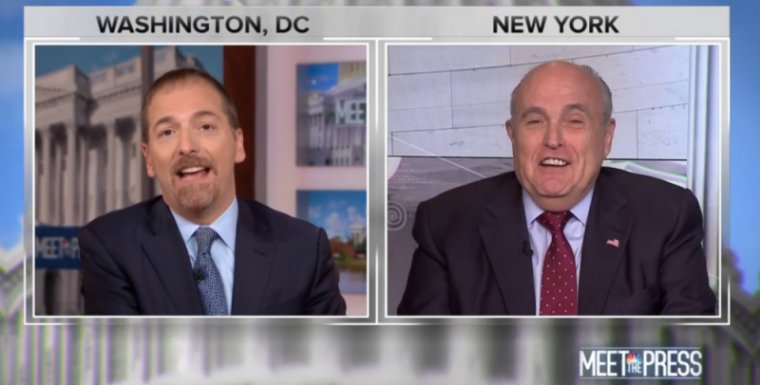 "Truth isn't truth," President Donald Trump's lawyer, former New York Mayor Rudy Giuliani, proclaimed in defense of Trump's refusal to be questioned in the investigation into Russian interference in the 2016 election.
On NBC's "Meet the Press" Sunday, host Chuck Todd was questioning Giuliani on why Trump shouldn't answer questions by special counsel Robert Mueller if he has nothing to hide.
"I am not going to be rushed into having him testify so that he gets trapped into perjury," Giuliani answered. "And when you tell me that, you know, he should testify because he's going to tell the truth and he shouldn't worry, well that's so silly because it's somebody's version of the truth. Not the truth."
Todd interrupted, "Truth is truth."
Giuliani disagreed, saying, "No, it isn't truth. Truth isn't truth."
Todd was flabbergasted. "Truth isn't truth? Mr. Mayor, do you realize, ... This is going to become a bad meme," he responded.
Giuliani then went on to explain that Trump's testimony would differ from that of former FBI Director James Comey about a private conversation they had.
In the same interview, Giuliani claimed that when members of the Trump campaign team met with a Russian operative to get information damaging to Democratic presidential candidate Hillary Clinton, it wasn't colluding with the Russians because they didn't get the information they wanted and they didn't know they were meeting with a Russian operative.
"She didn't represent the Russian government, she's a private citizen. I don't even know if they knew she was Russian at the time. All they had was her name," he said.
Giuliani also added, "Well, all they knew is that a woman with a Russian name wanted to meet with them. They didn't know she was a representative of the Russian government and indeed, she's not a representative of the Russian government. So, this is much ado about nothing. Plus, the President of the United States wasn't at that meeting. He didn't know about that meeting. He found out about it after and by the time he found out about it, it was nothing."
In the June 3, 2016, email exchange between publicist Rob Goldstone, who set up the meeting, and Donald Trump Jr., Goldstone wrote in part, "The Crown prosecutor of Russia met with his father Aras [a Moscow-based developer who tried to partner with Trump in a hotel project] this morning and in their meeting offered to provide the Trump campaign with some official documents and information that would incriminate Hillary [Clinton] and her dealings with Russia and would be very useful to your father.
"This is obviously very high level and sensitive information but is part of Russia and its government's support for Mr Trump."
Trump Jr. replied in part, "if it's what you say I love it."
Giuliani has previously used "truth is relative" arguments related to the Russia investigation in defense of Trump.
In an August 12 Fox News interview, he said, "The reality is and any lawyer will tell you this. Truth is in the eye of the beholder. And my client [Trump] can be telling the truth, their witness can be a total scoundrel and if they decide to go with their witness, my client is going to get indicted or charge of perjury in some way."
In a May 23 interview with The Washington Post, he said, "truth is relative," and, "They may have a different version of the truth than we do."
Carmen LaBerge, host of the "Connecting Faith with Carmen LaBerge" radio program, took issue with Giuliani's claims in an August 14 op-ed.
"This is a stunning statement from a lawyer and public official who has relied on the testimony of witnesses sworn to tell the truth, the whole truth and nothing but the truth," she wrote. "If truth is in the eye of the beholder, then whatever a person asserts to be true is true. Up is down. Down is up. Good is evil. Evil is good. And we find ourselves not in Kansas but in Oz or maybe more accurately, down the rabbit hole into Alice's Wonderland."