Bono, Graham Agree on ISIS Strategy: Multi-Billion Dollar Refugee Aid Plan to Fight Poverty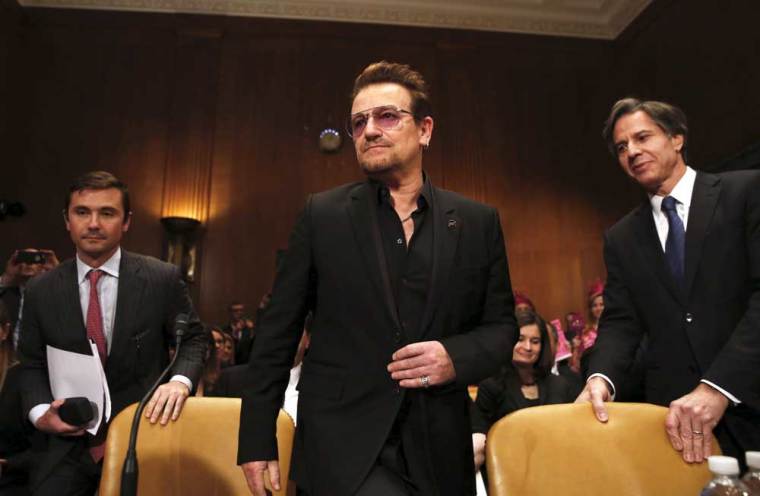 U2 lead singer Bono testified before Congress on Tuesday in favor of a multibillion-dollar plan to provide help for refugees around the world, and at the same time, counter the rising tide of extremism.
"When aid is structured properly, with a focus on fighting poverty and improving governance, it could just be the best bulwark we have against the extremism of our age," Bono said at the Senate Appropriations subcommittee that oversees foreign aid, according to Reuters.
The outspoken anti-poverty activist, who co-founded the international advocacy group ONE, has also started petitions and led campaigns to raise awareness of the plight of millions of people struggling under the weight of war and persecution — not only in Syria, but also in South Sudan, Somalia, and elsewhere.
"Today, I met invisible people. People who don't feel they exist. Some who don't even have a memory of another home because they were born in this camp," the rock star wrote in an op-ed for The New York Times on Tuesday.
"They have been exiled twice. First from their country of origin, then from the country where they now reside in giant carparks of despair," he said.
Republican Senator and former presidential candidate Lindsey Graham of South Carolina has been another leading supporter of the proposed multibillion-dollar aid program, which will seek to help millions of refugees in the Middle East, noting that defeating the Islamic State and other terror groups will require providing humanitarian aid and economic development.
"I'm a pretty hawkish fellow, but I learned a long time ago ... that you are not going to win this war by killing terrorists," Graham said.
Kelly Clements, deputy high commissioner of the United Nations High Commissioner for Refugees, noted that "we have a moment now that we haven't had in decades."
Amid discussion of the grave issue of the refugee crisis, Bono injected some humor into the hearing by suggesting that the Senate could also "send in" comedians such as Amy Schumer, Chris Rock and Sacha Baron Cohen to counteract the extremist message of the Islamic radicals.
"If you laugh at them when they're goose-stepping down the street, then it takes away their power," he said.
In his NYT piece, Bono reflected on the importance of remembering not only the Syrian refugees, but all others that are facing crisis as well.
"Five of the top 10 host nations for refugees are in sub-Saharan Africa. Six of the top 10 source nations of refugees are in sub-Saharan Africa. And guess what, for the first time, this African problem has become a European problem," he wrote.
"The best border of Europe is no longer the Mediterranean, it is a safer Sahel, the band of countries south of the Sahara, and Levant, the countries of the eastern Mediterranean. If Africa fails, Europe cannot succeed."
The ONE campaign has organized a petition to Congress, calling on American lawmakers to do more to protect vulnerable people from poverty and extremism.
"Development and humanitarian assistance are investments in stability, security and the fight against extremism. This is a proud American legacy, which costs less than 1 percent of the US budget, and we can't afford to turn away at this critical juncture," the petition states.
As of Wednesday morning, the petition has been signed by close to 19,000 people, with the aim of gathering 100,000 signers.